Used car retailers increased their stock turn by 11.8% month-on-month as demand for vehicles continued to drive up values at auction houses across the UK, according to Cox Automotive and eBay Motors Group.
Cox's latest Market Tracker showed that the average wholesale price across its remarketing platforms increased by 15.6% year-on-year and 1% on July last month, rising to £6,549.
EBay Motors, meanwhile, reported that continued pent-up demand for used cars had seen average days in stock drop month-on-month by 7.8 days to 57.8 days as average month-on-month stock levels across the sector dropped from 46.7 in July to 46.5 units.
The online marketing channel said that franchised dealers had performed particularly strongly in August, shaving 10 days off average month-on-month days in stock from 65.5 to 55.5 days as average stock levels dropped just one unit from 53.7 to 52.7 vehicles.
Philip Nothard, Cox Automotive UK's customer insight and strategy director, said that the UK's used car market remained buoyant with pent-up demand outstripping supply.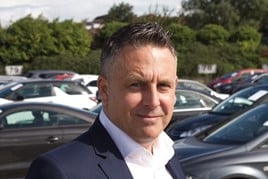 "Auction values show signs of stabilising, with an average 96.77% of Cap clean following 96.92% in July, although this performance reflects the strength of the used car market with a 2.3% increase on the same period August last year (94.56%).
"Data from NextGear Capital, the stock-funding arm of Cox Automotive, also suggests similar trends, with the average price funded in August increasing to £9,692.67 – and increase of +3.8% MoM.
"Furthermore, the average age of stock rose by 0.7% to 5.7 years, implying the potential increasing diversity of dealers' stock in both age and mileage.
"This also mirrors the broader used car market data, which shows that average mileage increased marginally 0.7% to 54,756."
Nothard said that, while new car registrations were down 5.8% (at 87,226) in August, this was a positive result compared to the 2000 to 2017 average of 73,875, observing that both 2019 (92,573) and 2018 (94,094) results had been inflated due to the influence of WLTP and RDE on September sales.
"Our data and insight indicate that the profitability many retailers have enjoyed since lockdown restrictions lifted has continued through August, with many capitalising on retail and trade margins," said Nothard.
"Although there were reports of demand easing in both the retail and wholesale market as the month closed, early indications in September show a return to positivity as supply continues to be challenging.
"Order banks are favourable for the September plate according to many of the large groups which is great to hear given the challenges that the new car market has faced in recent months. However, this is very much brand specific and dependent on vehicles arriving on time."
Late last month Cap HPI reported that used car prices had risen by an average of 0.2% across the sector during August in a show of "unseasonable strength".
Last week Auto Trader reported that buyer demand had driven a 6.1% increase in the value of the average used car advertised across its platform during August.
EBay Motors saw buyer enquiries up 155% compared to its COVID-19 lockdown low point during August.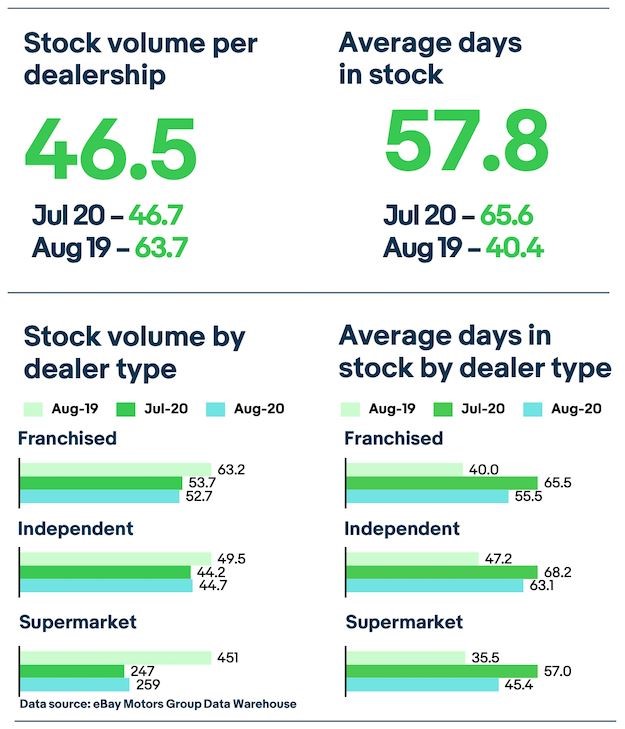 While franchised retailers generated the biggest stock true speed gains, independent retailers' days in stock fell month-on-month from 68.2 days to 63.1 days, while month-on-month stocking levels remained virtually unchanged at 44.7 units, compared to 44.2 units in July.
Supermarkets also saw month-on-month improvements in their average days to sell, it said, falling from 57 to 45.4 days on stock levels which grew from 247 to 259 units.
Dermot Kelleher, head of marketing and research at eBay Motors Group, said: "With the post lockdown recovery starting in earnest from July, when dealerships across the UK were permitted to reopen, it is immensely encouraging to see month-on-month improvements in days to sell in August with dealers benefitting from pent-up consumer demand.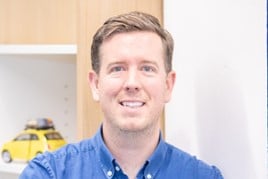 "Although our key Market View benchmarks of cars in stock and selling days are still a long way adrift of where they were 12 months ago, they are moving in the right direction and are showing month-on-month improvements.
"The ongoing challenge facing dealers is sourcing the stock they know will sell, pricing it accordingly and making it easy for buyers to find online.
"Our research shows buyer demand, as measured by incoming online and email leads, was up 155% at the end of August compared to the lowest point of the lockdown, tangible proof there is an appetite among buyers to make an imminent used car purchase."
Petrol remained the fuel of choice for used car buyers in August, according to eBay Motors' data, accounting for the bulk of dealer stocks (52.4%) and most online views (53.3%).
However, average days on dealer forecourts of 53.4 days was closely matched by diesel cars at 54 days.
The fastest selling used car in August was the Mercedes-Benz SLC taking just 33.7 days to sell, followed by the Vauxhall Astra GTC (34.1 days) and Audi S3 (35 days).