LCV demand remained strong in September as average values climbed yet again and sold volumes rose significantly, according to BCA.
Average LCV values at BCA rose from £7,709 in August to £7,994 in September, a 3.7% rise and the second highest value recorded since the March lockdown.
Sold LCV values averaged nearly 113% of guide value expectations with sold volumes increasing by a significant 38.1% during the month.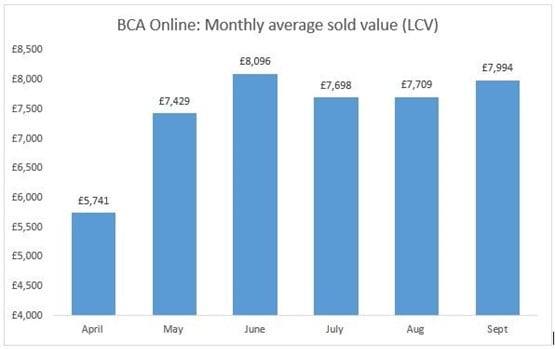 Stuart Pearson, BCA COO UK remarketing, said: "September was another very strong month for light commercial vehicle sales, with sold volumes rising by over 38% month-on-month. Professional buyer interest remains exceptionally high, with online engagement continuing to rise and the number of unique buyers competing for stock at BCA rising steadily every month."
Used van prices sold through Aston Barclay rose 4.2% (£255) to £6,204 in Q3 – an increase of 26% compared to Q1.
The remarketing company said there is no sign of the market cooling down as it enters Q4, as the continued growth of online shopping and home delivery further fuels demand for vehicles.
The figures follow a similar trend to that identified by Shoreham Vehicle Auctions last month, which predicted record prices for the rest of 2020 and into 2021.
Manheim recorded a record-breaking LCV sales performance in August, bucking the traditional seasonal slowdown and setting an all-time average selling price record.
Geoff Flood, national LCV manager at Aston Barclay, said: "The market has never seen a 26% rise before and from the high demand and lack of supply we are continuing to experience at auction, the van price boom will continue into 2021.
"We are also hearing that some new vans are suffering from long lead times which will mean prolonged replacement cycles and heavier demand on used vans which will keep prices sky high."