BCA has reported that "exceptionally strong interest" in LCVs saw vehicles selling for an average of 13% over guide value expectations during August.
The remarketing specialist reported this morning (September 21) that average LCV values at its sales had risen from £7,698 in July to £7,709 last month as sale conversion rates averaged over 95% in most sales.
Stuart Pearson, BCA's chief operating officer for UK Remarketing, said: "Professional buyer interest continues to be exceptionally strong for LCVs with a notable uptick in activity from volume buyers and increasing numbers of buyers bidding online across the board.
"BCA has the largest registered professional buyer base for light commercial vehicles and we are seeing levels of online engagement in our daily LCV sales programme continuing to increase significantly."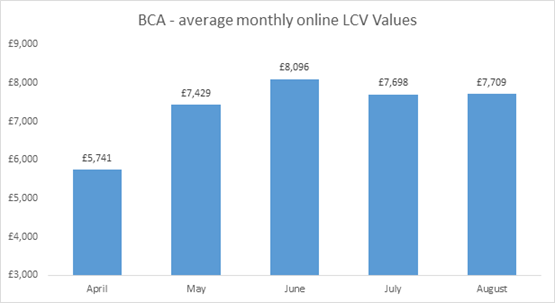 Pearson said that old volumes of LCVs had risen by over 7% at BCA in August with the average selling price improving marginally during the month, commenting that "performance against guide values at BCA continuing to be exceptionally high."
BCA stages online LCV sales daily with an entry of panel vans, car derived vans, dropsides, tippers, minibuses, crewcabs, Lutons and pickups on offer from vendors including UKCGR Commercials, BCA Outsourced Solutions, Inchcape, ALD Automotive and Black Horse alongside a wide range of other fleet, lease, rental, finance and dealer sellers.
Up to 600 vehicles are offered daily and BCA is launching a new Saturday sale on September 19 offering a wide choice of LCVs from UKCGR Commercials and BCA Outsourced Solutions.
Earlier this month Aston Barclay launched a new dedicated LCV sale at its Donington Park site as it expanded its focus on commercial vehicles in what is seen by many as a growing area of opportunity.
The Monday Donington Park LCV sale adds to weekly sales at Leeds and Westbury and gives the auction provider a "strategic backbone" of sales across the UK.
"Our LCV volumes have been growing monthly due to the prices we have been achieving and the service our experienced team have been delivering to vendors and buyers," said Geoff Flood who was recently appointed as Aston Barclay's first ever national LCV manager.