A magnificent seven electric vehicles (EV) topped Auto Trader's fastest-sellers rankings for June and proved that used car buyers are currently clamouring to avoid soaring fuel prices by embracing zero-emissions transport.
Nearly-new versions of the Mini Electric, Hyundai Ioniq 5, MG5 Estate and Tesla Model 3 all topped the charts – tying with an average days to turn of 24 days – while the Kia Niro (25 days), older MG5 models (26 days) and Kia Soul (26 days) also captured the imagination of customers.
Auto Trader's market data showed that used EVs are flying off UK forecourts, taking an average of just 27 days to sell, compared to 33 and 35 days for used petrol and diesel cars.
Budget-conscious buyers, meanwhile, responded to the cost-of-living crisis by snapping up petrol-powered versions of the Kia Picanto, Nissan Note and Fiat 500, which also ranked in the top 10 fastest sellers – each taking an average of 26 days to sell.
Significant shift
The rankings highlight a shift in consumer appetite for EVs since June 2021, when seven of the top ten were diesel, two were petrol, and one was a petrol hybrid.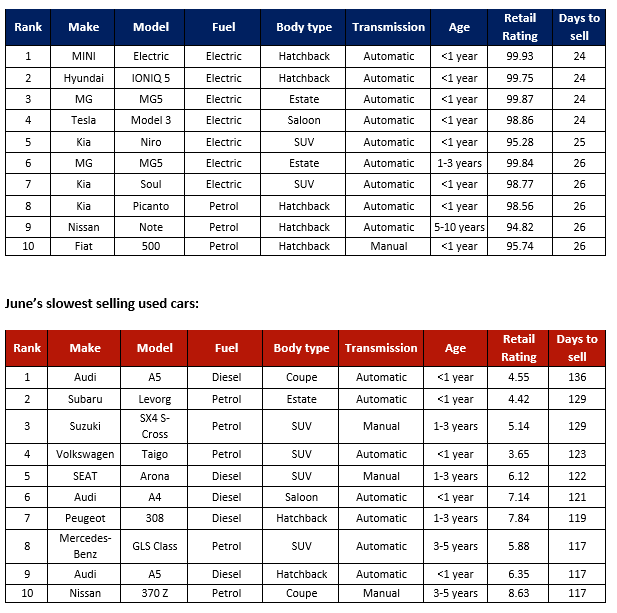 Richard Walker, Auto Trader's Director of Data and Insights, said: "The data highlights just how fast the electric market has moved on since last year.
"Fuelled by greater choice, better range, and more awareness, electric vehicles are now very much in the public consciousness.
"And with no end in sight of the rocketing fuel prices, for those that can afford the 'green premium', making the switch has never been more appealing, especially as we calculate the average EV driver can save around £176 per 1,000 miles using a home charger.
"Clearly there is a real growing opportunity here for retailers in not just the new car market, but the used too."
Auto Trader's fastest sellers data mirrors that of Indicata, which today (June 30) reported that the Kia Niro was currently the UK's fastest selling used car according to its latest Market Watch, closely followed by the Hyundai IONIQ.
It's the first time it has topped Indicata's fastest-selling table and follows a trend seen on the continent, where Tesla's Model Y and Model 3 currently Europe's fastest-selling used cars followed by the Kia Niro.
EVs' rise to the top of the fastest-seller rankings comes as carmakers across the globe prioritise the production of zero-emissions cars as supply shortages continue to hamper production.
Auto Trader said that the volume of nearly new cars (those less than 12 months old) in the market had fallen 53% year-on-year in June – the lowest of any other age cohort.
The appeal of a nearly-new EV may also have been boosted by the removal of Government's plug-in car grant (PiCG), which removed a cash incentive for those buying new.
Regional trends
Auto Trader's regional used car market analysis showed that stock is selling fastest in the Midlands – where a Volkswagen Golf petrol sells in an average of 49 days – followed by the South West, Scotland and London.
Wales lags behind, however, with the same car spending an average of 55 days on a dealer's forecourt.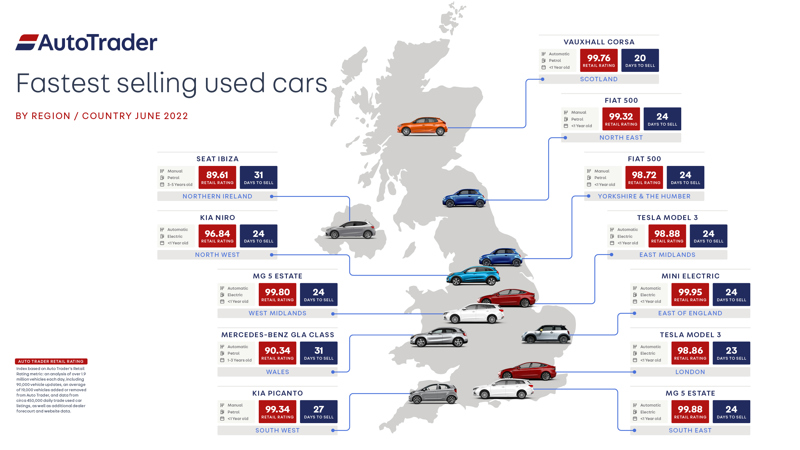 EVs topped the list in five of the countries and regions analysed by Auto Trader: East Midlands (Tesla Model 3, 24 days), West Midlands (MG MG5, 24), East of England (MINI Electric, 24), London (Tesla Model 3, 23), and the North West (Kia Niro, 24).
However, EVs aren't being snapped up everywhere. In fact, in four regions or countries, EVs didn't make the top ten at all, including Scotland (Vauxhall Corsa, petrol, 20), North East (Fiat 500, petrol, 24), Northern Ireland (SEAT Ibiza, petrol, 31), and Wales (Mercedes-Benz, GLA Class, 31).
In a recent AM News Show podcast Auto Trader brand director Marc Palmer asserted that "areas of affluence" are the UK's hotspots for interest EVs as the cost-of-living crisis continues to squeeze car buyers' purse strings.
"The correlation between charge points and EV interest doesn't exist, not even the ultra-low emissions zone or clean air zones", said Palmer.
"Affluence is (the key). It's not a North/South divide or urban/rural, where people have got a place to charge the car and the means to afford it, that's where we see the most interest."