The UK 's car retailers are Europe's 'most trusted' according to a survey which concluded the situation could leave car buyers "more vulnerable to scams".
Vehicle history checker carVertical commissioned a survey of 4,500 car buyers across 17 countries and found that mileage discrepancies and unrecorded collisions became more prevalent the further west respondents lived – denting their views of retailers.
A 'trust metric' compiled from the survey's data placed UK retailers top with a score of 122.2, ahead of Finland (120.4), Slovenia (109.7), Germany (109.4), Slovakia (107.5), and the Czech Republic (106.4).
But carVertical warned that UK consumers' trust in car retailers could work againt them.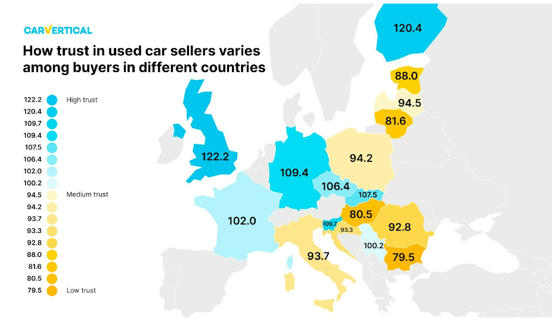 Noting that 14.5% of cars in the UK's car parc had a clocked mileage reading, it said: "Since the British trust sellers more than people in other countries, they may be more vulnerable to scams".
Matas Buzelis, the president of the Association of Automotive Intelligence and carVertical's head of communications, said: "With a smaller import market share, the UK has fewer cross-border used car deals.
"It means the risk of getting a car with mileage fraud may be lower, but there are different problems in the UK market. Hidden write-offs, issues with outstanding financing may lead to bad car-buying experiences."
Last year an investigation carried out on behalf of consumer automotive title Autocar revealed 15,000 "write-offs" are returning to UK roads undetected each year due to an insurance loophole exposing the shortcomings of vehicle history checks.
AM had previously reported that car retailers' reputations were being harmed as a result of the write-off scandal, which had been the subject of an screened by BBC One's Rip-Off Britain consumer watchdog.
Among Europe's least trusted countries for car retail are Estonia (scored 88), Lithuania (81.6), Hungary (80.5), and Bulgaria (79.5).
According to carVertical, these countries have a long history of car-related scams.
It said: "Since many drivers in these countries have fallen prey to dishonest sellers, the average trust is low."
According to carVertical's research, younger car buyers are more distrustful of retailers.
It found that only 17.9% of those aged 25 to 34 trust used vehicle sellers, compared with 30.3% of people aged 35 to 44.