The data-driven push to deal in ever larger used car volumes and speed up stock turn on increasingly tight margins could be harming the reputation of franchised car retailers.
Following an investigation by AutoExpress, BBC One's Rip-Off Britain consumer watchdog show looked at two of the UK's largest dealer groups – Pendragon and Arnold Clark – which offered for sale cars discovered to be insurance 'write-offs'.
BBC presenter Angela Rippon told viewers of the show – which attracts audiences of up to 3.83 million – that a "little-known legal loophole" led to the failure to document almost 100,000 "write-off" vehicles a year.
One independent motor retailer, who asked to remain anonymous, said the rush to find stock for ever growing used car forecourts and the need to turn vehicles faster could be partially to blame.
"Too many car retailers have become enthralled by data, because all they understand is the speed it allows them to appraise a vehicle with," he said.
"With the high volumes and small margins that so many are dealing in, relying on apps and algorithms has become the only way to operate.
"The result is that many used car buyers now aren't skilled enough to, or focused enough on, identifying evidence of previous crash damage."
In March, AutoExpress highlighted the extent of written-off vehicles re-entering the market after significant collision damage was repaired.
While insurers must inform the DVLA of vehicles it has written off, legislation does not require them to register the vehicles on the Motor Insurance Anti-Fraud & Theft Register (MIAFTR).
MIAFTR is the sole source used by most provenance check services – including HPI and Experian – to help retailers and consumers identify a severely damaged vehicle.
A Freedom of Information request found that the loophole was resulting in tens of thousands of damaged cars being repaired and sold on.
AutoExpress cited data that showed a discrepancy of 94,821 vehicles (including trucks, vans and motorbikes) in 2016/17 and 91,156 in 2017/18 between the number of vehicles the DVLA had been told about and those registered on the MIAFTR database.
The publication listed a number of vehicles – identified by www.vcheck.uk, which cross-checks write-off status against salvage auction records – that had been written off and later offered for sale without their status being flagged by HPI or Experian checks.
The cars identified included:
A 2016 BMW M4 for sale a year after it was declared a Cat S write-off.
A 2017 Honda Jazz for sale 10 months after it was declared a Cat S write-off.
A 2016 Renault Captur for sale 13 months after it was declared a Cat S write-off.
An Experian spokesperson said: "We understand the cause for concern with the three vehicles highlighted. We use MIAFTR to check whether a vehicle has been marked as 'written off' by an insurer. However, as none of the three vehicles were recorded as a total loss, they did not show as 'written off' on the vehicles' provenance reports.
"We will continue to work with our data and insurance industry partners to establish the circumstances behind these three vehicles."
Fernando Garcia, the consumer director of Cap HPI, said the issue was not as big as the AutoExpress data suggested, estimating that about 0.1% of the used cars sold last year may have been affected by the delay in registering write-offs on relevant industry databases.
He described the scraping of data from salvage yard websites for details of damaged cars as "an unreliable option".
Figures from Bill Fennell, chief ombudsman and managing director of The Motor Ombudsman, seemed to verify this. He told AM that just three (0.01% of 27,977) of the organisation's consumer complaints in 2018 related to the potential mis-selling of a written-off second-hand car.
Garcia said Cap HPI was working with industry partners and data providers to reduce this number further and expected a solution to be implemented within weeks.
He said: "We receive total loss data directly from a number of sources and offer a data guarantee to protect motorists in the small number of cases it may not cover.
"The HPI Check guarantee covers key areas such as stolen cars, outstanding finance, and mileage discrepancies, up to £30,000.
"If the consumer conducts an HPI Check and it did not show as a write-off, then they would be covered by our guarantee if they adhere to our terms and conditions, as well as all the buying advice detailed on hpicheck.com."
Phillip Wade, network development director at Stoneacre, said retailers have long been "duped" by write-off cars and called for a legislative solution.
"I've been in the business for 45 years and this has always been an issue and it is the retailers every bit as much as the consumers that are being duped," he said.
"A responsible trader will always buy back a car if evidence is seen subsequently that suggests a car has been badly damaged and that hadn't been previously identified. I've had to do it myself in the past and I still remember feeling mortified that we hadn't spotted the problems.
"There's one straightforward answer. If a car is declared a write-off, it should be immediately dismantled and only be allowed to be re-sold as parts.
"I'd also like to see all repairs carried out as a result of an insurance claim carried out by licensed body shops, using genuine OEM parts, and fully documented on a centralised database."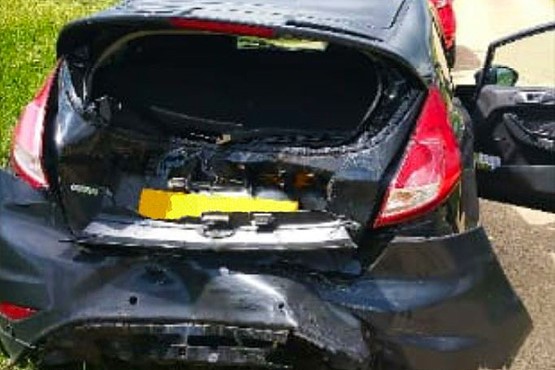 AM's independent car dealer source was one of many retailers who have been caught out by an unregistered write-off.
He said he recently travelled "the length of the country" to collect a Ford Fiesta, bought from a franchised retailer via Dealer-Auction.com, after it was given a clean bill of health with a HPI check and V5C documentation.
A full inspection revealed the car had been involved in a heavy rear-end shunt, which a previous owner confirmed when contacted.
A battle to secure a full refund – ultimately without travel and vehicle storage costs – ensued.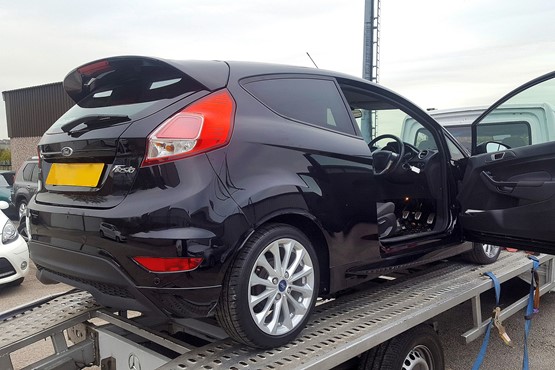 A spokesman for Dealer-Auction.com said: "We do our utmost to ensure that vehicles on our site are accurately described, and since February 2015, every vehicle listed on Dealer-Auction.com has been automatically Experian-checked, with any damage category displayed in red for potential buyers.
"The vast majority of transactions take place with no issues at all. If a problem does arise though, we work hard to mediate between buyer and seller to reach a satisfactory outcome. In the unusual event that a seller is deliberately mis-describing vehicles, we reserve the right to deactivate their account. However, it is very rare that we need to take this course of action."
Rip-Off Britain employed forensic vehicle expert John Dabek to carry out its investigations into vehicles offered for sale by Arnold Clark and Pendragon's Evans Halshaw and Car Store dealerships in March.
Dabek spotted tell-tale signs of the cars' past and was surprised, given the repairs, that no concerns were raised before they ended up on sale.
In a statement to AM, Pendragon said it was reviewing its vehicle inspection processes and was now asking vehicle sellers for proof of purchase in instances where they had been the owner less than 12 months.
"It is not the policy of our dealerships to knowingly sell vehicles with serious historical damage," it said.
Pendragon said customer safety was its absolute priority, stating that all the vehicles it retails are checked by vehicle manufacturer-trained technicians or independent AA engineers and are subject to full CAP HPI background checks. It added that 28% of the vehicles it purchased in 2018 did not meet its standards for retail sale to consumers.
"None of the vehicles highlighted in this report were considered to be unsafe by the independent forensic expert and had the MIAFTR record been correct, our checks would have revealed that the vehicles did not meet our standards," it added.
A statement from Arnold Clark Automobiles said: "We regularly review our processes and procedures throughout the business and this applies to the checking of vehicles that we are considering bringing into stock for retail sale.
"We also source vehicle history information from a third-party provider and, as a consequence of the BBC investigation, we have commenced discussions with them regarding the accuracy of the data which they provide."
Arnold Clark said it expected the issues to feature in "cross-industry discussions involving various interested parties in the coming weeks".
Steve Nash, chairman of the Institute of the Motor Industry (IMI), said he would like qualified technicians to be more closely aligned to the inspection process to ensure write-offs never make it on to forecourts.
"It's clear that insurers play a big part in this issue and have a direct interest in the revenues they earn from salvage," he said.
"One of my non-executive directors, who runs a dealer group, told me just a day or two ago that they re-acquired a vehicle that had been damaged, written off and fully settled by their insurers, just so they could present it to the insurance company and show them how these cars are finding their way back into the market.
"I think in most cases the dealers are innocent victims here, acquiring the used vehicles for sale with no idea of their history. The existing systems for recording and identifying write offs seem woefully inadequate."