Strong demand for Volvo's XC90 and the Renault Kadjar in January singled the two SUVs out for praise in Dealer Auction's Retail Margin Monitor analysis as Jaguar Land Rover (JLR) products continued to reign supreme.
Land Rover models commanded 20% of the top 10 models in the Cox Automotive and Auto Trader joint venture's monthly barometer of the used cars that perform best for car retailers, with the Land Rover Discovery Sport and Land Rover Range Rover Evoque taking the number one and number two spots.
But Volvo's flagship SUV replaced its smaller XC60 stablemate – present in every top 10 of 2022 – in last month's rankings with an average retail margin of £2,700.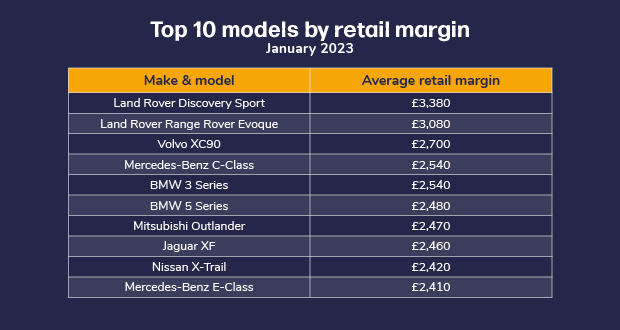 Just outside the top 10, meanwhile, the Renault Kadjar deliverted more diversity among the top performing cars with an average margin of £2,360.
Dealer Auction's marketplace director, Kieran TeeBoon, said the presence of the Kadjar highlighted the importance of used car retailers looking for opportunities among what may be perceived as the market's "underdog models".
"Striking a balance between the two is key to generating high profits," said TeBoon.
Dealer Auction chief executive Le Etta Pearce recently told AM that strong margins were among the key drivers for success for her business in a '10 Minutes With…' Q&A interview.
Pearce said: "The key metric is how much profit we have helped to deliver for our customers. We're also conscious that the buyers are able to generate a strong margin. If you're not able to balance that out they are not going to come to you to source their stock."
Dealer Auction saw Land Rover models deliver significant profits throughout 2022, landing the marque in the number one spot for the overall highest average margin of the year.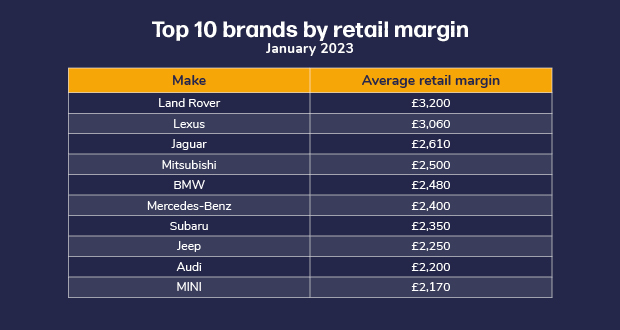 In January that trend continued, with the premium SUV and 4x4 brand ranking number one for the highest average retail margin in January 2023 at £3,200 – an increase of £200 from January 2022.
TeeBoon said: "It's interesting to note that the top three makes in January 2023 are the same top three listings we saw in data from January 2022, with the number one position filled by Land Rover, followed by Lexus in second and Jaguar in third.
"This shows a level of confidence in profit-making vehicles, even amid some recent turbulence in the industry."
Richard Walker, Insights Director at Auto Trader, said: "Consumer interest in January 2023 was very robust, which, along with the ongoing constraints in supply, drove average retail prices up 2.7% year-on-year.
"Despite the negative economic and political backdrop, this marks the 34th month of consecutive price growth and the used car market remains in good health.
"There is still significant potential for profit, as the Retail Margin Monitor highlights, for those retailers who stay close to the data."