Genesis Motor Europe has gone big with its debut new cars in the UK and its G80 saloon and GV80 SUV are the first of seven model launches over the next 12 months.
They arrive in sectors that might not be the market's biggest selling, but they provide a perfect platform for the Hyundai spin-off premium brand to showcase its technology and intent.
Prices for the duo – part of an ownership package sold purely online – start at £36,100 for the G80 which has the BMW 5 Series and Audi A6 as rivals and £54,100 for the GV80.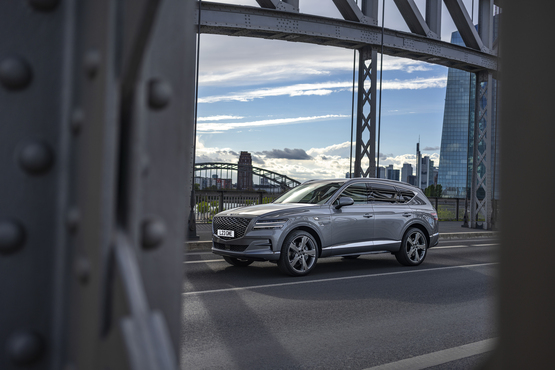 Here, we'll focus on the Mercedes-Benz GLE-Class and Volvo XC90-rivalling GV80, which is available as a five- or seven-seater and is expected to be the bigger seller as it rides the European appetite for SUVs.
Available with a 278PS 2.5-litre, four-cylinder turbocharged petrol engine or an all-new 304PS three-litre in-line six-cylinder turbodiesel, all GV80s come with an eight-speed automatic gearbox and all-wheel drive.
Genesis has plans to launch an EV version of the G80 saloon later this year, and two new electric models in the coming year, but, for now, there's no electrification.
We drove the diesel, which is the greener of the two engines and is also £100 cheaper in both the GV80's Premium (£54,100 versus £54,000) and Luxury (59,700 versus £59,600) trim lines.
Customers need preparing for GV80's running costs. It claims fuel economy of between 31.5mpg and 33.1mpg and CO2 emissions of between 220 and 231g/km on the WLTP test's combined cycle, compared with 25.3mpg to 26.1mpg and 241g/km to 148g/km for the petrol. Such performance means GV80 is effectively retail-only, as its high emissions drops it in punitive BIK bands for any company car user.
The extra torque of the turbodiesel serves to make it the quickest to 62mph also, claiming to reach the benchmark 0.2 seconds ahead in 7.5 seconds.
Despite development at the Nürburgring, Genesis' focus is on "luxury, not lap times", according to UK managing director Andrew Pilkington.
Bentley-esque exterior styling (take a look at those wing vents) sets the tone for what is a comfortable and cossetting car.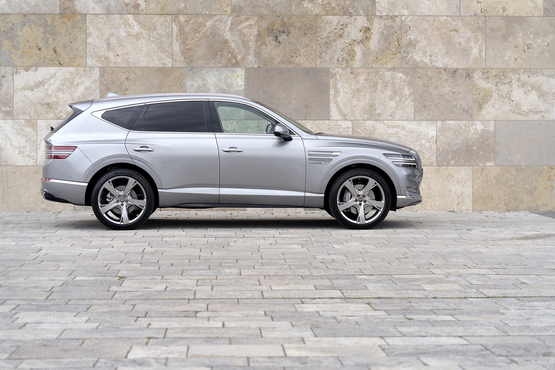 At 4,945mm in length, the GV80 is shorter than the vastly more expensive Bentley Bentayga – shorter than an XC90 but longer than a GLE – but offers the choice of seven seats for an extra £500 or a sizable 735-litre boot in five-seat guise.
Step inside and there is an immediate sense of premium quality, with quilted Nappa leather, real wood trim and a leatherette dashboard covering subtly distinguishing the Luxury trim line from the less opulent Premium alternative.
All GV80s come with a 14.5-inch touchscreen infotainment screen and 12.3-inch TFT instrument cluster with 3D display.
A glass-topped rotary dial recognises handwriting to add an index finger as another option when inputting addresses.
As standard, there are: heated front seats, double-glazed front side windows, a nine-speaker sound system which facilitates the cabin's road active noise cancellation (RANC) technology; and an advanced Ride Preview system which scans the road ahead and adapts the suspension on-the-move.
The GV80 is five-star rated under the stringent new Euro NCAP safety tests and the brand claims to be the first to introduce an airbag between its front seats as one of the 10 fitted to its flagship SUV.
The GV80's other advanced safety technology includes adaptive cruise control; lane following assist; lane-keep assistance; and a rear cross traffic and blind-spot collision avoidance system which will prevent the rear doors being opened once parked if an approaching vehicle is detected.
Hit an indicator and the GV80 also delivers a handy blind spot view of your chosen direction via the instrument binnacle.
Along with the interior trim changes already mentioned, Luxury trim upgrades 20-inch alloys to 22 inches and adds heated rear seats.
Customers can also choose from a range of three options packs, which start at £1,250.
Among the highlights of the options are a panoramic sunroof, a twin screen rear entertainment, 18-speaker Lexicon sound system, a 12-inch head-up instrument display and remote smart parking assist (RSPA).
RSPA – part of the most expensive (£3,900) 'Innovation' options pack – allows the car to be parked via buttons on the GV80's key fob.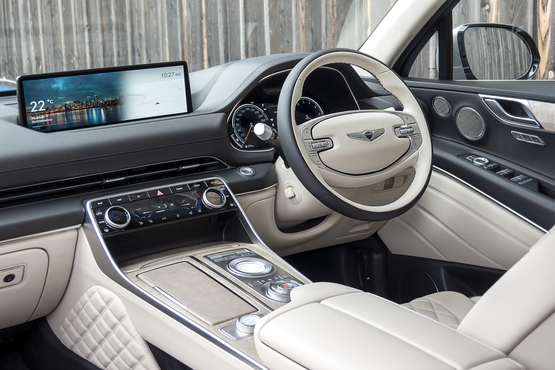 While packed with innovation, the GV80 feels like an SUV offering a rather old-school approach to the premium market though its prioritisation of comfort.
The suspension is supple and seems to soften-up and sit down a little into road imperfections. It's smooth and refined, but lacks the engagement of some firmer-riding rivals.
Genesis' interior mixes a range of surface materials in Luxury guise and looks the part.
Only the plastic nature of what on first contact appears to be machined aluminium switchgear feels like a compromise.
As a first offering to a challenging European premium market that rejected Infiniti and took Lexus many years to crack, it looks and feels like a strong offering.
The real determining factor in the success of all Genesis' products, however, will be just how quickly the brand can gain marketing traction and how well premium car buyers embrace its online retail model.
For some its innovative Five-Year Care Plan – including warranty, servicing, roadside assistance, courtesy car, mapping and over-the-air software updates – will prove compelling.
Many others, no doubt, will continue to opt for a familiar premium brand and showroom-based buying experience.
Q&A with Genesis Motor UK head of sales, Jonny Miller
How do you plan to ensure Genesis stands out from established market rivals?
We aspire to create experiences for our customers and to always respect the greatest luxury of all – their time. Genesis will sell directly to our customers
both online and through our retail studios – delivering the Genesis difference which is a complete end-to-end premium luxury car ownership experience
managed by our team of Genesis 'personal assistants', who provide a dedicated point of contact. That is how we will stand out.
What features are central to that customer focus?
Everything about Genesis in Europe will be built around the customer and is designed to make life easier – whether that's home delivery, our Genesis
Personal Assistant or across our digital touchpoints. Our five-year care plan puts our customers and their needs first – five years' free warranty, servicing,
roadside assistance, courtesy cars and over-the-air updates.
Is G80 or GV80 expected to gain most traction in UK sales terms and what split do you expect?
In line with the current trend and customer demand for SUVs, we are expecting the GV80 to be the lead model when it comes to sales.
What will be the key trim/engine choice?
Our cars come in Premium line and Luxury line, with the Luxury Line offering more benefits. We are expecting the Luxury line to be more popular and the
petrol engine to take the lead.
What proportion of G80 and GV80 sales will be accounted for by fleet/business?
We are focused on the retail market for the initial launch, with fleet/business coming later.
Supply shortages have been well documented in the media. Do you expect this to be an issue for Genesis in the UK?
No, we do not.