Mazda dealers received a boost last year from the launch of the new generation Mazda3, and now they will hope their sales will take off with the 2020 addition of a new crossover SUV in the C-segment.
The CX-30, which went on sale in January, is based on the Mazda3, but slots into Mazda's SUV portfolio between the small B-segment CX-3 and the popular mid-size SUV, the CX-5.
The risk for Mazda's dealers is that it will steal some of their customers away from Mazda3.
Yet this could be potentially to the dealers' financial advantage, as the CX-30 has a higher price point from which to earn margin.
The list price of the crossover carries a £2,300 premium over an equivalent grade Mazda3 hatchback with the same engine.
So when existing Mazda3 owners get a call near the end of their finance term, persuading some of them to PCP the CX-30 for relatively little uplift in monthly payment shouldn't be a huge task.
And they will get 20% more boot space as a bonus.
Jeremy Thomson, Mazda UK's managing director, said 47% of the company's sales are currently crossover SUVs, "so it's a perfect time to introduce this car into the mix".
There's no diesel powertrain available for the CX-30 – instead, salespeople have the new Skyactiv-X 180PS petrol engine to offer buyers who seek decent overtaking acceleration, or a lower-powered and lower-priced Skyactiv-G petrol unit with 122PS, as used in the Mazda3.
Both engines feature the Mazda M Hybrid 24v mild-hybrid system and upgraded stop-start to help keep CO2 emissions below 120g/km in manual cars (as low as 105g/km for Skyactiv-X manual).
"While Mazda is committed to diesel and the development of next-generation clean diesel engines for appropriate sectors, the abilities of Skyactiv-X and diminishing consumer demand for diesel engines in the compact SUV segment mean that in the UK the Mazda CX-30 will be exclusively petrol," said a Mazda UK spokesman.

The Mazda CX-30 is available in five trim levels: SE-L, SE-L Lux, Sport Lux, GT Sport and GT Sport Tech.
All have generous equipment as standard, including a projecting head-up display for the driver that shows current speed, navigation instructions and speed limits, plus active cruise control, rear parking sensors, power-folding door mirrors, LED headlamps and Apple CarPlay and Android Auto.
SE-L Lux models and upwards gain a powered tailgate and heated seats, GT Sport models gain leather seats, a heated steering wheel and upgraded Bose audio system.
GT Sport Tech also introduces Mazda's three newest advanced driver assistance systems: driver monitoring, which scans the driver's face to determine when they're being inattentive and sounds an alert; front cross traffic assist which detects oncoming vehicles in blind spots at T-junctions, and cruising and traffic support, which assists with controls while stuck in traffic to reduce driver fatigue.
For customers who want to traverse grassy fields or snow-covered hills with more confidence, the Skyactiv-X engine is also available with Mazda's i-Activ all-wheel drive system for Sport Lux trim and above.
Given the cost premium and poorer efficiency, Mazda expects these to attract one in 10 customers at most.
Having driven the ageing Mazda6 for several months, it's very easy to notice the uplift in the quality of the interior fit and finish in the CX-30.
As the second car in Mazda's new iteration of Kodo Design, after the Mazda3, the CX-30 looks like it will impress the brand's loyal customers and the others exploring their C-segment options.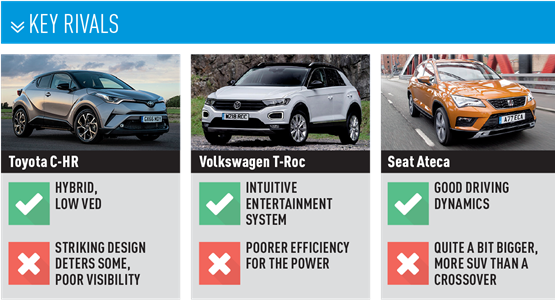 Q&A with Jeremy Thomson, Mazda Motors UK managing director
Why should Mazda dealers be excited about the CX-30?
The plan is that this will be significantly our best seller.
The CX lines together, CX-3, CX-30 and CX-5, will probably be about 50% of our total sales, but CX-30 will be the volume seller across all car lines.
That reflects that crossovers have overtaken hatchbacks as the country's bodystyle of choice, so the timing is very good.
What does that translate to in numbers?
Between 8,000 and 10,000, but this is one of those launches where I sense potential upside on what we are expecting.
The more I drive the car, the more I'm convinced it really does fit a mainstream need.
But I also sense we will see over the next few months an optimistic bounce, a positivity return to the sector.
As a manufacturer that has had a tremendous amount of product news in the past year we have real opportunity to take advantage of an upswing. If my best hopes aren't met, we're bunkered down and well protected.
Why do you think that?
We hope there'll be some ability to predict what 2020 looks like.
2020 is already fraught with complication and difficulty, because of legislative changes and uncertain consumer behaviour in the face of uncertain political outcomes.
Let's hope we have an outcome that allows Britain to knit together again, focus on the future in a positive way, and get on with business.
Is that a message you have shared with the dealer network?
Yes. I've visited 100% of our network in five sessions around the country with a very open agenda.
It's a very constructive environment for the network to tell us what matters to them, and for us to outline how we'll respond to that.
We're working with dealers, understanding their issues, appreciating that dealer profitability is paramount in these difficult periods.
As we plan for 2020, dealer sustainability and viability has been right at the top of the list.
Will diesel have a future with Mazda?
We're one of the manufacturers that believes there is still a positive future for diesel.
We will introduce Skyactiv-X diesel technology over the coming years, which will be breakthrough in terms of efficiency and emissions.
Demand for diesel has waned, but there is absolutely still a place for diesel, particularly in large car platforms.