Honda's European leadership team is describing the new Civic e:HEV hatchback as "the driver's hybrid".
The car that signals the electrification of the brand's UK range ahead of an onslaught of new models in 2023 is also a statement of intent regarding its future delivery of improved dynamics.
As such, car retailers will be able to offer an 11th generation car that is 31mm longer and yet 27mm lower than the outgoing model, with a rear track 18mm wider and a chassis structure 22% more rigid.
A resin boot and aluminium bonnet save weight, while the A-pillars have been shifted backwards to accentuate rakish, coupé-like dimensions.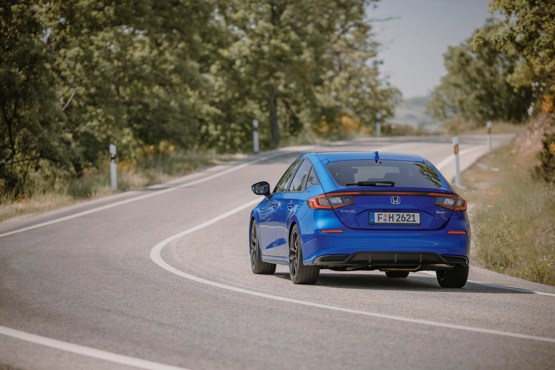 The result, Honda claims, is a platform perfectly suited to a new e:HEV hybrid drivetrain promising greater efficiency and performance than the outgoing internal combustion engine (ICE) petrol and diesel versions.
Emitting 184PS and 315Nm of torque, the e:HEV drivetrain combines a two-litre direct injection petrol engine and a powerful electric motor to deliver 7.3-second acceleration to 62mph and a 112mph top speed.
On the international launch event in Madrid Honda Motor Europe technical advisor Korato Yamamoto explained that the Civic's new e-CVT transmission is not actually a transmission at all, rather an electrical control unit that meters the drivetrain's output.
The drivetrain sounds complex but, despite the unconventional set-up, the Civic feels more natural to drive than any CVT-equipped car I have driven.
Its hybrid drivetrain is refined, the e-CVT mimicking the feel and sound of a dual-clutch gearbox.
To cement this illusion, the e-CVT combines a power meter (replacing the rev counter) and Active Sound Control (which utilises the cabin's sound system) to deliver the visual and aural cues of an ICE-powered performance car, particularly in the 'Sport' setting of four driving modes.
What's actually going on with the drivetrain?
Predominantly powered by the electric motor, the Civic runs in electric mode for most of the time in urban environments.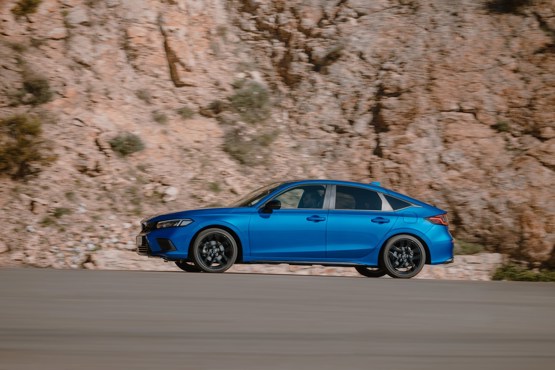 Stronger acceleration makes the combustion engine generate the electric power needed for the motor to turn the front wheels, with the petrol engine only contributing directly to propulsion at high speeds (e.g. on the motorway) or under heavier loads.
Removing the need for the combustion engine to propel the Civic in various scenarios results in claims of 56.5-to-60.1mpg fuel economy and CO2 emissions of 108-to-114g/km across the three trim levels.
Elegance (£29,995), Sport (£30,595) and Advance (£32,995) will be offered when orders open.
This is expected to happen in August (see Q&A p44), with deliveries in Q4.
Honda Finance makes the Civic available from £349 per month on a 6.9% APR, threeyear, 30,000-mile agreement, including a £5,427 customer deposit and £1,000 Honda contribution.
A limited number of high-performance Type R variants will also be headed to UK customers and, if the standard car is anything to go by, they should be winners.
True to Honda's billing, the latest Civic is more engaging and poised than ever, while serving up excellent refinement and feeling like a car from the class above at higher speeds.
It's a feeling furthered by the interior space. Rear legroom impressed, though a 400-litre boot (to the window line) is smaller on paper than many C-segment rivals.
Honda's model range has always looked eclectic, but the new Civic is part of the latest drive to offer global products, resulting in a more consistent appearance.
There has also been notable improvements in cabin quality.
Furthering themes seen in the new HR-V, the Civic offers a stylish and tactile cabin that's up there with the best of its class.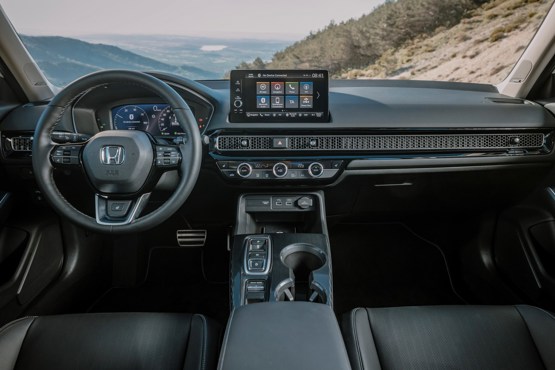 A mesh grille spans the dashboard, giving the impression of extensive ventilation and adding a key styling feature that emphasises the width of the car. Toggle controllers adjust the vents within.
The Civic's broad centre console houses button-operated gear selectors and features a large smartphone stowage tray at its front edge (a wireless charger in certain trims).
Elegance trim features fabric seats, while Sport combines fabric and synthetic leather as standard and Advance a combination of leather and synthetic leather.
A new version of Honda's HMI touchscreen infotainment tops the dashboard and incorporates Apple CarPlay and Android Auto smartphone connectivity.
While Elegance and Sport trims get a seven-inch instrument cluster, Advance adds a 10.2-inch customisable digital panel with a panoramic sunroof and a 12-speaker Bose sound system also among its highlights.
All Civics feature the Honda Sensing suite of safety tech, including lane-keeping assistance and adaptive cruise control which operates to a standstill in traffic.
Sonic Grey is the standard paint option, with Premium Crystal Red and Premium Crystal Blue pearlescent finishes, as well as Crystal Black and Platinum White metallics.
Having spent several hours driving the new Honda Civic on Spanish roads it's hard not to subscribe to the view of Honda UK head of automobile, Rebecca Adamson, that this is a model with the qualities needed to lure conquest customers.
Whether the current SUV and EV-domiThe Civic's interior is up there with the best in its class nated market is a place to go fishing for market share with a C-segment hatchback remains up for debate.
But if the new Civic is an indication of things to come from Honda, its retailers have a lot to look forward to as their model range expands from four to nine in the very near future.