Five generations and 50 years after the Range Rover reimagined the 4x4 with a luxury twist the all-new version is now looking to cement its status with a six-figure price tag.
Everyone from farmers to A-list celebrities drives a Range Rover. They're equally at home on city streets as they are off-road, securing a loyal base of buyers. Such is the power of the brand, the Range Rover is no longer one vehicle, but a whole family of premium SUVs to suit a broad range of budgets.
Land Rover revealed the new 'full-fat' Range Rover in October, opening order books with a starting price of almost £100,000. That's an uplift of around £20,000 compared with the outgoing model, but it hasn't stopped 10,000 UK buyers from visiting showrooms and securing one. Build slots now extend 12 months and that's before anyone has even driven one.
AM has been behind the wheel of the new luxury SUV and we're confident those early customers won't be disappointed.
As part of its VIP ownership programme Land Rover has already given some customers early access to the car and is planning a suite of driving events throughout the year to let them sample the new model.
At first glance, there's not a night-and-day difference between the new Range Rover and its predecessor. The familiar silhouette is retained but, look deeper and you'll notice the retractable door handles and windows that blend seamlessly into the bodywork.
Land Rover has worked hard to improve the aerodynamics of the new model to maximise its efficiency and to provide a crisper and less fussy design.
The underpinnings are all-new too – making room for the upcoming electric model's battery and providing rear-wheel steering for the first time.
Inside, the Range Rover makes a departure from the overtly luxurious cabins of its forefathers and opts for a minimalist approach.
Build quality seems better than ever, although there's fewer bits to prod and poke as most of the dashboard is taken up by the giant infotainment screen. It juts out, so it falls to hand more easily, but looks a bit like an afterthought.
The system itself is glorious to use, with high-definition graphics and a responsive interface. It's paired with a similarly high-resolution digital instrument cluster. But, we've seen this all before in the Defender and most Jaguars. The Range Rover is meant to be the pinnacle of JLR's line-up. A bit more digital innovation would be welcome.
Riding on adaptive air suspension and with all sorts of clever gadgetry going on underneath, it's almost implausible that a car as big and tall as the Range Rover can negotiate corners with so little fuss.
The rear-wheel steering is a particular boon, giving a turning circle that's comparable to a supermini.
In its most comfortable setting the car exhibits a little bit of chatter over rougher surfaces, while the steering and throttle are a tad benign.
When we switched the Range Rover to its Dynamic mode, however, it firmed everything up just enough to make all those problems disappear.
Two petrol engines are available: a 3.0-litre six-cylinder mild-hybrid P400 and a BMW derived 4.4-litre twin-turbo V8 (P530).
There are also two mild hybrid diesels, known as D300 and D350. In each case the model name denotes the power output.
A pair of plug-in hybrids, P440e and P510e, utilise a six-cylinder petrol engine and electric motor with a 38.2kWh battery. They offer a real-world zero-emission driving range of 70 miles and emit less than 20g/km of CO2.
The Range Rover can be specified in SE, HSE and Autobiography models, with prices starting at £97,375 for the D300 SE. A First Edition will be available throughout the first year of production, based on the Autobiography and featuring a unique specification.
Buyers looking for more exclusivity can specify an SV model, which features bespoke tailoring.
Both standard- (SWB) or long-wheelbase (LWB) bodies are available with five seats, while the Range Rover LWB is available with a third row of seats to hold up to seven.
There are bigger, brasher and more expensive luxury SUVs on the market, but we're in no doubt that the Range Rover is still the king of this segment. It's faster, quieter, more efficient and more technologically advanced than ever.
Land Rover has also made significant investment in its factory to ensure the build quality and reliability of this latest model are better than before.
But with demand seriously outweighing supply does any of that really matter? The buyers have already spoken.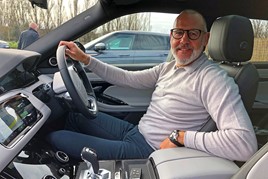 Q&A with Rawdon Glover, managing director, Jaguar Land Rover UK
How has the luxury SUV market changed since the previous Range Rover launched in 2012?
When we launched the previous model there was very little in the space from a true competitive sense. It's now got very cluttered, very quickly. So, the very fact that we're as far ahead of our expectations with lots of competition at price points similar to us, slightly less than us, and significantly greater than us, that's a testament for where that vehicle sits. The actions at the price point above us have just raised the ceiling in terms of the customer's aspiration of how far they can go. There was a time when we were talking about if we'd get to the first £100,000 Range Rover and we'll pass the first £200,000 Range Rover with this one.
What has the initial order mix been?
In terms of petrol/diesel mix, it's about 40% diesel. So, where the industry is going away from diesel, our diesel mix is also reducing, then about 35% petrol and about a quarter is plug-in hybrid. That is roughly where we thought it would be in terms of its going-in position. Standard wheelbase accounts for the majority of the mix - it's about 80%. Then it's a roughly a 50/50 split between the seven-seat option and the five-seat option. We're slightly higher in terms of average weighted price point. So, we're coming in at about £125,000, which is obviously great. As a reference point, the outgoing model was priced at about £100,000.
Will online sales play a part in the way the new Range Rover is sold?
There was a time where, perhaps misguidedly, we thought offering customers infinite choice was exactly what we should do with this vehicle. But, if you think about it, then taking that to an online purchase is just unbelievably complex and very difficult to deliver. I think we're still a way off our desire, which is this idea of you should be able to buy a car in six clicks. That's kind of where we'd like to get to. But, we've made huge steps and we see it in the buying habits. In the first week of Range Rover when we launched, about 20% of the sales were online.
Do you have any plans for customer handover?
All of our retailers have been set the challenge of how to make that a properly stand-out experience. For example, some of our Scottish retailers have got a relationship with Gleneagles. They're doing an amazing tasting menu and driving at Gleneagles. We've got people in other parts of the country getting some bespoke hampers of locally-sourced produce, that really works well there. So, we're just making sure they're trying to tailor the experience and make sure it's as good as possible.