Tesla might not have a conventional retail model, but it's luring customers from other brands at a rate that's difficult to ignore.
The most recent car it launched, the Model 3, has rapidly become Europe's best-selling electric car with more than 100,000 sold in the past 10 months.
Year-to-date, the American EV has outpaced the second-placed VW ID3 by almost 40,000 units.
With the new Model Y, Tesla enters the family SUV space and is poised to take on recently launched models like the Audi Q4 e-tron and Kia EV6.
Practical hatchback and AWD
It's based, largely, on the Model 3 – sharing a platform, powertrain and design language.
It features a practical hatchback, rather than the Model 3's saloon boot, and a raised seating position for those on board.
Two versions will be available to UK buyers, both using a dual-motor setup with all-wheel drive. The £54,990 Long Range can cover up to 315 miles on a single charge, while the £64,990 Performance manages 298.
We've tested the Long Range variant, which should satisfy most buyers with 384PS and a 0-60mph time of 4.8 seconds.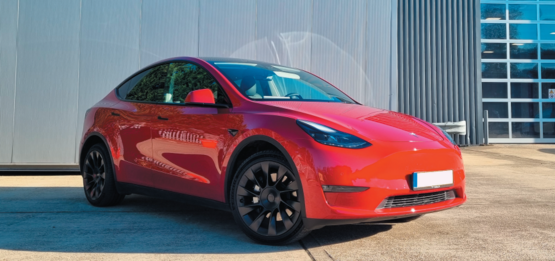 It straddles the premium electric SUV segment, offering similar range and performance credentials to pricier models like the BMW iX3 and Mercedes-Benz EQC.
Based on an initial drive, we're confident the car can achieve close to 300 miles between charges. It also has 250kW rapid charging capability, meaning a 10-80% top up takes less than 40 minutes.
Tesla owners also get access to its Supercharger network, which is cheap, reliable and often rapid. A central touchscreen houses all the car's controls, from sat-nav and climate to headlights and wipers.
Tesla's tech focus
It even doubles up as the instrument cluster. It's here that Tesla's technology focus is apparent. The system is slick, with immediate response, excellent graphics and an intuitive layout.
The 15-inch high-resolution screen dominates the interior and provides access to features that other car makers do not offer, like a bioweapon defence filtration system for the air con, video games that utilise the car's steering wheel and pedals (when parked) and a special mode for if you take the car camping.
When it comes to charging, the Model Y's infotainment system is an excellent companion.
It can show all the available chargers on a map and create routes than include required charging stops.
When you enter a destination into the sat-nav, the car will also tell you if you'll need to charge up to be able to come back again.
When paired with the Tesla smartphone app, which can be used to remotely move the car in or out of a parking space and functions as the key, the digital user experience is unparalleled.
As impressive as the digital experience is, it can also be frustrating.
Simple functions like adjusting the door mirrors or turning on one of the heated seats requires a delve into the system.
It's no wonder Tesla has to set up handover centres across the country to deliver vehicles, as many buyers will need guidance to get started.
We'd also prefer a speedometer that appears in the driver's line of sight, either as a head-up display or separate screen, rather than having to look at the central display.
Plenty of room, but no 7-seater
With little else to take up space in the cabin, there's plenty of room for passengers.
US-spec Model Ys get seven seats, but the UK will only receive five-seat version.
The boot, however, is massive – providing up to 857 litres of luggage space.
More storage space can be found in the front, under the bonnet and the rear seats fold flat to provide even greater practicality.
The Model Y's minimalist interior design may not be to all tastes, but we were pleased to notice an uplift in material and build quality compared with previous Tesla models we've experienced.
The only niggle was a rattle coming from a panel in the rear.
Drivability is another impressive attribute. The Model Y is agile, with sharp steering and responsive brakes.
There's not much body roll, despite the raised ride height, although the firmer suspension, combined with 20-inch alloys, made the ride on our test car unsettled. We'd be cautious of specifying these over the standard-fit 19-inch wheels.
Specification levels are high, with all Model Y's getting heated front and rear seats, a heated steering wheel, LED headlights, adaptive cruise control, a glass roof and faux leather upholstery.
The Performance variant adds 21-inch wheels, lowered suspension and bigger brakes.
With 426PS it can crack the 0-60mph sprint in 3.5 seconds and has a top speed of 155mph.
The initial batch of Model Ys is due to arrive in the first quarter of 2022, with the Performance version following in the summer.