MPVs, or 'people carriers', have fallen out of favour with the UK car buyer and now only account for around 3% of the market. Instead, motorists are choosing to cram their families into SUVs and crossovers –meaning the humble seven-seater is now mainly bought by taxi companies.
But, SUVs are not really a suitable replacement for an MPV – as you can't fit seven adults (and their luggage) in them.
Van-derived people carriers, therefore, are much more practical, yet far less desirable, to the average buyer as they often lack the creature comforts and 'sporty lifestyle' looks of an SUV.
Once you introduce electrification into the mix, the reality is that a van-derived vehicle like the new Mercedes-Benz EQV is the only solution currently available that can carry more than five people comfortably while producing zero-emissions.
Next year, the EQ range will be bolstered by the EQS, a fully-electric version of the new S Class, followed by the EQE executive saloon; plus a pair of related SUV models. An EQA compact SUV and larger EQB will also begin production next year.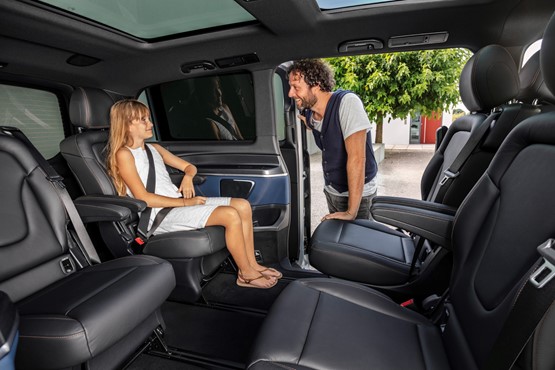 The EQV is based, largely, on the Mercedes eVito van; but comes with styling tweaks, the more luxurious interior from a V-Class and a 100kWh battery, providing a WLTP range of 213 miles.
Mercedes believes the EQV will appeal to private buyers as much as it will the commercial taxi and chauffeur businesses. For the latter, the EQV is a compelling product. The traditional diesel-heavy taxi fleets are under pressure to electrify, driven by increasing restrictions in city centres.
Priced from £70,000, the EQV doesn't come cheap. It's designed to provide a luxurious car-like experience. So, there's plenty of leather, sound-proofing and high-tech equipment on board.
The interior can be configured so there's two seats in the middle and three at the back, or vice versa. Passengers can also face each other, with a folding table between them, or all face the front.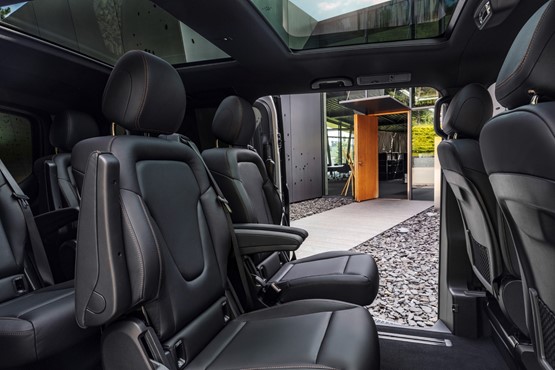 Up front, there is plenty of space. In fact, the EQV's interior is so vast it is difficult to reach the various storage compartments from the driver's seat.
A 10-inch MBUX infotainment screen provides the brand's latest in-car services, including live traffic information, digital and internet radio and smartphone integration.
The 204PS electric motor provides modest performance, with 0-62mph taking 12 seconds. The EQV's throttle has been calibrated to ensure passengers are comfortable, which means setting off on busy roundabouts requires a thorough shove of the pedal to get it moving. There's plenty of power on the move to keep up with traffic and, of course, a refined and almost silent experience.
As a vehicle primarily designed to carry people and stuff, it's rather good. The electric sliding rear doors provide easy access, even in tight spaces and everyone on board should be comfortable.
It's not really a 'car', however. The footprint alone makes its tricky to navigate small streets and country lanes, while parking requires a higher-degree of skill. While the EQV is easy to get along with, there's no escaping the fact it drives like a van.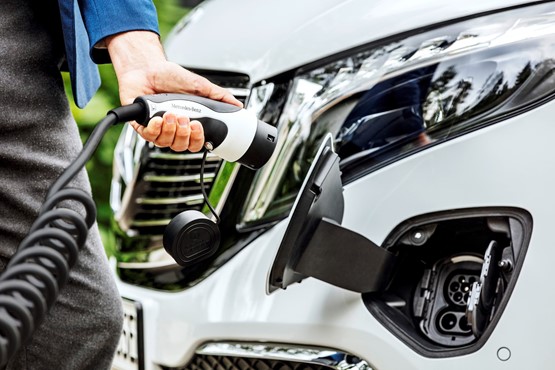 During our testing, the EQV was achieving around 2m/kWh, which would suggest a total range of 180-200 miles could be comfortably achieved.
When it comes to charging, the EQV's big battery will take 10 hours to replenish using a domestic socket, but it can achieve an 80% charge in 45 minutes using a rapid charger.
If the price tag is too high, the less refined eVito tourer offers the same powertrain and has seating for eight; for around £20,000 less.
Q&A
Rachael Thompson, sales director at Mercedes-Benz Cars UK
What do you expect the most common use-cases will be for the EQV?
The EQV is truly a unique proposition – a full-electric MPV with an impressive electric range and flexible seating for up to seven occupants. From families, to those who enjoy outdoor activities, to businesses such as the taxi and chauffeur market – all can benefit from the EQV's offering.
Will the EQV be more popular as a fleet or retail proposition?
We see it being popular for both private and fleet customers, because of its unique proposition and the flexibility that this model brings.
How have you ensured the dealer network is prepared to sell the new model?
All of our retailer partners are "EQ franchised" – from offering EQ models such as the EQC, to supporting our customers throughout ownership. Our network is ready for not only the EQV, but also our upcoming models in our ever-increasing EQ battery electric and EQ Power plug-in hybrid portfolio.
How does the brand support buyers with EV ownership?
It is not only the car, but the services and technology included that are important in EV ownership. The EQC and EQV come with three years' Mercedes me Charge as standard – our public charging service that includes major charging networks including BP's Polar Network and Ionity.
Customers, therefore, don't need to worry about subscribing to multiple networks. With the MBUX infotainment system in EQV as standard – customers can enjoy route-optimised navigation – calculating the best route for your journey, and rerouting you to available charge points if required. We have partnered with BP Chargemaster (now bp pulse) to provide customers with home charging solutions. The EQC and EQV also have an eight-year, 100,000-mile HV battery warranty – giving customers additional peace of mind.