For many car buyers, jumping from a combustion engine car into a full electric vehicle (EV) carries perceived risks they don't feel ready to take. So plug-in hybrids, such as our XC60 T8, give new car dealers a chance to gently move consumers in the direction of pure electric powertrains and make the UK Government's 2035 deadline for the switch to electric cars seem a bit more achievable.
Thanks to hybrid cars customers can sample electric propulsion – and develop a habit of trying to squeeze out maximum mileage per charge – while still having their petrol-fuelled safety net for longer trips.
When Volvo introduced its T8 plug-in hybrid powertrain, in the new XC90 in 2016, there was zero competition in the premium sector and the mainstream Mitsubishi Outlander was the only other plug-in SUV in the UK market.
Since then there's been a flood of PHEV entrants across the mainstream, premium and luxury sectors, including the XC90's smaller brother, XC60 T8, that we've run since January.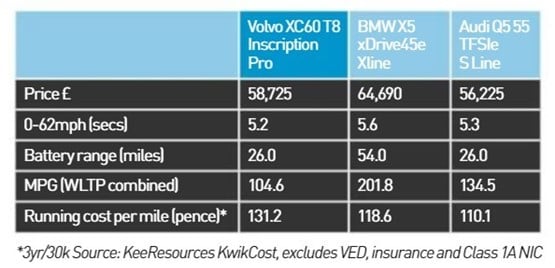 Examining the data for our XC60's main German rivals shows it can certainly hold its own, but BMW's latest plug-in X5 SUV is piling on the pressure, due to its larger batteries giving it longer electric range and running cost benefits.
But that comes at a considerable extra front-end premium – almost £6,000 more in list price.
And the BMW lacks the XC60's graceful looks, in my view.
Our Volvo remains the Usain Bolt of the trio, sprinting to A-road speed limits just ahead of the others.
And as Volvo will reimburse buyers' first year of electricity, the incentive to charge up at home and workplaces will ensure its 26-mile pure electric range is no deterrent.