A strong emphasis on people and a collective willingness to roll up their sleeves is propelling profits at Drayton Motors
Drayton Motors director Darren Bradford is keen to highlight a mindset that would have him "pick up a bucket and sponge" at the two-site Kia franchise in Lincolnshire if it would help the business.
The businessman said that he considers his leadership style to be "firm but fair" and centred on the importance of everyone in a team effort.
It's that team effort which drives the success of this award-winning, family-owned retailer
"We're a rural operator," said Bradford.
"Our Boston dealership, in particular, is in the middle of the middle of nowhere.
"It's flanked on each side by drainage ditches and at the back there is a cauliflower field.
"Despite our location, customers come in and they are blown away by the vibe and the energy in the dealership and that's what I love about it.
"Drayton is a happy working environment and that's a major driver behind our business."
He added: "It's a culture that you have to breathe into a business from the top."
Drayton has achieved AM Best UK Dealerships To Work For status in 2017, 2018 and 2019.
Despite the differing targets, processes and constraints within each department, feedback delivered by staff on the questionnaires suggested that employees enjoyed a sense that they were all working together for the good of the business and would look to find solutions to any issues that arise.
Bradford conceded that his desire to feel part of his team, and to listen to his staff, stems from his own experience of driving his career forward from the start-point of valeter at a garage in Gravesend, Kent.
Time spent on the service desk and as a site co-ordinator for SMC in Crayford eventually led to an introduction into the sales side of the business – but the move didn't come easily.
Bradford explained: "I wanted to work in sales but my boss at the time said, 'Have you seen how big you are? You'll scare customers away!'"
"I ended up putting a proposal to him. I said, 'I'll give you my Saturdays and Sundays to work as a salesman for three months and if I'm okay you give me an opportunity to move over full-time'.
"Over the next six or seven weeks I was consistently third or fourth in the sales team rankings, even though I was only working two days a week."
Bradford went on to become sales controller at SMC's newly-developed Ford dealership at Sittingbourne before moving to Lincolnshire for "lifestyle reasons", joining EMG Group at its Wisbech Ford dealership.
Later he invested in an independent retail operation and joined the consultancy circuit before a call from Chris Roberts – then of Thurlby Motors – brought him back into the retail sector proper as a sales manager, later gaining promotion to become general manager at three Vauxhall sites.
It was then that Robin Wilson, the managing director of Drayton Motors' owner Wilson and Co, got in touch following the purchase of his first Kia franchise, in Boston.
Bradford initially became dealer principal and still reports to Wilson, whose company operates Vauxhall franchises in Bolton, Chorley, Gainsborough, Grimsby and Scunthorpe.
He said: "Robin looks after the Vauxhall side of the business and places a lot of trust in me, allowing me to operate the Drayton operation pretty independently.
"The only time I tend to see him is at board meetings, where we share notes, but we have a great relationship and it works well."
Sowing seeds of growth
Since then, Drayton Motors has experienced significant growth from its rural locations "in among the cabbage patch".
AM spoke to Bradford in a Skype interview following the Government's call for social distancing measures to combat the outbreak of coronavirus, but he said that Drayton had experienced a record start to the year.
Between Drayton Motors' acquisition in 2013 and today, the group has been transformed, with a four-fold increase in turnover from £5.8 million to £30.5m in 2019, and a leap in profit before tax from £97,000 to £738,000.
Bradford said that the group's return-on-sales (RoS) figure had risen from 1.7% to 2.5% in the same period and the number of new retail units sold rose 62% from 163 to 264.
Some of the increase in performance can be accounted for by the addition of the group's second Kia franchise, in Louth, in February 2018, but significant gains have also come from expansions to display more used cars.
Used car sales have increased from 272 in 2013 to 1,502 in 2019, Bradford said, but 40% of that growth came between 2018 and last year.
Drayton secured the AM Awards' Best Used Car Performance accolade in 2018.
It was one of a string of accolades claimed by the group, which Bradford proudly states "punches above its weight".
In 2018 it was named as one of the Kia Motor Corporation's top dealerships and received a Global Top Dealer Award.
Most recently, at the Kia Motors UK 2020 dealer awards, Drayton's Louth dealership secured the Korean carmaker's Family-Like Care Award.
Studying entries for their used car award back in 2018, AM's awards judges were impressed by Drayton's 38-day average stock turn, a return-on-investment of 141% and an impressive customer satisfaction rating of 98.8% on JudgeService.
Standout factors include the Lincolnshire-based dealer's introduction of a 'price match guarantee', ensuring that if a customer finds an equivalent vehicle within seven days of purchase Drayton Motors will give them back the difference.
To further ensure customer satisfaction, as well as manage space constraints at this rural dealership, Drayton has a
three-day rule for new stock – cars cannot take longer than this from acquisition to being presented on the used car pitch.
A prep centre ensures all cars are at the required standard quickly.
Drayton also attracted praise for its innovative approach to marketing, through advertising on Sky television in its area of influence.
Bradford conceded, however, that competition in the used car sector has increased dramatically in the past two years and a keen eye on profitability and the speed of stock turn amid rising vehicle prices and falling margins – overseen by sales operations manager Gareth Grasham – has been central to its continued growth.
Maximising leads through the use of Rapid RTC's customer enquiry management system and adopting the Peter Vardy-backed SilverBullet online retailing platform have also helped.
Physical expansion
Bradford managed over time to expand the used car forecourt from six bays in 2013 to 65 by the 2018 AM Awards and still further to 110 now.
A stockturn of around 16 times per year in 2018 now stands at "a more realistic level" of around 13 times, Bradford said.
"It was tough growing our scale in used cars because of the nature of the sites," said Bradford.
"At the Boston site we had a cottage to one side, fields on another and a drainage ditch on another. We were land locked.
"The cottage had been empty for some time though and I spent an awful lot of time building a relationship with the owners – the two sons of the former owner – trying to persuade them to sell.
"In the end they did, and we moved on there in November 2014, but it wasn't a straightforward process."
Boston was upgraded with a purpose-built, LED-lit valeting bay in February 2017.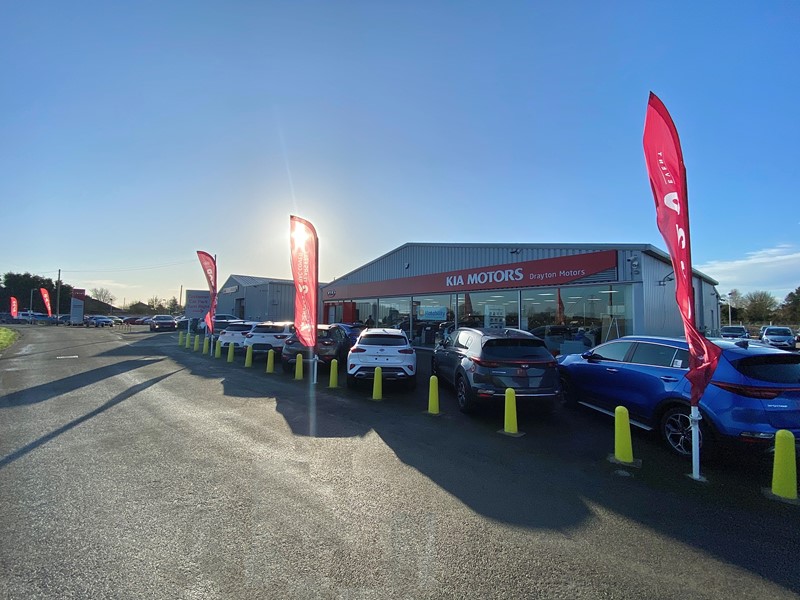 An expansion and full refit of its workshop seven months later introduced three new ramps and a wheel alignment bay.
The total investment in both projects was £300,000.
The works were a major catalyst in the growth of total labour hours sold from 2,300 to 5,830 between 2013 and 2019.
Major expansion to used car sales happened in October 2018 with the acquisition of an adjacent field to expand the site to 90 to 95 used cars bays and five new customer parking spaces.
Bradford said: "The local residents were keen to have input and it involved a lot of trips to local planning meetings and the like before we got the green light.
In all honesty, though, the expansion has improved things for us and the immediate vicinity.
"Space had become so tight that we were getting to the point where, by 8.30am each morning, people were having to park on the street and no one wants that."
After the considerable effort and investment made to expand the Boston site, the Louth dealership is now set to expand into a new purpose-built Kia Red Cube dealership.
Drayton completed the acquisition of a former petrol forecourt in the town in December and – prior to the coronavirus lockdown – plans to move into a new nine-car facility, with an eight-bay workshop and a Vauxhall authorised repairer franchise, later this year.
The former Nissan dealership currently occupied by the group, which was acquired in February 2018, employs 16 staff.
The next chapter of Drayton Motors expansion story is likely to involve a new brand altogether, according to Bradford.
While he said that he would be happy to expand with Kia, Bradford said that conversations were already under way with other potential manufacturer partners.
Negotiations to lease a new site were also under way, however the landlord was offered improved terms by Enterprise Rent-A-Car.
Drayton has made no commitment as yet to join another franchised network.
Bradford said that conversations with owner-driver operators of prospective brands had been central to its due diligence research so far, adding: "It will happen when the right opportunity comes along, but we're not the type of business to simply jump in with both feet."
NAME: Drayton Motors
LOCATIONS: Louth and Boston
TURNOVER: £30.45 million (2019)
PBT £738,000: (2019)
EMPLOYEES: 60
'Firm but fair' leadership
Reading Drayton Motors' entry to the AM Best UK Dealership To Work For award, it is hard to imagine that the group is anything other than an employer that, in Bradford's own words, "spoils its staff".
Staff recognition policies include the handing out of chocolate eggs and turkeys at Easter and Christmas, a half-day off for employees on their birthday and access to the online benefits platform Perkbox, funded by the dealership and giving retail discounts at high street and online brands, a free MOT, £1 car wash and vacuum, a new car for cost price plus £1, and friends and family discounts for used cars.
Other employee benefits include a childcare voucher scheme, bicycle loans, optional private medical insurance, health screening and retail discounts, plus access to financial and legal advice.
The group's formal incentives include a 'superband' for sales executives, which gives them 15% of the profit they make if they can achieve 200% of their target, and a year-end bonus for a percentage of over-achievement against budget.
"We give them everything," said Bradford. "Why do we do that? Because they give us everything."
Bradford believes that recognition and the support Drayton offers its employees are central to his dealership's "uplifting vibe" and a staff attrition rate of 10% in 2019 which, he claims, excludes two members of the six departing staff who have since returned to the business.
He said that he will always give staff a second chance and is keen to promote a culture where anyone wanting to progress is given a chance to do to.
"I was lucky, I was given a chance when I started out and made the most of it, but I'll still get stuck in with the team," he said.
"In a month like this – which would normally be a busy plate-change month – I'll just bring in a pair of jeans and a T-shirt, and pick up a bucket and sponge to help out.
"If you work hard you can progress and it's important for people to know that I remember where I started. It could encourage them to develop themselves."
Bradford said that the living evidence of his ongoing desire to give others a chance can be seen in the team around him now, many of whom were previously valeters themselves.
One top salesman was a former valeter who had previously sold chocolates in his native Romania, Bradford said.
"I saw his potential and started including him in customer events, getting him involved," said Bradford.
"Eventually he clocked on to what the salesmen were earning and he came round. Now he's doing great work for us."