Drayton Motors has entered AM's Best UK Dealerships to Work For for the third consecutive year after it became an "invaluable" tool to gather honest opinions from staff about the business.
A previous winner of the free-to-take-part annual employee survey, Drayton has now been recognised as one of the best dealerships to work for two years in a row.
Group director, Darren Bradford, said: "It's a privilege to be able to say that we have won 'Best UK Dealership to Work for' two years in a row.
"We find it invaluable to pull all of our staff together and gather their honest and anonymous opinions about the business.
"It gives us a great chance to collect our staff's views on the environment in which they work. We can build on this feedback to ensure that we have a happy workforce."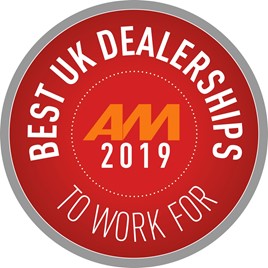 Registration for this year's Best UK Dealerships to Work For survey are now open for those businesses wishing to enter for 2019, with participants reminded that they can enter – and be in with a chance of official recognition at AM Live 2019 in November – entirely for free.
The deadline to enter is June 7.
Bradford said the entry process for those looking to get involved this year is "straightforward and everything is emailed and explained well".
He said: "You are guided through the process and kept informed at all stages so that you can prepare staff for what you need them to do."
Franchised dealerships can sign up to take the employment survey free of charge and if the results aren't strong enough to be listed as part of AM's Best UK Dealerships to Work For, no-one outside of the business will know and the feedback can be used to improve.
For those businesses that are successful, they will get free use of the AM Best UK Dealerships To Work For logo for recruitment marketing.
They will also get a Best Dealership To Work For trophy to display in the workplace and press release templates for use.
Benefits also include free registration to AM's flagship Automotive Management Live 2019 exhibition at Birmingham NEC, where the awards will be presented.
The head of the overall highest scoring dealership will also receive a VIP invitation to the 2020 AM Awards, to join AM on the front tables, and to be presented with their award again on the grand stage at the flagship event for the automotive industry.
There is also the option to purchase a detailed report from Best Companies Group, with the employees' anonymised responses to each of the survey's questions, verbatim comments and benchmarking data. This is purely optional. No purchase is necessary to take part.
Bradford said both of Drayton's awards from the previous two years are proudly displayed in the customer waiting area and the company's involvement in the Best Dealerships to Work for is often a talking point with customers.
Another benefit of the free survey is that it can be valuable to help attract new potential candidates as part of its recruitment strategy.
Bradford said: "Competition can be high for quality staff and so this gives us the edge over other dealerships in our area.
"The questionnaires are good because not only do we collect the views of our staff, but it also makes them think and reminds them of all that we offer a business.
"It's no secret that we spoil our employees but we need to ensure that they appreciate this. We want them to all have long and prosperous careers at Drayton Motors."
Drayton uses the AM Best UK Dealerships to Work For logo on nearly all of its marketing materials as a "jewel in the crown" for Drayton Motors.
Bradford said being part of the initiative also helps with retention as staff are reassured that they do work for an award winning company, not only based on sales figures and results – but also based on how they are treated.
He added: "It acts as a reminder that the grass may not always be greener elsewhere."