With the UK on a pathway to zero emission new cars and London set to expand its ultra-low emission zone this year, Hills Garages looks well placed to continue notching up successes.
Trading from two showrooms inside the M25 at Woodford, Essex, the small dealer group is a long-serving, well reputed partner of Toyota and Lexus, who've had hybrid cars on the market since the late 1990s.
Hills is one of the strongest performing Toyota and Lexus partners in the UK, solidly profitable, and in 2019 its revenues reached £62.9m from its single showrooms for each brand – which are uniquely separated by just a pub, The Horse & Well, which serves as a reminder of the neighbourhood farriers business the Hill family started with in 1905.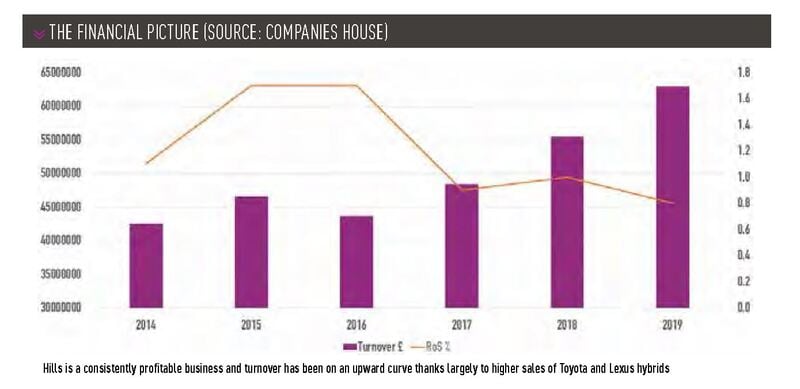 Aftersales director John Crisp says the motor retailer is well positioned within the M25, and because it has been in the same spot for years it has a strong reputation in the area.
"The Toyota and Lexus brands are so good to be with and, because of the breadth of stock we have, there'll always be an ideal car whether a customer is new to new cars or buying another ready to retire," he says.
"We're not restrained by model choice, so we do keep people coming back."
Sales director Nahide Crisp, John's wife, credits the hard-working team which ensures it keeps a good profile. In normal times the company regularly holds customer events and works closely with local schools, business organisations and charitable causes.
"If there's anything needed in the local community we always want to help. We're part of Woodford Green. This is us. We've been here a very long time," she says.
Extensive use of social media channels, prospecting the database for repeat business and finance renewals, and rewarding customers with £50 for referrals to friends and family are among the tactics helping to keep buyers coming in.
She adds: "We like to sell them a car, keep them for servicing, and eventually bring them back to see if they'll upgrade it."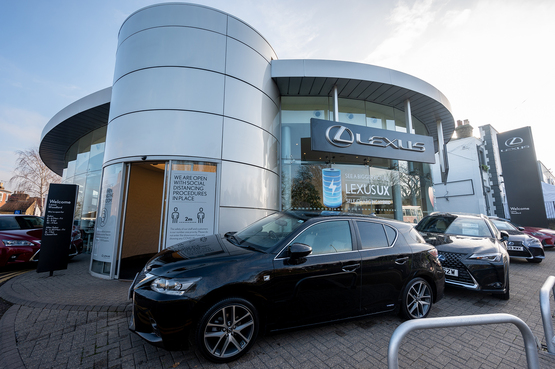 London is a great market for hybrids. Competition is becoming more fierce, however, with AM100 retailers such as Glyn Hopkin, Mercedes-Benz Retail Group, Gates and Cambria Automobiles all operating in the locality and many more franchises now focusing on lower emission cars.
CONSULTATIVE APPROACH
Nahide says of course customers have choice, but she's confident Hills team's consultative approach can win the business they need. "Provided they're dealt with properly and the car suits there's no reason why they wouldn't buy from us."
Hills has customers who've been buying there for two decades and who ask for staff by name.
She believes some people are happy to transact online, and the group does have buyers it delivers cars to after interacting through calls and emails, but most want to make more of the experience of buying a Lexus or Toyota from Hills.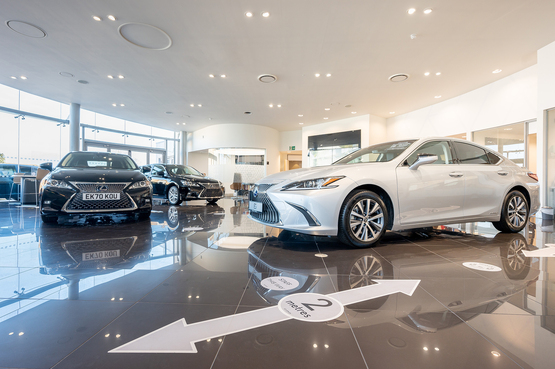 "Ultimately, we find out how the customer wants to be dealt with and do it their way," she says. "No one size fits all."
She says converting the sale is "the easy part" once they've enticed prospective buyers in. Test drives are critical, she says, to get the customer to feel good driving the car, and particularly to feel comfortable given the amount of time London motorists spend in slow-moving traffic.
With hybrid demonstrators, staff members make a point of showing customers how little fuel they've used on their test-drive.
"Once you have the customer service, we work with good products so the car is going to sell itself," she says. "We can spend all the money of advertising we want, but if we're not getting customer recommendations that's no good."
Nahide recalls seeing the sign 'if we please you, tell others. If not, tell us' in her mum's hairdressers 20+ years ago and applies that mantra to motor retail today. Hills seeks feedback from customers, and encourages them to leave Google Reviews.
"Today it's about having customers as massive advocates rather than the old-fashioned advert in the newspaper."
Those Google Reviews are more evidence the business does things right – scored out of five, an average 4.2 from 886 reviews for Hills of Woodford Toyota and 4.5 for Lexus Woodford from 318 reviews.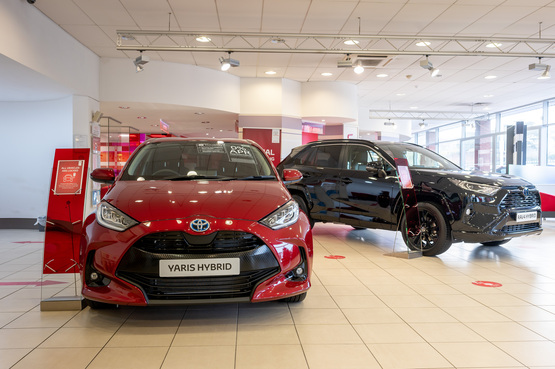 Underpinning that customer service are talented, hard-working staff with diverse backgrounds and cultures, she says.
"All the staff are hand-picked by us, they go through a good selection process with the line managers and then with us, so we get the right personalities that will work well within the teams."
Empathy and decent education are two of the pre-requisites, says Nahide, who has a law degree.
She says Hills is no 'Wolf Of Wall Street' environment clamouring for short-term, cut-throat business, and staff need to see past the sale – customer service has to be front of mind for all. And if someone is new to the team they'll only get to sell when she knows they're trained and ready to uphold the reputation.
A similar message comes from John, who has been with the business since 2004 when he joined as an apprentice service advisor.
Although he, Nahide, managing director Ashley Humphries and financial director Ross Dignam head the operation, John says the Hill family still takes an interest in its motor retail business and consults the directors regularly.
As a family-owned business, Hills' culture clearly reflects the importance of relationships, of fostering a collaborative team spirit in its 140-strong workforce, and encourages the notion that happy staff will work hard to satisfy both customers and the business.
John adds that its sales and service staff work together well and appreciate one another, incidental to the fact that their sales and service directors are married.
HILLS 'IS OUR LIFE'
John says his and Nahide's own relationship is a real strength for the business, and naturally work discussions creep into their home life, but they help to demonstrate that the business is one team.
"It is our life, really. We look after it as if it were our own, everything around here is what we would do. And we both have each other's back at all times, I want to support sales and Nahide wants the same for us in aftersales. It certainly isn't 'us versus them'."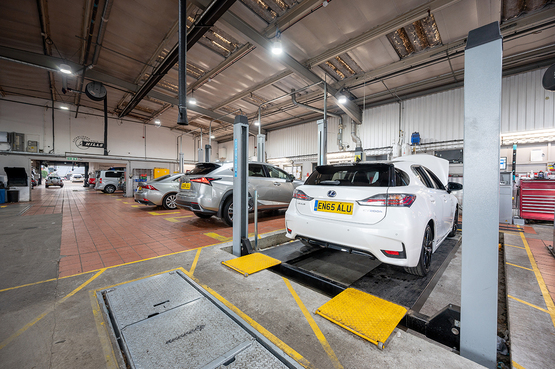 Transparency and honesty are the two most critical things in retailing, says John. No one should make promises they can't deliver. He, Nahide and Ashley ensure they are accessible for staff and can support them in anything they need to do. During the lockdowns, when some staff were on furlough, and the directors helped keep the business going, including handling enquiries, taking sales and service bookings.
Nahide adds: "Everything we expect our staff to do, we could do ourselves."
She believes having good leaders at the front inspires the team to follow, plus the leaders should be known to customers and able to hear feedback firsthand.
Nahide sees the importance of encouraging more women into the motor industry, showing that anyone can progress their careers and businesses can be flexible – some staff at Hills are in job-sharing roles to help them balance family commitments with their work.
Last September, when children first restarted school in social distanced conditions after the COVID-19 turmoil, she told staff who, like her, were parents to prioritise getting their kids settled and confident and come in to work after.
In aftersales, Hills' key partner is eDynamix across software for EVHC, service plans and MOT bookings, plus it has introduced the Autopoint service lockers for customers who want a contactless service or need to pick up their car after service reception closes.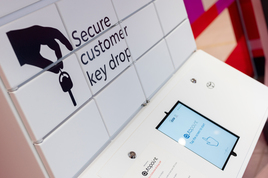 John says the Autopoint system can be used for parts collection too, which has been useful for Hills' sales to local businesses.
He sees such technology will be part of the future, but Crisp doesn't expect COVID-19 will put an end to all customers' desire to deal with a human being.
Service advisors still want to see customers and maintain those service levels the business is known for.
Since the pandemic Hills has adapted its business to COVID-secure practices, so its showrooms look different to customers, but the staff ethos is still the same.
EV PROSPECTS
The business is excited about the prospects ahead. Lexus has the pure electric UX about to launch, and Toyota has a pure electric version of its popular SUV, the Rav4, adding to the range.
John says: "We're both quite young, and very enthusiastic about what we feel we can achieve with this business, and we've bought into the future as well.
We'll always look out for new projects, technology we can pilot etc. We can be quite agile, as soon as something comes up we can go out and try it."
Does much growth feature in Hills' plans? John says the electric vehicle (EV) opportunity for dealerships in Greater London is "pretty massive" and, being in an affluent area, there's a ready market. The directors have an ambition to expand the business, but only provided the right opportunities come along.
Nahide is quick to warn that if they couldn't remain hands-on in the business some of Hills' foundations might start to crumble.
"We don't want to be the biggest, but the best," she adds.