Sales of new petrol and diesel cars and vans will stop in the UK from 2030, as part of the Government's "green industrial revolution".
The new date is 10 years before the original deadline of 2040. The impact will be huge for drivers across the country. But how will it affect Europe's largest privately-owned dealer group, Arnold Clark?
AM contributor, Jim McGill, spoke to Arnold Clark chief executive and group managing director, Eddie Hawthorne, to find out.
"I think, genuinely, given the versatility of the motor trade and motor manufacturers, meeting the Government's new 2030 deadline for stopping the sales of new petrol and diesel cars and vans in the UK is achievable," said Eddie Hawthorne, Arnold Clark chief executive and group managing director.
"It will be hard, but it will be achievable. But will we have anything to plug electric cars into? That's the bigger question."
Hawthorne, who guides what is one of the AM100's most profitable retail groups, a genuine 'one-stop shop' motor retailer with a turnover of £4.46 billion last year, is in no doubt that the lack of a recharging infrastructure across the UK is one of the biggest hurdles impacting on the sales of new EVs.
"There's no denying that currently the infrastructure is not there. Bringing the ban on sales of new petrol and diesel vehicles forward by 10 years is going to be a huge challenge for the manufacturers," Hawthorne said.
"They have production plans and development schedules which are planned well in advance, so bringing it forward 10 years may give them a bit of a headache.
"But it's more the infrastructural side of recharging the electric vehicles where I think we need to make sure there's a joined-up approach. At the moment there doesn't seem to be."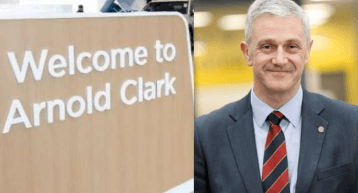 The Arnold Clark boss is an advocate for a universal charging system to be introduced to deliver blanket coverage across the UK.
He sees that as one of the biggest challenges to rapid electric vehicle uptake among a consumer base which is accustomed to pulling up to identical fuel pumps no matter where they are.
"Legislation was passed earlier this year or last year which basically said that all public charging points should be accessible to everyone. Well it's not really the case at the moment.
"It's not easy for everyone. There are different levels of access. Different levels of membership. Different mechanisms in place for charging.
"So generally, as an industry, and if we really want to achieve this level by 2030, I would push for a kind of chip and pin system for charging. No matter what your bank is, the chip and pin would work with any card. I think that's where we really need to try and get to as an industry."
COMMITTED TO DECARBONISATION
Hawthorne too is quick to stress that he and everyone at Arnold Clark — which employs more than 11,000 people across more than 200 dealerships, 150 service centres, 40 accident repair centres and 13 parts centres — is fully behind the push towards a new 'green industrial revolution'.
"We at Arnold Clark are definitely committed to decarbonisation," he stated. "But to achieve the decarbonising of road transport, it really requires the need for a combined approach across the various sectors."
And while he acknowledges the other principal dealership groups across the UK will also support the plan, he confirmed the Government made no contact with the UK's major automotive groups before making its latest announcement.
He said: "The Government certainly hasn't been speaking to any of the large dealership groups that I'm aware of.
"Was the announcement a shock to me? No; probably not. I think this drive towards decarbonisation has been on the agenda for quite a while, and I think it's something for everybody to strive towards."
There is a natural concern though that the changes which are focused on 2030 will impact across UK dealerships.
But Hawthorne is not concerned that the fast-tracking of the new ban will directly impact on Arnold Clark.
"We've set ourselves up as a transport provider. If it moves, I'll sell you it, lend you it or lease you it. It doesn't really matter what the powertrain is for me.
"We're very much into making sure that people have the mobility they require, and we can provide that transportation, or that mechanism of transport that they choose to come to us for. "So from an Arnold Clark perspective, we'll be set up and ready for 2030."
NEW INNOVATION CENTRE
Hawthorne and his team are also committed to ensuring all Arnold Clark customers are ready for the transition.
And with currently only around 1% of all new car sales being pure EVs, the company has recently opened its new Innovation Centre in Glasgow.
"I'm often asked what I believe is required to persuade new car buyers to switch to EVs. The answer is simple: education. That 1% will definitely grow. But again there are a lot of myths and misconceptions about EVs. And this is something we as an industry need to educate our customers about, which is what we're trying to do."
So the group has invested "well over £5 million" in its Alternative Fuel Vehicle Innovation Centre in Glasgow.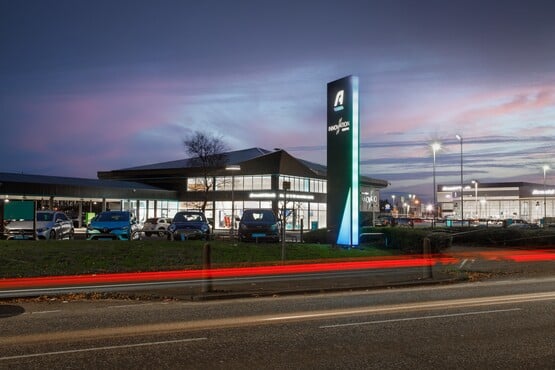 It's not a site from which Arnold Clark will sell anything; it's specifically an innovation, information and educational centre, and it has the backing of the government's Office for Low Emission Vehicles (OLEV).
"Arnold Clark customers will know we use 'product genies', and I have five specific genies who man that site, which displays alternative fuel vehicles from all the manufacturers we represent, plus some we don't. We currently have — or will have very shortly — 60 vehicles onsite. These include fully electric, plug-in hybrids, hybrids, and commercial vehicles that are also alternatively-fuelled.
"We've also decided to partner with a number of experts to get the facts over to our customers, so we've partnered with Transport Scotland, OLEV, Scottish Power, Energy Savings Trust and Go Ultra Low. We're working with them to get the right information to our customers when they purchase, or when they consider one of these alternatively-fuelled vehicles.
"The focus is helping consumers understand what they really need and what would be the best vehicle and package to fulfil that need. It also educates them about the process of charging a plug-in vehicle, the public infrastructure being developed and where they could charge it.
"What we're trying to do at the Innovation Centre is just showcase everything that's out there, and it's not just about electric vehicles."
PCPS AND CONTINUING SALES OF HYBRIDS
Hawthorne also welcomed the Government's decision to continue to allow the sales of new hybrids by five years to 2035.
"That decision is absolutely essential," he stated. "This goes hand-in-hand, and it's back to that aspect of a joined-up approach. Where we have vehicles with extended battery range, then that will be fine, but I think hybrids bridge the gap to us actually getting that product range for everybody.
"For your average customer who is doing 8,000 miles per year and only 20-30 miles a day, an electric vehicle is perfect for them. For someone who's doing 100 miles a day, then we're getting into the realms of it being a challenge to switch to an EV."
And he acknowledges work needs to be done to ensure new EVs are affordable to buyers, with a growth in the use of PCPs one of the likely outcomes.
"There's no doubt about it – the cost of an alternative fuel vehicle compared with a normal ICE car is more expensive. PCP will be the way to make it more manageable for a lot of people. But we still have to narrow the gap. And we have some way to go to narrow that gap.
"That's why I think the Government's support is still necessary for customers."
Does he think 'green tax discounts' on the purchase of EVs should carry on right through to 2030?
"I would love to see it, but I don't think that would be economically possible because of everything else the Government has currently got to face.
"While the green agenda is getting more money put behind it, I think providing the current 'kickstart' programme into alternatively-fuelled vehicles is important. But once that momentum starts to grow I would far rather see the money being put into the infrastructure network, so that people have the confidence to buy EVs."
GROWTH OF ARNOLD CLARK DIGITAL MARKET
That confidence to buy not just EVs, but both new and used cars at Arnold Clark, has not abated over the lockdown periods caused by COVID.
But what it has done is significantly swell the growth of digital activity and sales.
"Over the last five months our digital business has grown exponentially," Hawthorne explained.
"We've been pushing ahead with the digital journey for the last three or four years, but I would have to say I have probably advanced five years' planned growth in five months, with customer acceptance of it.
"Perhaps it took a national lockdown and a pandemic for customers to fully accept that this is a valid way of shopping, or browsing. But it has definitely accelerated as more customers become more and more used to the new way of having to shop."
Since July 2020, 93% of the company's sales had online elements, with customers creating an Arnold Clark account and agreeing documentation online.
The company has also had 170,000 downloads of the Arnold Clark mobile app since November 1, 2019.
Since May 2020, more than 41,000 customers paid their £99 reservation fee on ArnoldClark.com.
"There has been a 126% increase in our Deal Builder enquiries, which are essentially personalised online quotes, over the four-month period between August 1 and November 22 this year, compared to the same period 12 months ago," Hawthorne continued.
"Plus we have purchased 30,027 part-exchanges digitally after customers appraised their own vehicle using our new valuations tool."
THE FUTURE OF USED CARS
Used cars, of course, have been the bedrock of the company, which was established in 1954 when Arnold Clark bought a Morris Ten Four for £70 and sold it for a profit.
Post-2030, it's crucial to remember, there will still be a used car market.
"To be fair, sometimes in the media — and I've picked up on it several times — they've said petrol and diesel vehicles will be banned by 2030," Hawthorne smiled.
"They're not banned. It's true that new petrol or diesel vehicles will not be able to be sold after 2030. It doesn't mean to say used petrol or diesel car won't be able to be sold after 2030.
"There will still be petrol/diesel cars going round for at least 10 years after 2030, probably even longer. They will require reselling and servicing, and we at Arnold Clark will also continue to do that."