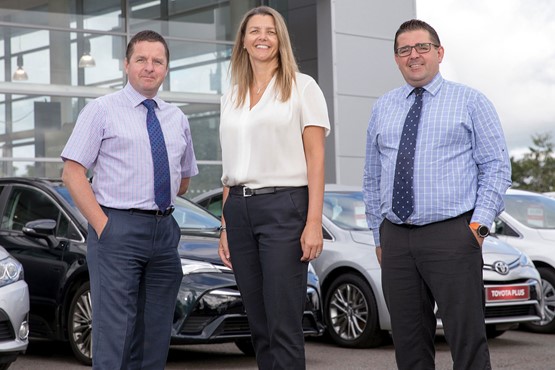 The return of Shelbourne Motors to Newry in a landmark £5 million Renault/Kia multi-brand showroom facility very much marks a homecoming for the family-run Northern Ireland retail operation.
Fred Ward, the group's founder, began selling vehicles from his home in the town – just a mile from the new dealership location – in 1970 and the current leadership team literally grew up in the motor trade.
His sons, Paul and Richard, are sales directors at the business, while his daughter, Caroline Willis (nee Ward), is the business's finance director.
"There is no need to have someone in the traditional managing director's role," said Caroline, when AM travelled to Newry to meet the team.
"I think it's good that we are able to sit down together and all have an input in the business and it's good that there's a team of us that people know they can approach in and around the business with suggestions or issues.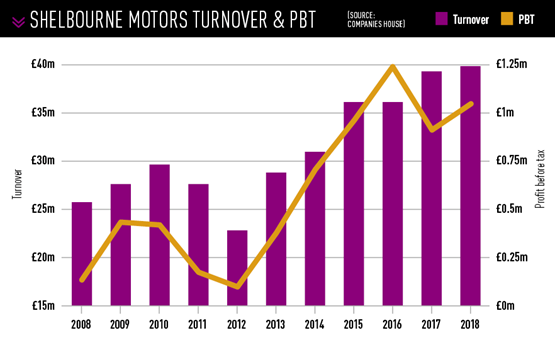 "Our father is still present within the business. I think he still misses the process of selling cars."
Paul shares his father's enthusiasm for engaging with customers on the showroom floor and said he still enjoys brokering a sale: "It's in the blood, and in a huge facility like this, who wouldn't want to feel a really active part of everything that's going on?
"As long as I don't upset the sales executives too much, I love to greet the customers and get into the business of selling cars even now."
Fred Ward expanded his car retail business after identifying a business opportunity 20 miles away in Portadown, acquiring a filling station in the town in January 1973 and subsequently securing a Toyota franchise.
After more than four decades, that site has expanded into a nine-acre, multi- franchise site featuring a newly renovated Renault/Dacia and Nissan dealerships. Shelbourne Motors launched its AutoSelect used car supermarket operation at the site in 2007.
In 2018, the group celebrated 45 years in business with its highest-ever annual turnover of £39.9m and its second-highest profit-before-tax figure of £1.14m as it prepared for its biggest single expansion to date – its return to Newry.
A Newry era
More than 1,000 cubic metres of earth had to be removed from sloping green belt land beside the A1 dual carriageway less than two miles outside the town to accommodate the three-story development.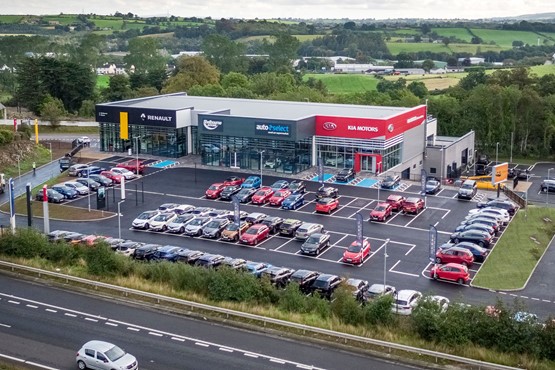 Work to develop the 50,000sq-ft facility, on Armagh Road, began five years after the Ward family purchased the site and about 20 years after the family last considered expanding back into Newry.
Paul said: "We had thought about coming here with Toyota, but this was right in the middle of the Troubles. We identified a site, then things flared up and we decided not to continue, but it was always there."
Paul said when they first visited the location of the new site there were horses and fly-tipping on the site, but he added: "We shook on it right there and then."
More than 20,000 vehicles pass the site every day and, despite its challenging topography, it offered scope for another significant multi-brand retail development.
Earth-moving wasn't the only challenge the group faced, though.
Caroline said: "We fought for the next three years with the planning committees because we were just outside the boundaries of the town. It was very much about what we could bring to the town and the employment we could provide.
"In the end, we didn't bring a workforce in from Belfast or further afield to build the dealership, we brought in a local firm, O'Hare & McGovern. It's nice that you can still bump into people nearby and they will say 'I worked on your site'."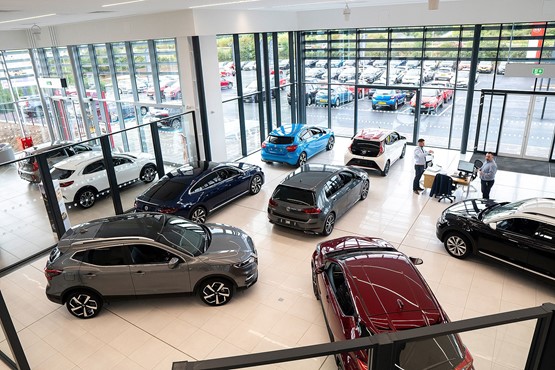 Shelbourne has benefited from the requirement to recruit locally, cementing its place in the community.
Paul said: "We wanted to do that, get the community into the building early and get them talking about it.
"We engaged with the local chamber of commerce and gave away a car through a local church.
"A lot of the dealers that had been in Newry previously had fallen by the wayside, they'd had no succession planning and we wanted to be that familiar name and make people aware of our history in the area and the part we wanted to play in its future."
Both Ward family members said the Newry area was a wealthy car retail market, describing it as "a tech hub".
Paul said: "More money goes through this area in a day than goes through Portadown, probably, in a week. We have got the advantage of the South, with the Border nearby, but that isn't our main focus.
"Two thirds of the population of Northern Ireland are on this side of the country.
"This is an affluent area. It's a technology hub. These are coastal holiday towns and there's also a lot of technology industry."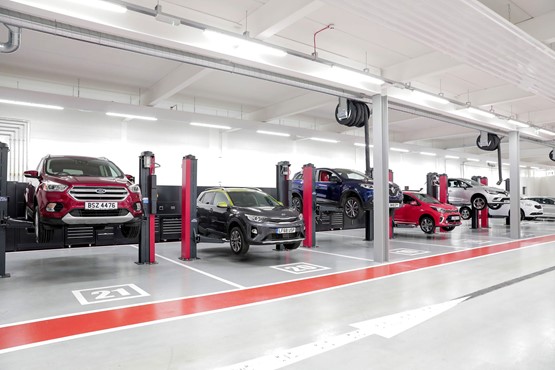 Caroline pointed out that the veterinary pharmaceuticals business Norbrook, security software firm First Derivatives, and STATSports, which provides data monitoring devices to professional sports teams across the globe, are among the big businesses located in and around Newry.
"We see a lot of potential for the site here," said Paul.
Away from the group's established database of customers in Portadown, the visibility of the Newry site – backed by a marketing campaign led by "Hello Newry" posters around the town – will play a key part in quickly building the levels of business needed to reward their £5m investment.
The facility is expected to double the group's vehicle sales from 3,000 used cars and 1,700 new units a year and significantly grow aftersales revenues with the help of a new drive-in service and vehicle handover area and a 28-bay workshop.
Caroline said the Newry building has been developed with scope to accommodate a further franchise in an extension on the southern side of the building, but there is no immediate rush to act on the plans.
With Shelbourne's group-wide return-on-sales figure standing at 3.55% at the time of AM's visit and 2.5% predicted for 2019 as a whole, the business is already geared to make the most of its existing assets.
One roof, one workshop
As well as the planning challenges posed by the new dealership's green belt location, the group faced a battle to convince its existing brand partner Renault of its business case after proposing the multi-brand format.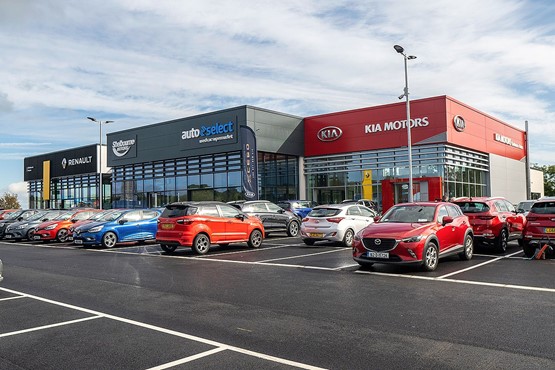 Of particular concern was the creation of a single workshop serving franchise customers as well as those of the AutoSelect used car showroom that sits between the Renault and Kia dealerships.
Paul said: "Renault was very against us having this open at the back and we had to go to franchising in Paris to argue the case. Fair enough, they put their hands up and said 'it works', but this is the first one that I'm aware of for that brand."
Shelbourne's Portadown operation features Toyota, Renault/Dacia and Nissan dealerships within the same nine-acre site. But the group was convinced that a single showroom and workshop featuring various brands would be more efficient at Newry.
The team visited the Jacksons Motor Mall, on the Isle of Man, to see a genuine multi-brand site in operation. Trips to NADA with ASE also provided inspiration.
"One of the best things about the NADA trips were the dealer visits," said Paul.
"Until you see how something works, it's hard to envisage."
Technology was a key takeaway from the Shelbourne leadership team's visit to NADA.
Italian workshop equipment provider Sirio has provided a vast suite of hardware for the Newry site and aftersales customers enter its drive-in service area over tyre monitoring sensors in an attempt to deliver early feedback on necessary new tyres or tracking work.
Automatic number plate recognition allows staff at a service desk – located behind sliding entrance doors next to an escalator that leads into the main showroom space – to greet each customer by name.
Caroline said: "With the parts facility that we have here, we have been able to stock 200 of our biggest-selling tyres.
"Getting a call half way through the service to say 'we'd recommend changing your tyres' is never going to be the most effective way of increasing sales. The monitoring system changes that."
Aftersales is a key component of the potential profitability of the new site in Newry.
Paul said service currently accounts for 32% of group profits, with parts and bodyshop operations accounting for 8% and 26%, respectively.
The Portadown business's workshop is loaded to 110% each day and achieves 80% overhead absorption.
In 2018, it delivered 1.6 labour hours per job card in 2018 as the group experienced an overall increase in sold hours of 9%.
Parts turnover increased by 6% across the year, but the group reported that this had not been reflected in profitability "due to manufacturers' targets being out of reach", making bonuses difficult to achieve.
Efficiency will be key to the business and even suggestions of minor changes are welcomed in the pursuit of marginal gains.
Parts from a large stock room, located adjacent to the workshop, are ordered and boxed up before the start of the day to ensure that all the components required by technicians are readily to hand – saving time.
An array of new Dura workbenches give technicians their own space to keep tidy and well-ordered and the aftersales and parts managers are now located in an office inside the workshop rather than in the main dealership building.
"That is where they are needed," said Paul. "It makes perfect sense. In there, they can keep track of the job cards and handle any queries that might come their way."
But the Wards insist that they are open to staff suggestions that might compliment the new highly ordered and high-tech working environment.
One long-standing technician told a recent staff survey that he was tired of being halfway through a job and not being able to find a watering can , said Paul.
"I said 'buy a dozen and put your names on them'. He was delighted, it was a simple fix, but it just went to show that even with all this technology some of the most straightforward solutions can be the most effective."
Recruitment
Not many of the employees at Newry could be considered "long-standing".
Following the recruitment of "Newry native" Michael McCartan as general manager, Shelbourne wanted to attract a fresh workforce of 60 staff for the new facility without poaching existing staff.
A fortnight-long recruitment operation was launched from a location in central Newry to sort through hundreds of applications for the roles. The group hoped to fill them with a large proportion of individuals from other retail and hospitality backgrounds.
Caroline said: "Normally, when you go through that kind of process you can emerge feeling exhausted, but after going through applications and interviewing the candidates for Newry I felt really quite uplifted.
"People had heard of or seen the plans and there was a lot of enthusiasm."
Since September, Shelbourne has promised employees a five-day working week, in an acknowledgement that staff expectations are changing.
The group has been working hard to ensure it is well placed to develop its own people, with Martec initially training a wide range of staff for the site before equipping managers to take up more active training roles themselves.
As well as appointing an average of 16 apprentices to its ranks each year – five of whom have gone on to achieve master technician status within the business – Shelbourne has also been working with Southern Regional College, in Newry, to introduce new elements to the curriculum, equipping students with the skills they may need to work in a modern dealership.
Caroline said: "We've been in there and talked to students and I think they have been amazed at the array of jobs that are on offer in the sector.
"Young people don't think about the digital marketing, the finance department, HR, when they think of a car dealership.
"We figured that if someone could walk out of college with some experience of the CDK software, for example, they'd stand a great chance of walking straight into a job."
Online sales
Paul said the group has a renewed focus on used cars and increasing its stock turn.
Its stock of about 450 vehicles will increase by about 360 when a site, which is currently being cleared next to the Newry dealerships, is completed next year.
The aim is to continue to drive a faster stock turn. The group reduced its average stocking days from 90 to 33 over the past three years.
A turntable in the Newry site's workshop will help to get high-quality, 360-degree imagery online faster.
While the group uses Auto Trader's Retail Accelerator to determine and change the pricing of its stock, one other key driver of the new strategy will be online retail. In September, Shelbourne integrated GForces' NetDirector Auto-e platform to power its online offering, including Shelbourne's Auto Select used vehicle programme.
Speaking to AM during our visit in late November, group marketing manager Ronan Marshall said: "It has taken off more than we anticipated. Since September we have sold 16 cars.
"We have a bit of a reputation for testing things and we knew that this was where the customer is going, so it's good to have a solution."
Paul pointed out that just one of the vehicles sold online so far had been completed away from the dealership, ending in delivery to a home address.
A nine-strong Shelbourne Motors call centre team currently claims an 11-minute response time to customer enquiries across all platforms, according to Marshall, and the group welcomes engagement and feedback via its website – recording a 4.8 rating on TrustPilot.
Shelbourne's used car stock subscribes to a 7yr/70,000-mile policy and, while the business insists that it's not a major component of its operations, cars over six months old attract a lower rate of Vehicle Registration Tax (VRT) for customers from the Republic of Ireland keen to take advantage of sterling's current weakness to buy a bargain.
A ready stock of nearly new vehicles is provided by the group's rental division – Shelbourne Vehicle Rental – which is targeted to grow in 2020 with a re-launch and the creation of a new, more visible centre at Newry.
Paul said: "We've 250 vehicles on that rental fleet now, but with the new branch, and really great visibility by the A1 here in Newry, we expect to grow that by a further 100 in 2020.
"The rental business really gives us the chance to appeal to customers who want to sample a brand that we don't represent and also to cater for people who want a shorter-term ownership option of six or
12 months.
"I think the site here at Newry is the embodiment of the fact that we want to be a one-stop shop for all potential customers and the rental option – like online retail – just feeds into that."