Lookers chief executive Mark Raban claims to be a numbers man, who likes "to stick with my knitting" by nature.
But, after leading the once troubled PLC's revival through the sector's most turbulent period outside war time, it is clear that he has learnt to embrace change as he tells AM that the group is poised to "try something different" with its newly-mapped growth strategy.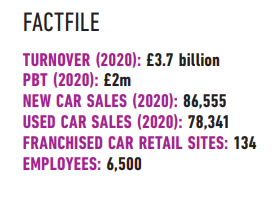 In his two years at the helm, Raban has navigated Lookers through a cost-cutting restructure which cut a total of 27 retail sites and significant headcount from the one-time AM100-topping car retail group.
He has also guided the business through a period which saw a fraud probe identify a £19 million black hole in the group's accounts, a Financial Conduct Authority (FCA) investigation scrutinise its compliance procedures and the business de-listed from the London Stock Exchange due to the late submission of its accounts in 2019.
Now things appear to be on an even keel, but record profitability and a new direction mapped-out for the group seems unlikely to illicit a slowing of the pace of activity.
AM's interview with Raban came just days after a trading update revealed the group expected to achieve record underlying profit before tax "ahead of the previous market consensus of £82m for 2021" and days before Constellation Automotive followed its move to acquire Marshall Motor Group with the purchase of a 19.9% stake in Lookers.
"I'm extremely proud of what we have achieved over the past two years," says Raban, who moved into the chief executive role from his post as chief financial officer two months after the departure of former CEO Andy Bruce and chief operating officer Nigel McMinn.
At the time, the business had already announced a move to cut 15 retail sites in a process of accelerated consolidation as it issued a profit warning and the FCA began formal investigations into its sales processes.
DAUNTING ROLE
Raban says: "It's two years since I moved from the role of chief financial officer into the CEO position.
"It was a massive role at the time and, what with a perfect storm of legacy issues and COVID closing in, it looked we had a daunting mountain to climb.
"I'm quite a 'stick to the knitting' guy, really – I've been in the CFO chair for the best part of 30 years – but I also knew that the challenges in the business were around numbers, compliance, working with our regulators and our stakeholders to stabilise and get the business back on a good footing. My skills are pretty much aligned to that."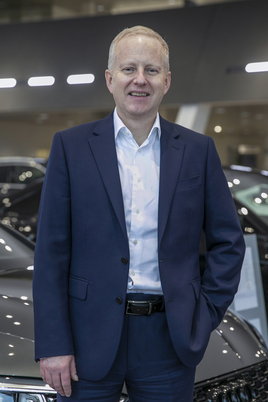 Raban has worked in retail his entire career and said that an early role as an accountant for the Ratners jewellery chain taught him that "you're only ever 90 days away from going bust".
In 1991, boss, Gerald Ratner, made a speech denigrating two of the group's products – describing one as 'crap' – which sparked the retailer's downfall.
An organist in his free time, Raban has quickly adapted to his broader remit as CEO, though, pulling the metaphorical levers, pushing keys and treading pedals to get the business working in harmony once again.
He freely admits he likes to up the pace of hymns and carols in the churches where he plays, but the rapid and decisive changes made in the early part of his CEO reign had to be made in the solitary surrounds of his home office.
"I started in the February and a month later COVID hit," he says. "With our dealerships closed all you see is zero revenue and a monthly burn rate of costs of £40m and you're sat in your home.
"Not being face-to-face with colleagues at a time when there was so much uncertainty and so much work to be done was really difficult, but it's been a difficult period for everyone.
"Those on the front line have been phenomenal and the work done by our leadership team has been fantastic.
"To get a reward in the exceptional results that we flagged up with the recent trading update was a boost for the whole business."
Alongside its record profitability, Lookers has emerged from last year with "a strong balance sheet", with net cash of around £8m at December 31 (2020: net debt £40.7m) and property with a book value of £303.9m at June 30, 2021.
The results were achieved despite the group's decision to repay £4.1m in support from Government's coronavirus job retention scheme.
Lookers will publish its full-year 2021 accounts in April. In updates published via the London Stock Exchange, the group said that it had been able to "look to the future with confidence" since publishing its delayed 2020 financial results in July last year, with its fraud and FCA investigations finally behind it.
Revenues in the reporting period hit hard by COVID and the fallout from the group's legacy issues were down 23% to £3.69bn (2019: £4.81bn). But underlying pre-tax profits of £14.1m were ahead of 2019's restated £4m result and a statutory profit before tax of £2m well up on a loss of £45.7m.
'OPERATIONAL OPTIMISATION'
Lookers is now poised to start a new era at a redeveloped headquarters. Work on Lookers House, in Altrincham, Greater Manchester, is set to be completed in March.
But the new era amounts to more than just a change of scenery at head office. Raban says Lookers is now poised to "try something different" following a history of growth through acquisition.
A new strategic framework will aim to "maximise the revenue and profit opportunities" from changing consumer behaviour, the impact of electric vehicles (EVs), developing relationships with OEMs and changing technology, a January trading update said.
The ultimate aim, Raban said at the time, is to realise an "ambition and aspiration to become the UK's leading integrated automotive retail and services group".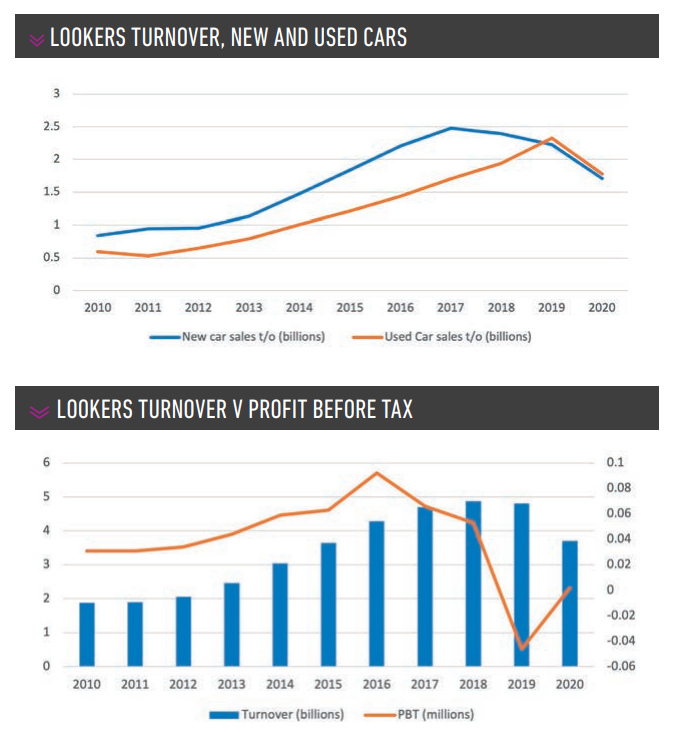 Bringing together disparate operating systems – a legacy of the group's growth through acquisition in the past – with a newly-created dealer management system (DMS) will be central to this, Raban tells AM.
"Think of the evolution of the group. It has grown massively through acquisition. We'll do something different," he says.
"There has been quite a spread of performances across our business. Our focus has to be on doing what we do better. Delivering operational optimisation.
"Our sites aren't all on the same DMS. That's a change that will be implemented by the end of this year and will allow us to do things in a very different way."
Raban says he doesn't feel any car retail operator has yet delivered a customer journey that could be held up as an exemplar of true omnichannel sales.
His aim is to see Lookers fully realise an evolution of the model quickly ushered in as a response to COVID-19 lockdown.
"Contactless handover, unaccompanied test drives, remote documents signing, all those things we had to spin up pretty quickly," he recalls.
"They're all things that have stayed in place today because customers really liked them.
"Now it's time to ensure that they all work in the most efficient and customer-friendly way possible."
Raban says there is a "huge prize" for the retailer that best linked-up the car retail process, both on- and off-line.
The group has learned a lot from franchise partner Polestar, the Geely-owned EV brand it has represented at the Trafford Centre, Manchester, since December 2020.
Its online-only retail model operates in tandem with 'Polestar Space' showcase sites. Raban says: "I was at the Polestar Space at the Trafford Centre and was able to configure a car on the in-store system, which is a giant flat touchscreen table. I then had that transferred to my phone and I continued to work on it whenever I chose before, potentially, placing an order.
"I am in control of my finance application, my deposit, the mileage that I do, I'm in control of my part-exchange. I have control as a customer with everything. And that's it, that's how it should be."
Raban insists that the 'comfort blanket' of a physical aftersales presence would be vital for him to buy online.
Polestar draws on sister brand Volvo's network, and he believes that the infrastructure of established retailers will ultimately position them as the winners of the race to be truly omnichannel against the market's new disruptors.
"The vast majority of customers don't yet want to transact wholly online, of course. I think it's around 4%," he says. "For many, the convenience and seamless nature of the journey is most important and that's what we have to get right."
Lookers has just launched its 'click and sell' used car buying platform with the help of a logistics fleet of 15 vehicle transporters that can collect a car from the door of a private car seller who has gained a remote part-exchange valuation.
The growing fleet of lorries will also underpin remote vehicle handovers and remote servicing for customers who wish to transact online. New major Lookers shareholder Constellation Automotive has indicated its support for Lookers' recently-outlined strategy.
'HUGE OPPORTUNITY'
Raban would not exclude the possibility that Lookers might grow its footprint with its franchised partners and said that a heightened focus on used cars was almost certain to result in new retail sites.
While the self-confessed "numbers man" tells AM there would be no trying to compete with the likes of Cazoo and cinch from a marketing point of view, he expresses a desire to grow the group's presence in the "huge opportunity" of used cars.
"We're not planning to disrupt the used car market, we're just aiming to sell more cars and give our customers a better experience," he says.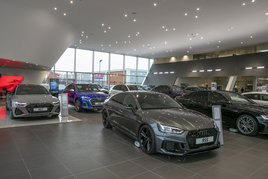 "In terms of stock we have leasing companies that are defleeting their cars through us and a good ready supply of part-ex coming in, which is a big differentiator to some of the disruptors.
"That said, we want less physical stock. The key is turning the stock faster. And that's probably been one of the big lessons about the supply shortages.
"Our used car stock level is hovering between nine and a half and 10,000 units. Three years ago, it would have been 12,000- to-13,000 units.
"What you need to focus on as a business is ensuring cars are prepped, photographed, videoed and marketed in the space of hours, not days. Do that and you don't need 13,000 or 14,000 vehicles to sell a hundred thousand."
Lookers' used car plan isn't confined to increased efficiency, though.
Raban tells AM it is planning a network of 'mother ship' retail sites, surrounded by smaller 'click and collect' locations.
He would not, however, disclose a number or locations at this stage. Another venture being explored by Lookers is the development of a mobile smart repair solution.
The group's bodyshops, hard hit by the effects of reduced vehicle movements during COVID-19 lockdowns, will be supplemented by the business, Raban suggests.
"We've seen the reduction in collisions reduce bodyshop trade in a trend partially attributed to COVID lockdowns and partly to improved safety technology on vehicles," he says.
"But, there are still chipped windscreens and shopping trolleys will still scrape against cars and the like. A global smart repair solution is something we're actively looking at."
LOOKERS PEOPLE
The new-look Lookers developed in the past two years has been delivered alongside a refresh of its board. This was completed last summer with the appointment of Ian Bull as non-executive chairman and Oliver Laird as chief financial officer.
Bull is currently senior independent director at Domino's Pizza Group and a non-executive director at Dunelm and chairs both PLCs' audit committees.
Laird had been CFO at CPP Group – the listed multinational financial services business – since 2017 and was previously finance director at First Direct Bank, Cooperative Insurance and UK General Insurance Limited. Among the other new recruits is former Toyota and Lexus managing director Paul Van der Burgh, who joined as a non-executive director a year ago.
Chief operating officer Duncan McPhee is the longest-standing Lookers employee on the board with 12 years of service.
Commenting on the boardroom changes, Raban says: "We needed to reset the business operationally, financially and culturally and we've come out of that with a much stronger business on all three of those measures."
But he also wants to see more team members from across the Lookers business stick around, forging a career within the PLC, in future. Raban insists that Lookers is a "people business" and is quick to acknowledge the impact, not only COVID, but the sweeping and sometimes disruptive changes to the group's business model, have had.
"It has been really tough because there was a huge amount of uncertainty about where the business was going," Raban says. "Once the blockages of the lockdown were overcome, everyone really mobilised behind our senior management, our strategy and the direction of travel and that is really powerful."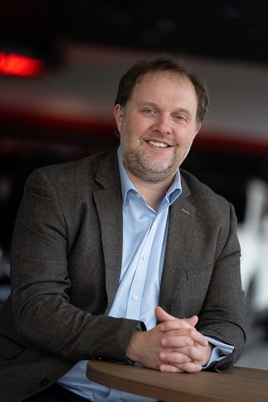 A renewed focus on attracting and developing its employees has been demonstrated through the appointment of interim HR director Chris Whittaker as chief people officer and Danny Bishop into a newly-created role of head of learning and development.
Bishop will lead the creation of an academy to further promote and nurture talent.
After surviving the upheaval of COVID-19 and navigating Lookers through its turbulent maze of legacy issues, Raban is clearly relishing the possibilities that arise from planning the group's new start.
While he admits that he never expected to take up the CEO role at Lookers when he joined as CFO, from Marshall Motor Group, he admits: "It is a great, great privilege to lead a company like Lookers".
He adds: "Through all this the thing you realise is that we have fantastic people around us – both inside and outside the business – and we're fortunate to have a lot of friends in the sector.
"The position we find ourselves now is testament to that."
BRAMALL OUT, CONSTELLATION IN
Speculation has continued to mount that Lookers could become the latest target for an all-out acquisition by Constellation Automotive after the cinch, BCA and Webuyanycar owner's £79.6m acquisition of a 19.9% stake in January.
It bought most of the shares from industry veteran Tony Bramall, who in 2006 began building up his position as Lookers' largest stakeholder to protect the group from rival Pendragon.
Pendragon had battled Lookers to acquire Reg Vardy that year. Once Pendragon won that fight, it then launched a hostile takeover bid for Lookers.
Constellation – already in the process of acquiring fellow AM100 PLC Marshall Motor Group – is clearly keen to grow its presence in the franchised car retail after launching cinch as its online used car retail proposition and entering Europe through its acquisition of NextCar.
The increased interest in Lookers' prospects has prompted its share price – described by Zeus Capital as "undervalued" – to grow 34.9% from 68.8p in early January to 92.8p at the time of publishing.
Raban says: "It's a year today since we were re-listed on the stock exchange. The share prices have come a long way since then. We're moving in the right direction."