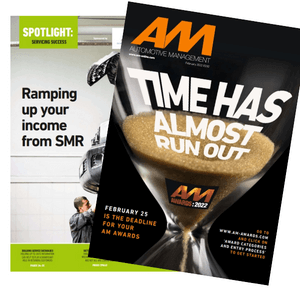 Chief executive Mark Raban discusses his plan to move Lookers forward in the new issue of AM magazine after a difficult period in the AM100 dealer group's history.
Available from today here in digital form, the February AM magazine also has interviews with Peter Brown of Drivvn, Sarah Ferrari of Drive Motor Retail, and insights into the work under way to improve diversity and inclusion in motor retail's workforce.
Plus there's an alert that the deadline for AM Awards entries is now only one week away.
The Spotlight section in this issue is focused on making a success in servicing, with commentaries from experts on expanding customer databases, ensuring adequate resources and improving the efficiency of workshop workflows.
Plus we review the new BMW i4 pure electric car, and begin a long-term test of a Volkswagen Arteon.
Editor's Letter
One must wonder how permanent many of the changes that the pandemic accelerated for motor retailing might be.
We're now in a market of lead times. Stock vehicles have declined and more new car customers – even for mainstream brands - are building to order, generating strengthened profit margins for the manufacturers and dealers as a result. Of course it brings the challenge of managing a customer's expectations and keeping them informed, but do the disadvantages outweigh the advantages?
We've seen rapid progress in digital marketing, and are getting closer to a true omnichannel experience. If we're offering the consumer choice and convenience, why would we take a step backwards?
We're seeing pioneers in agency contracts for franchisees. Although there's so much detail about the responsibilities and rewards to still be determined, will it empower carmakers to adapt and evolve their retail networks quicker?
One change that I hope will stay is in the relationship between business leaders and their workforce. If ever leaders were expected to be visible it was in the depths of lockdowns, and they learned their teams could adapt and work more flexibly.
Let's see what happens.