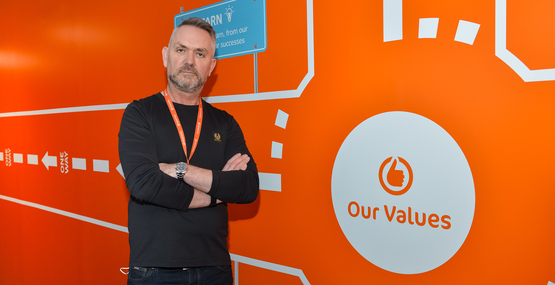 Vanarama founder and chief executive Andy Alderson is "extremely positive" about his business's prospects after kicking off plans for five-fold growth in the next four years with a record start to 2021.
Alderson took the decision to forge ahead with plans to further digitalise the leasing provider through artificial intelligence (AI) and automation when the COVID-19 coronavirus crisis hit last year and is now driving a branding exercise aimed at leveraging his significant growth ambitions.
Vanarama is aiming to see deal volumes rise from a projected 24,000 in 2021 – up from 12,000 in 2019 – and deliver a significant boost in its financial performance.
"This year our turnover will be in the region of £150m. By 2025 it's going to be in the region of £2.75bn, with EBITDA (earnings before interest, taxes, depreciation and amortisation) of £58m well up on the £6.5m we expect this year," says Alderson.
"I'm confident we can achieve the numbers. We're on the front foot, we've adapted the business to a point where it's ready to scale and we've had a record Q1 to start the year in a period of lockdown."
Alderson started his Vanarama business as an online-focused used vehicle retail operation back in 2004. At the time the business comprised three people and a stable portable building.
Having started his automotive career at Lex Vauxhall Hemel Hempstead in the mid-90s, Alderson recalls the time he realised he was going to make online car sales his business.
In January 2003 he was running a Citroën franchise when the French brand's NSC released a deal on 275 C5 saloons. Alderson recalls that the cars would be scrapped at the end of the month if unsold as they did not comply with incoming emissions regulations and had been made available at a heavily discounted rate.
"They had a £5,000 trading bonus and a 'de-promotion' bonus of £2,500. I realised I could sell them at half price and still make the margin," he recalls. Alderson bought all 275 and came up with a plan to sell them after his then boss approached him with the invoice for £6m.
After a half page advert was placed in the Daily Mail, Alderson said the phone didn't stop ringing, with all cars sold in six weeks. He says: "90% of those cars were sold without any face-to-face contact. That's when I realised that my future would be selling cars online."
The Vanarama business has now left the business of sales completely, in favour of online leasing.
Its website attracts between 900,000 and a million visits each month and Alderson says a wholly contactless process makes it possible for a new car order to be placed in around two-and-a-half minutes and delivered to a customer in less than seven days where lead times permit.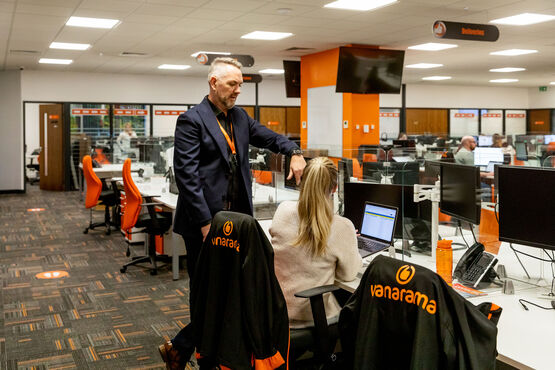 Vanarama has a headcount of 230 staff, based across the UK and Europe, and only put off plans to expand its UK Hemel Hempstead offices after COVID-19 prompted a shift to home working.
Alderson is confident about his growth plan for Vanarama and says the business has proof of concept to back its aspirations.
Speaking to AM on the same day that Cazoo revealed its impending £5bn float on the New York Stock Exchange, Alderson says: "We've been doing this for a really long time now and we're really good at it. I was doing click-and-collect back in 2003.
"By comparison, the speed of development at Cazoo has been crazy. My CTO said that it had been like jumping off a cliff and then starting to build a plane on the way down. The difference is, we know that our plane flies."
Vanarama's business is less cash intensive than that of Cazoo or Constellation Automotive's market rival, cinch. Essentially a tech company that joins up the market's best leasing deals and performs the role of a deal aggregator via a consumer-friendly online search, it does not have the cost of stocking large numbers of vehicles.
Nor does it have to source, prepare or deliver them.
Alderson is keen to highlight the value of putting digital first, however, and acknowledges that, like Vanarama, both Cazoo and cinch have done this effectively.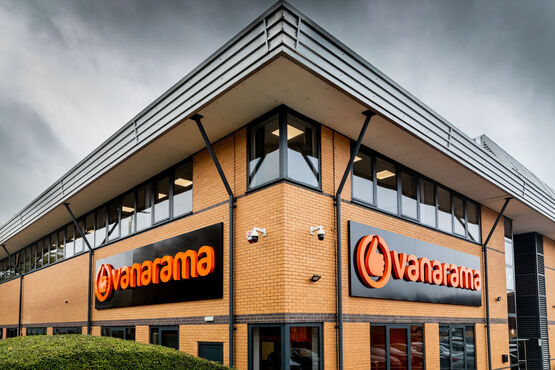 He says: "The legacy automotive players will be looking at that (Cazoo) and saying 'that valuation's crazy'.
"I think what a lot of people don't get is that to be in any form of retail now you don't need the bricks, but you absolutely need the clicks.
"Before COVID, in 2018, Auto Trader did a report which found that 13-to-14% of car buyers would consider buying a vehicle online. That's now 60%."
Alderson says Cazoo's influence in drawing attention to online car retail was helping to "pave the way" for his operation.
Vanarama has long believed that growing its brand is key to driving traffic to the tech platform that accounts for much of its investment, and that is accelerating now. At the start of March, the business extended its sponsorship of football's National League for a further three years – taking its association to 11 years.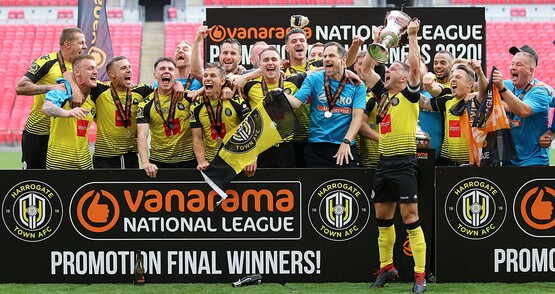 Alongside its 'New Lease of Life' marketing campaign across television, radio, social media and online streaming platforms, which has been timed to coincide with the easing of COVID-19 lockdowns across the UK, the £4m deal accounts for a large part of a £10m marketing budget that is set to grow to £15m in 2022.
He says: "The relationship with the National League has been fantastic for us. We gain exposure each time fixtures, scores or transfers are mentioned, due to the naming of the league, and we get a page on every one of the National League's 68 club websites and in every club's match programme."
Vanarama's football ties have also seen Alderson add a high-profile name to the company's board as part of an experienced C-suite in the form of former FA chairman David Bernstein.
Bernstein is also a former chairman of Manchester City and Ted Baker. He was seen as a strong signing as the business looked to make the most of the opportunities presented as a result of regulatory changes by the FCA (Financial Conduct Authority) and a boom in demand from small-to-medium enterprises (SMEs), in particular, the construction sector back in 2014.
Also among Vanarama's leadership team is: chief commercial officer Jo Elms, formerly of Ford, Nissan and Leaseplan; chief financial officer Dan Taylor, formerly of Marshall Motor Holdings, Ridgeway and Grant Thornton; long-standing sales director Gary Lemon, who has been with the business 16 years; and director of digital analytics and customer insights Damien Fortune, formerly of Leaseplan.
Vanarama has appeared among the Sunday Times 100 Best Small Companies To Work For in the UK in 2016, 2017 and 2018, with Alderson was named Best Leader at the 2017 awards ceremony.
Describing the challenges the COVID-19 pandemic had presented in terms of looking after staff, Alderson concedes that his attitudes were a little 'old school' in relation to the need to be in the office early and "putting in the unseen hours".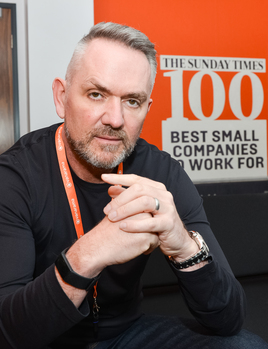 But he said the business has been quick to acknowledge and adapt to home working. The business' HQ had been at 80% capacity, with three rented car parks for staff. Now he does not foresee a time when more than 60% of his workforce will be there at any one time and added that COVID's impact had also had the effect of increasing diversity.
The business furloughed around a third of its workforce in 2020 and cut its headcount by 10% as it embraced automation through AI and machine learning.
Alderson says technology solutions had automated 64 processes linked to car search, sales process and admin in the past nine months, saving a combined 36,000 hours – equivalent to around 25 staff.
But the business recruited in 2020 to bolster other parts of its business – ending the year with a similar headcount to that which it started with – and now has four of its 24-strong digital team living and working in mainland Europe.
It has also been able to recruit from parts of the country it never considered due to the decline of the commuting culture.
Alderson says: "Last year we recruited a new member of staff to the sales team from a part of the country that we had never thought possible in the past, because of the distances involved, but she has been so successful with us that she's already been promoted. Without the change in mindset we've seen due to COVID that would probably have never happened."
Alderson says he had considered the impact of the pandemic on his employee's health and well-being and described fears that staff working at home would be less productive as "a fallacy".
He says he had found it hard to stop working at the end of each day and said people still needed to find downtime since the lines had become blurred between work and home.
In an attempt to address any concerns about the business' ability to continue trading in the first lockdown, Alderson filmed a video message for staff every day. He says: "We all thought it would be over in four or five weeks, but I ended up doing a hundred."
Alderson says he wanted to reassure staff that the business would remain "a constant" and saw opportunities to develop and grow through the crisis. Vanarama also set up a COVID response team for its staff as well as its customers, with five in-house wellbeing counsellors, plus an external consultant that is in the business two days each month and a 'hearts and minds' group run by business coach Michael Heppell.
Alderson said: "I know that, as we come back to the business, people are going to be nervous and anxious and that's another thing we're going to have to manage very carefully".
In business terms, Alderson says that trends created by the COVID-19 crisis had played to Vanarama's strengths – contributing to its current rude health.
Following some initial supply issues last summer, he feels that access to vehicles from a variety of brands makes it more resilient than many traditional car retailers.
The business works with 13 lenders or lease companies and sold vehicles from 41 different brands last year, with 64% of the searches across its site being by budget, not brand.
It's a model that drives upsell automatically, Alderson says, with 60% of website visitors stepping-up their budget while browsing the affordability of models online.
Alderson says the boom in home delivery and continued demand for trades as people missing holidays focus on home improvements had also boosted its commercial vehicle business. Vanarama's car/van sales split is around 40/60, he said.
Leasing's appeal to potential electric vehicle (EV) converts not keen to commit to a finance deal seen as a purchase – such as a PCP – and company car drivers keen to take advantage of BIK advantages of an EV had also meant the business was well-placed to embrace the market's shift to electrification.
Vanarama's bid to appeal to a new single-cost subscription-style model – it can bundle in all service and maintenance and insurance costs – has led it to offer a one-price package which supplies an EV, home charger installation and subscription to a national charging network.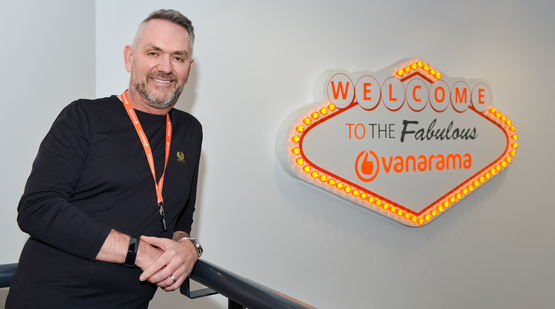 Alderson says: "13% of our sales last year were EV and we're expecting it to be 25-to-30% this year."
He adds: "Ultimately, it comes down to trust, transparency and removing friction. That's what being digital is all about, not using online to channel leads into a dealership setting, but letting customers transact exactly as they want to."
Vanarama completed 1,100 lease deals via Facebook Messenger in 2020. It was also awarded five Gold Awards and one Silver in the six categories it entered in the prestigious UK CX Awards, beating BT, Sky Bet, Virgin Money, Vauxhall and Vitality in the process.
Alderson told AM: "We're in a positive place. I'm looking forward to the year ahead."