Icon is a much over-used word in our modern world. Things that have only existed a few years are described as iconic, without having had the time to cement their place in their particular pantheon.
But the London Black Cab is a true icon. A vehicle built for one purpose – and, for the most part, one metropolitan location – the London taxi has a proud tradition that stretches back to the 1930s, with one company building the majority of coach bodies for Black Cabs since the late 1940s.
That company, previously known as London Taxis International, was bought off the administrator by Chinese carmaking corporation Geely in 2013, then rebranded as London EV Company (LEVC) in 2017, before launching its hybrid electric TX model, to meet the new low-emissions requirements of the capital.
LEVC has now taken the vehicle architecture of the TX and developed a van with the same hybrid-electric powertrain, with an eye on making inroads into the burgeoning market for online delivery solutions.
But the VN5 van isn't just a last-mile delivery option for metropolitan areas, according to LEVC chief executive Joerg Hofmann, who sees a use for it in what he calls "distribution to go".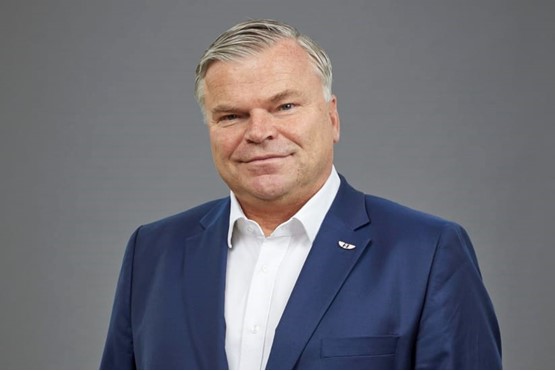 He said: "The logistics companies we're talking to have depots and decentralised warehouses and vehicles are needed to pick goods up, get them delivered to the metropolitan areas and move out again.
They are all companies that I believe see the biggest advantage as being that there's no range anxiety. That this is not the car where you are afraid after 40 miles to break down before the next charging station: we deliver this peace of mind for more than 300 miles and, looking at the prospect and potential customer lists that we have, I would really assume all of them see that as a major advantage."
The VN5 joins the TX in helping the drive to lower emissions and strive for a net zero carbon transport ecology, which places LEVC in a strong position to build on its market-leading position.
A strong dealer network will help the company achieve this.
Hofmann explained how LEVC is well on the way to this goal. "Our network is growing and in the UK we'll have 50 service points at the end of the year – 22 fully-functional dealers and another 28 extra service points by our partner, Rivus, which has a huge service network across the UK, because they're servicing a lot of big fleets.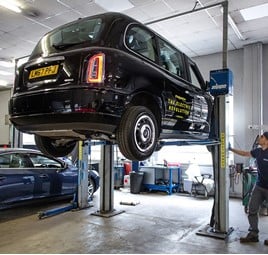 "Fifty service points across the UK is a good coverage, especially for the van, and it ensures that everyone can reach a service point within 45 minutes. From that perspective, we are quite happy with network expansion. This is certainly not an issue where we need to accelerate in the UK. We are in a good position here.
"We need to get the throughput, though. We will have to see what the Covid impact is, long term. Of course, if the plan continues as we wanted, then you have to think about additional partners as well. I would think we need a few more, but this will not be an additional massive expansion. There certainly will be no doubling: just maybe some little areas where you need additional spots. Mainly, we're set up."
Realistic franchise costs
For the Volvo Car UK dealers that LEVC has signed up, including the likes of Marshall, Snows and Endeavour in the AM100, the franchise costs are modest.
"They've got an LEVC franchise contract with certain standards, certain rules, margin agreements and they have to put some proper signage on, which, as an investment, is actually quite low," Hofmann told AM.
This burden is in stark contrast to Hofmann's previous employer, Audi, which requires a significantly higher capital investment from its franchisees.
"It (Audi) was an investment of more than a million. In our commercial vehicle world, it's a couple of thousand pounds, depending on size," he added.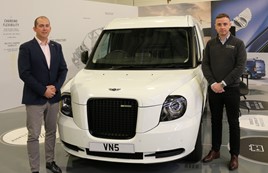 Depending on the size of the dealership, LEVC requires franchisees to have a dedicated salesperson and also use the company's corporate identity and logo, acquire the right tools and access to its service system.
Hofmann estimates the level of investment for most dealers to be around £10,000 and thinks that LEVC's hands-off approach is right for the company and its dealers.
"The standards are based on what is really needed to fix a car and to get a minimum brand recognition. But that said, we don't tell our dealers or our service partners what kind of tiles you need on the floor, what kind of colours or whatever. It's a very limited and, I believe, very reasonable investment," he said.
The COVID-19 lockdown has certainly hampered LEVC's progress and plans, with the company unable to operate on anything like the level it was expecting to, prior to the pandemic. As Hofmann said: "It was taken out of our hands because the way the government handled the lockdown here was quite strict. It was different to other countries – in Germany, for example, the dealers didn't close – and from that perspective, dealers were not allowed to open for a long period.
"We closed the factory for almost eight weeks, too. But Brewery Road, our own retailer in London, had an emergency team on board and they kept going all the time."
Low emissions are key
LEVC's ambitions will be helped by a number of measures that have been – or are about to be – introduced to improve the air quality of many of the UK's towns and cities.
These Clean Air Zones – also known as the Ultra-Low Emissions Zone (ULEZ) in London – will make it very difficult (and expensive) for older, diesel-powered delivery vehicles to access their destinations, so a van that can emit no tailpipe emissions will be a useful tool for the likes of delivery companies.
Hofmann clearly sees the potential.
"ULEZ are essentially helping us because this is certainly where we expect to be eligible with the TX. With the VN5, we expect the same. This is a good government steering tool, to promote emission-free products like ours.
"We support the directive. The time being taken to roll out the different zones is a bit of an issue, however.
"We were expecting it in other areas as well, but this is a bit slow moving. I recently spoke to the mayor of the West Midlands and he understands our frustration. Apparently, it's the measurements from the government side that are quite limited, but we would certainly encourage and welcome these kinds of things everywhere across the UK."
So what is the growth potential for LEVC and its expanded model line-up? Hofmann is cautiously optimistic, given the current pandemic-affected economic turmoil.
"The first three months of the year, we were clearly ahead of plan, ahead of our budget. Last year we sold two-and-a-half thousand TXs, which was a doubling of the previous year's sales.
"We had a plan this year to grow again. Not doubling again – that's not realistic – but to have a reasonable growth on top of the two-and-a-half thousand.
"We were ahead of this plan in first few months, then COVID came and the market collapsed by 80%. It still hasn't recovered fully.
"We are still far away from calling it recovery and the statements today didn't really help recovery of the market, unfortunately. AM spoke to Hoffman on the day of the PM's announcement of reimposed restrictions.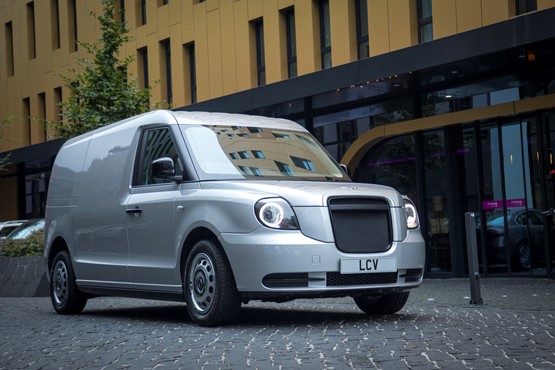 "I don't want to talk about year-end volume targets anymore. They're unpredictable. At the moment the most important thing is we have a long-term plan and the VN5 launch. We have exports to achieve, as European expansion will secure the long-term future of the company. But you can't make a proper, definitive sales forecast for this year."
One thing that Hofmann is predicting with some degree of certainty is the potential for the VN5 to outsell the TX taxi. "In the first full year in the UK for the VN5 , we certainly expect to sell more than TX.
"The volume planning is very difficult and we work with different scenarios and sensitivities, but what I can certainly tell you is that the VN will be the main product line in the future.
"The plan is to fill the factory within the next three years. We want to sell 20,000 cars.
"The taxi derivative has the potential to make, let's say 6,000 cars: that means you have another 14,000 for the van, if we are running at full capacity."
Beyond the next three years, and looking ahead at a potential ban on petrol diesel and hybrid sales in 2035 (or even as soon as 2032, depending on the outcome of the government's current consultation), LEVC sees itself developing its vehicles to be fully electric.
Hoffman said: "By 2035, you can certainly assume that we will have batteries without range extenders."
In LEVC's hands, it certainly looks as if a clean-running, all-electric Black Cab – and a taxi-based van – will continue to have an iconic status, one that might even be greater than it is now.
Author: Craig Thomas