The London Electric Vehicle Company (LEVC) has officially added its fully-electric VN5 van to its product line-up - giving its franchised retail network increased sales opportunities.
LEVC, owned by Chinese corporation Geely (which also owns the Volvo and Lotus car brands), launched the VN5 electric light commercial vehicle (LCV) at its Coventry headquarters and AM were there to speak to chief executive Joerg Hofmann about the new product and the brand's UK growth plans.
The VN5 is based on the same vehicle architecture as the TX5 black cab now in use in London and other cities.
Like the TX5, it uses LEVC's eCity range-extender technology, which gives the vehicles a potential electric-only (and, therefore, zero-emissions) range of up to 61 miles, with the 1.5-litre, three-cylinder petrol engine acting as a generator for the electric motor and supplying an additional 243 miles of range.
As with most businesses this year, LEVC's plans for 2020 and 2021 have been upended by the COVID-19 coronavirus pandemic, but the VN5 is available to order now and first deliveries will arrive with customers by the end of the year.
Beyond that, LEVC has an ambitious expansion strategy.
The brand revealed prior to the COVID-19 pandemic, in February, that it expected to increase its sales volumes by 50% to 3,750 units to this year.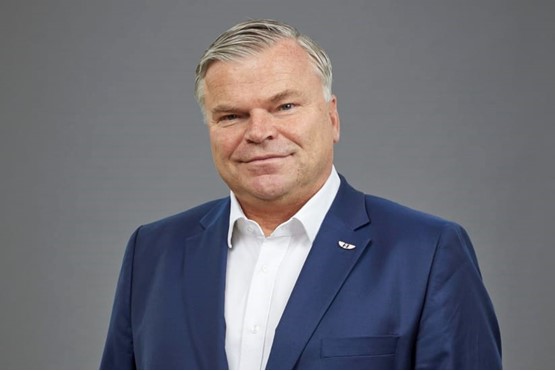 Speaking to AM at last week's VN5 launch event, Hofman said: "The plan is our factory has a capacity of 20,000 cars per year.
"We want to fill the factory within the next three years: we want to sell 20,000 cars, which is realistic. The TX taxi and shuttle, both derivatives, have a potential to make, let's say 6,000 cars.
"I believe that means you have capacity for another 14,000 for the van, if we are running at full capacity. This would be our three-year scenario. I can't tell you what is on the cards for the next half year or something, but in three years from now, we should be on that level."
Three VN5 variants are available – Business, City and Ultima – with prices starting at £46,500 and rising to £52,000 (not including the OLEV plug-in van grant, which could result in a discount of 20% off the purchase price, up to a maximum of £8,000).
For business users wishing to purchase via a contract hire agreement, deals for the VN5 start at just £493.92 per month (excluding VAT), based on a 60-month contract covering 20,000 miles per annum.
LEVC estimates that a full battery charge – using a low-cost electricity tariff – could cost as little as £1.50, while the VN5 will be exempt from the London ULEZ charge, as well as similar charges that are set to be introduced in other UK cities over the next few years.
All VN5 models feature Autonomous Emergency Braking (AEB), front and side driver and passenger airbags, cruise control, nine-inch touchscreen and dual zone climate control as standard as well as 50kW DC rapid charging and minimum 11kW AC fast charging capability.
City trim adds a heated windscreen, front and rear parking sensors, curtain airbags and Lane Departure Warning, while the flagship Ultima features a rear-view camera, luxury seats, metallic paint and 22kW AC charging capability as standard.
There are also six option packs that enable customers to tailor the van to their specific preferences.
LEVC has also collaborated with a number of convertors to ensure the VN5 can be equipped with racking, roof racks, light bars and other bespoke modifications.
Hofmann said: "We've applied our extensive knowledge from the taxi world to create a high-quality, hard-working van with zero emissions and long-distance capability. As well as offering favourable operating benefits, VN5 fulfils the growing demand from both businesses and consumers for cleaner, more sustainable commercial vehicles."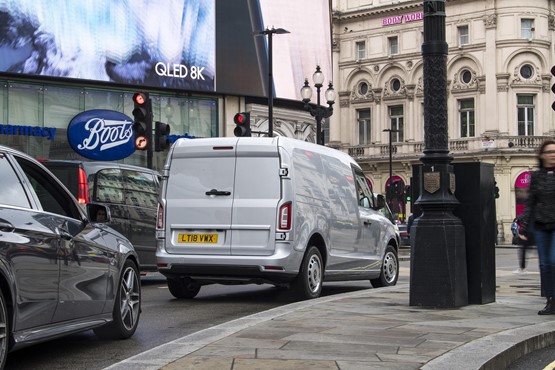 The VN5 will be available from what will be a 22-strong LEVC dealer network by the end of the year, with an additional 28 service points run by end-to-end fleet management company Rivus Fleet Solutions, which LEVC signed a partnership agreement with in August.
The aim is to have enough service points across the country to ensure that no owner has to travel more than 45 minutes to reach one.
The Q4 arrival in showrooms of the LEVC's new LCV will be welcome news to its franchisees.
In an interview in the latest digital edition of AM magazine Snows Motor Group chief executive, Stephen Snow, suggested that much of the potential of the LEVC brand lay with local authories plans to roll out Ultra Low Emissions Zones (ULEZ).
LEVC became a Snows franchise on October 2019 but ULEZ have yet to be introduced following muted discussion by city council's in Portsmouth and Southampton.
He said that, for now, it remained a "niche business" that was additional to the group's value brands, but added: "It's a slow burn, but it hasn't been a huge commitment in terms of investment."
By Craig Thomas