Geely's London Electric Vehicle Company (LEVC) has appointed its first franchised car retailer to sell taxis and vans in Wales.
Inter Vehicle Group (IVG) has become its first full dealer in Wales and will now supply the region with both the brand's TX taxi and fully electric VN5 light commercial vehicle (LCV) from its facility in Cardiff.
LEVC is on a drive to ensure that its UK retail network grows to 50 locations bythe end of 2020, allowing customers to reach their nearest dealer in no more than 45 minutes.
Commenting on the new appointment, chief executive, Joerg Hofmann said: "We are pleased to welcome Inter Vehicle Group to our growing network of dealers in the UK and Europe.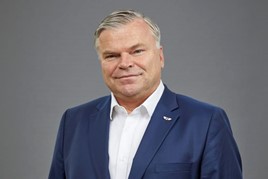 "IVG will introduce the portfolio of LEVC electric vehicle products to Wales for the first time, responding to the growing demand from local authorities and businesses looking to switch to greener mobility operations."
Prior to the COVID-19 pandemic, in February, LEVC said that it expected to increase its UK sales volumes by 50% to 3,750 units to this year.
AM caught up with Hoffman at September's launch of the VN5 van.
Speaking to AM at the time, Hofman said: "The plan is our factory has a capacity of 20,000 cars per year.
"We want to fill the factory within the next three years: we want to sell 20,000 cars, which is realistic. The TX taxi and shuttle, both derivatives, have a potential to make, let's say 6,000 cars.
"I believe that means you have capacity for another 14,000 for the van, if we are running at full capacity. This would be our three-year scenario. I can't tell you what is on the cards for the next half year or something, but in three years from now, we should be on that level."
Three VN5 variants are available – Business, City and Ultima – with prices starting at £46,500 and rising to £52,000 (not including the OLEV plug-in van grant, which could result in a discount of 20% off the purchase price, up to a maximum of £8,000).