New car buyers are leapfrogging plug-in hybrids (PHEV) in favour of a faster electric vehicle (EV) switch as soaring fuel prices and manufacturing constraints app to the appeal of zero-emission transport.
David Francis took an in-depth look at the key market trends for AM Magazine.
The fall of 15.8% for the month of April (and 5.4% year-to-date – YTD) is bad enough. But, for comparison, when one remembers that we were in lockdown for part of April 2021, the scale of the decline becomes clear.
The dreadful April figure has led the Society of Motor Manufacturers and Traders (SMMT) to reduce its full year registrations forecast from 1.89 million to 1.72 million units.
Of course, the three main factors behind the reduction in the forecast are well-known: the semiconductor shortage, the war in Ukraine and the decline in consumer confidence. Indeed, things are so bad we only need one more factor and the Four Horsemen of the Apocalypse might start to think about saddling up.
Within the market, there have also been some dramatic shifts. Fleet sales are down by 25% YTD, as manufacturers, naturally, prioritised full-price retail sales. That will have two effects on consumers.
The negative one is that anyone renting a car for a summer holiday will struggle to find a bargain, as rental companies are paying far more for their cars (if they can get them at all). The positive one is the residual values should remain well above pre-pandemic levels, as an undersupply of new cars means strong demand for used ones.
PHEVs falter
The other big shift has been the continued rise of battery electric models (BEVs), whose biggest promoter is the price of fuel advertised outside every petrol station. BEVs have exactly doubled their market share to 14.4% so far this year.
Interestingly, sales of plug-in hybrids (PHEVs) have been static, and are now outsold 2:1 by BEVs.
Long-term, it was always expected that BEVs would pull ahead of PHEVs, but the trend is accelerating more quickly than many forecasted. As the price premium for BEVs has fallen and ranges have increased, more people are deciding that going straight to BEV makes more sense (see chart below).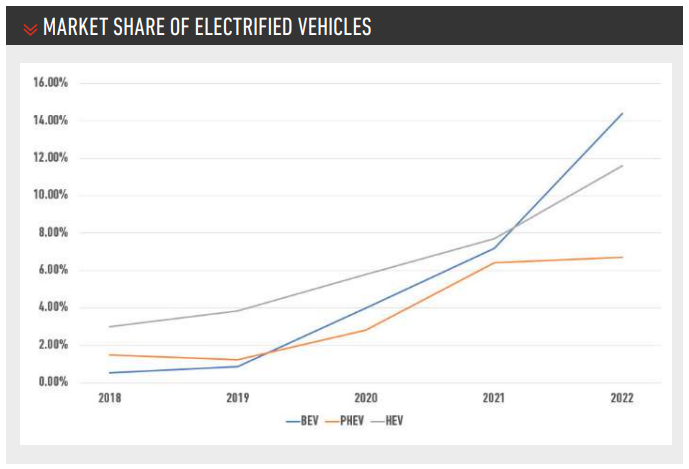 If you include mild hybrid in the figures, 51% of registrations YTD have been electrified in some form, which is a significant milestone.
By the end of this year, BEVs alone will account for more than one-in-six registrations. How much they will accelerate in 2023 and 2024 will depend on two factors. First, how quickly an effective charging network can be rolled out (recharge anxiety is now more important to potential buyers than range anxiety). Second, the steady decline in battery prices has stalled, which is not going the help uptake of electric vehicles.
Increasing demand for lithium is driving up prices, and sanctions on Russia are impacting the price of nickel, a major component of NMC (nickel manganese, cobalt) lithium-ion batteries. NMC batteries are still the most popular type for BEVs.
At a segment level, there is one traditional vehicle type that is largely succeeding where King Canute failed.
Compact executive models, such as the BMW 3 Series, are still taking exactly the same market share as they did in the mid-1990s, when "Sport Utility" was a term familiar only to Americans.
While the "Big Three" segments (supermini, small family and large/premium SUVs) continue to dominate the UK market, compact executive is easily the next biggest segment (and bigger than large family, executive and luxury segments combined).
The attraction seems to be that they are compact: whereas buyers of large executive models like the E-Class may think they might as well go for an executive SUV and get even more space, compact executive buyers seem to value the relative agility of their saloons.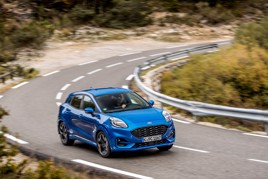 At a manufacturer level, Ford has retaken the top spot – it shows how much the market has shifted in the past couple of years that such a comment is even possible.
Ford is also now predominantly a crossover brand – the Puma and Kuga accounted for 50.3% of its sales YTD.
Registrations of Ford hatchbacks have tanked: remarkably, the Focus is now being outsold by the Toyota Corolla.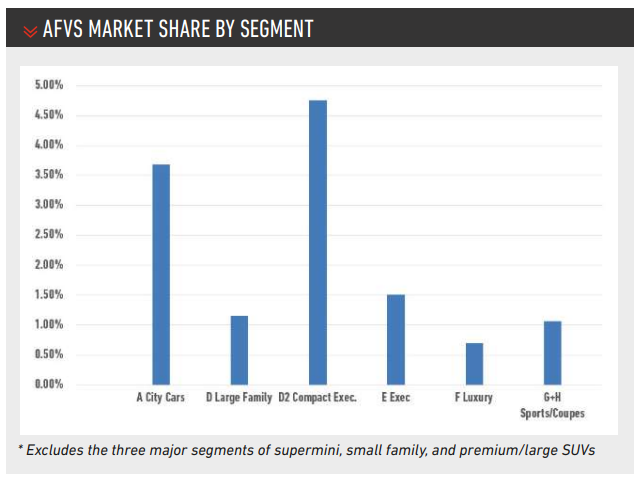 In second place, Kia has slipped behind Ford by just 791 units YTD, but the company is currently well on course to beat its long-term goal of selling 100,000 cars per year. It is also worth noting that Kia's parent, Hyundai, is also doing much better.
Hyundai is up by 51% YTD, and has overtaken Nissan to take 9th place. After a difficult period in 2019/2020, Hyundai is firmly on the road to recovery.
VWs dip
The biggest decline among the top 10 brands has been Volkswagen, which is down by 32%. VW has hardly fallen out of favour, rather it is a combination of scarce chips going to more profitable Audis and Porsches, and VW prioritising margins over volume (VW used to be as happy as anyone to engage in discounting for volume).
Just outside the top 10, MG continues its stellar performance. Market share has doubled YTD to 3.0% and, just as encouragingly, its best-selling model is its range-topping (at least for now) HS C-segment crossover.
The HS is currently outselling established models like the VW Tiguan and Peugeot 3008.
Former MG sibling, JLR is not faring so well. It is no surprise that Jaguar has fallen by 38%, but it was not in the script that Land Rover should have fallen by an even bigger 44%. It is now becoming clearer that the Discovery 5 is joining the Jaguar XE as JLR models that should never have been signed off – the investment was basically money down the drain.
The Discovery has sold just 581 units YTD, or 3.8% of total Land Rover sales. To develop one failed model is unfortunate, to develop two looks like carelessness.
At a model level, the most striking statistic is that seven of the top 10 best sellers are crossovers.
Only the Corsa (at 1), Mini (5) and A-Class (10) are carrying the banner for hatchbacks.
Meanwhile, the UK's best-seller for the whole of the 2010s, the Fiesta, is down in a lowly 21st place YTD. The Fiesta was also outsold by the Tesla Model 3, the UK's best-selling saloon – strange times, indeed.