The Society of Motor Manufacturers and Traders (SMMT) has urged fleet operators to place their commercial vehicle (CV) orders after the sector suffered a 29.1% April registrations decline.
Chief executive Mike Hawes highlighted "historically low" interest rates and the wide range of alternative fuel vehicle (AFV) options available to the sector as he made his bid to stimulate the market this week.
His comments came after SMMT registrations data showed that light commercial vehicle (LCV) registrations had dipped to 21,597 units in April, compared with best-on-record month last year.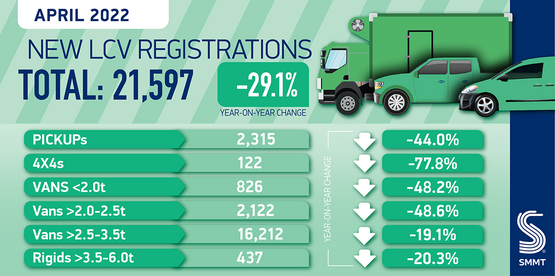 Large van registrations were down 19.1%, while deliveries of medium-sized vans, the second largest segment by volume, dropped 48.6%.
Supply chain challenges resulted in a reduction of the SMMT's commercial vehicle registrations outlook for 2022 to 328,000 units, a 7.7% fall year-on-year.
Hawes said: "Despite the global supply pressures on the UK's light commercial vehicle sector, manufacturers are prioritising the most popular models, while investing in electric options where demand is slowly but steadily growing.
"Constrained supply, however, does mean that 2022's new van market is expected to be down on last year's bumper uptake.
"Even so, while market conditions remain challenging for van operators across the UK, now is the time for those looking to renew their fleets to put their orders in, as interest rates remain historically low and an increasing range of fuel efficient and electrified models are now available."
Yesterday (May 5) AM reported on new car registrations data from the SMMT which showed the market had declined 15.8% in April.
The result caused the SMMT to downgrade its full-year registrations expectations to 1.72 million, down from the 1.89 million forecast it made in January.
That will still represent a 4.5% rise on 2021's total, however.