COVID-19 may have stalled the car retail sector for three months and plunged the UK into the most severe economic contraction on record, but Renault UK managing director Vincent Tourette still fears the effects of a "very hard Brexit" even more.
The Frenchman was brought to the UK to help steer the brand through the turbulent times triggered by the UK's vote to leave the European Union (EU).
And, while he believes many of the steps taken to mitigate against Brexit's impact have helped Renault and its franchised car retail sites weather the coronavirus pandemic, the fear of restricted trade and a further weakening of the pound weigh heavily on his mind.
"My biggest concern remains Brexit," Tourette told AM. "It's been a major part of our lives and business for four years now and, despite all the discussion and impact we've already seen, what we see at the moment isn't reassuring at all.
"We had done extensive planning, reducing our breakeven points financially in order to go through a crisis that we felt would be that hard Brexit. In the end it wasn't, it was COVID.
"The possibility of a hard incredibly painful Brexit is still ahead. Having to potentially combine the consequences of COVID with a very hard Brexit and stricter emissions regulation; these three things are real areas of concern."
Renault UK's registrations declined for a third consecutive year in 2019, reducing by 4.9% to 59,132 (2018: 62,168) as market share declined to 2.56% – its lowest level since 2013's 2.04%.
When Tourette took up his role, the brand was coming off a 2016 result which was its largest since 2010. It'd had four years of growth after a 21st century low of 40,760 in 2012 – the year the brand cut the scale of its 190-site UK network by a third.
Part of Tourette's strategy to cope with the uncertainty caused by Brexit – and, no doubt, manage the brand's CAFE (Corporate Average Fuel Economy) obligations – was to reduce and stabilise volumes.
He said: "We've never been running after volumes in the UK, given what was coming and the exposure to the pound and Brexit. I'm very happy we didn't go for a strategy of volume at any cost."
Evolving network
Despite the decline in sales – the brand was 31.8% down YTD in August at 24,672 (2019: 36,172) – Tourette insists he doesn't harbour plans to significantly reduce the scale of the network. He started 2020 with 144 retailers and plans to end the year with 140.
Tourette said the plan was to be "bigger, better stronger, with more scale for fewer dealers".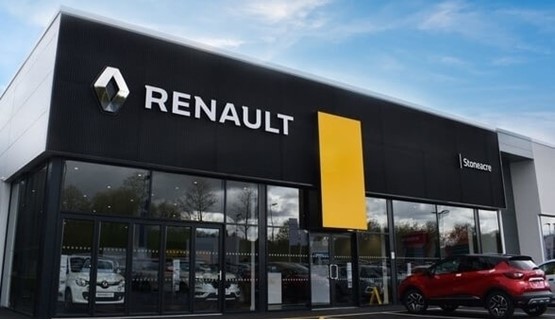 "To ensure the ongoing viability of the dealers, they need more scale, we need to ensure that their cost base isn't matching the size of the market that we had before the crisis," he said.
"We've terminated partners in the past, but my approach was that we're comfortable with the partners. They have shown that they want to invest with us."
At the start of 2020 Tourette told AM of plans to divide the network into 60 to 65 territories, with partners freer to tailor their regional presence.
"I think the time of having all activities under one roof has gone because property cost is a reality in this country, which makes it very difficult," he said.
"In London, you'll quickly see examples of this change.
"Showrooms located in city centres for brand experience and a different site for used car sales mainly catered for through online activity. There'll also be more dedicated business centres in industrial areas."
Renault's Pro+ business centres have undergone a change, reducing in size as part of a strategic target of having 34 nationally, with standards made more stringent in an attempt to drive specialist knowledge.
Tourette said: "Previously we had more sites, but they weren't all sticking to the standards."
Among the Pro+ network's new 'Business Quality Commitments' are: car-for-car or van-for-van replacement vehicles on any warranty-covered issues taking more than three hours to repair; lifetime roadside recovery for the Master, Trafic, Trafic Passenger and Kangoo vans; a price match promise; and free electric vehicle (EV) charging.
Tourette wants to maintain a top five position in the UK's light commercial vehicle (LCV) sector as the brand is the market's second-largest player in Europe.
"We're one of the key stakeholders in the LCV sector," he said. "That's a critical part of the business.
"We redefined our Pro+ standards and territory coverage earlier in the year and we're in the process of implementing that.
"We didn't want a separate network, but we did want experts dedicated to LCV so we have redesigned our standards to include a higher level of expertise, more master technicians trained specifically on EVs and sales people trained to sell into businesses."
COVID-19 support
Renault UK's focus in recent months has been on supporting retailers impacted by the COVID-19 pandemic.
Close contact with overseas colleagues helped enable early preparations, with employees at the UK headquarters in Rickmansworth starting to work from home a week prior to Boris Johnson's lockdown announcement.
Tourette said: "70% of our team were put on furlough. I think our customers and our dealers have appreciated the levels of contact we've managed to maintain."
Dealer contact responsibilities were split between board members so each franchisee had a direct contact.
Deferred payments, support for the stock and storage of vehicles and parts deliveries for key workers were among the early measures.
Stocks of personal protective equipment (PPE), hand gel and Plexiglas screens were also supplied to retailers by May 1 – ready for the eventual re-opening.
Tourette said: "We have made it a priority to support our dealers as far as we can.
"Some have come to us to ask for a bit more help than we were offering and in most cases we were able to come forward with the support they were requesting."
Online trading
Renault UK was motivated to accelerate a number of digital projects as a result of the COVID-19 pandemic.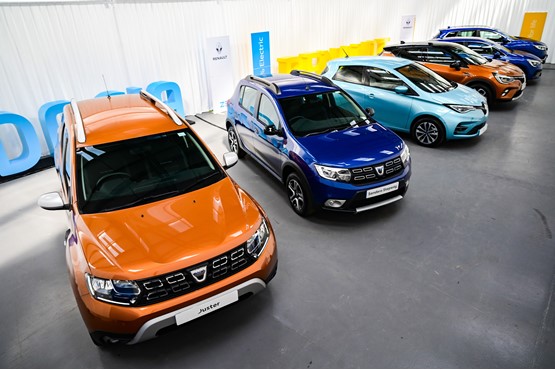 In April, it launched an online Virtual Showroom, with product specialists online between 10am and 8pm to provide customer vehicle tours and advice.
The platform has already reached capacity and the brand is now seeking new premises to allow space for more cars and more product "gurus", while considering a move from one-to-one to group demonstrations.
Tourette said the platform "contributes to the idea of giving more scale to dealers" because "people don't always want to drive to their local showroom".
Another thing set to "add scale" is end-to-end online retail.
Dacia Buy Online was launched in November 2018 and Tourette said the decision to replicate the model with Renault and the Alpine performance brand was made during lockdown.
He said: "It's a challenge due to the diversity of the Renault range, so it needs more than just fine-tuning and re-branding of the Dacia offering."
He added: "Dacia has been a success in terms of traffic, but we're not selling thousands of cars that way."
Dealer attitudes
Tourette said the feedback he had received from the network about its COVID-19 support measures had been "extremely positive", adding that he hoped the period could be looked back on as a time when relationships were strengthened and cemented for the future.
He has been hit hard by the response of his franchisees to the National Franchised Dealers Association Dealer Attitude Survey, however (see page 6).
Renault UK came 23rd out of 31 brands, its overall rating slipping from 5.1 to 4.4-out-of-10 (average: 5.9).
It scored a 2.9 (average: 5.2) in the winter 2019 survey and only recovered to 4.6 in Summer 2020. for targeting, 2.9 (average: 5.2) for volume targets and was bottom with 3.8 (average: 6.2) for the fairness of its dealer standards.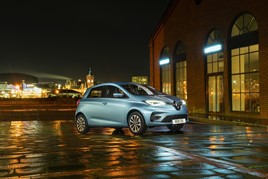 Despite having the UK's best-selling EV, dealers even scored their satisfaction in the brand's alternative fuel vehicle (AFV) offering 4.8 (average: 6.5) – putting it behind many without an EV model.
The result heaped further misery on the brand after a bottom-placed finish in the latest bi-annual NFDA Electric Vehicle Dealer Attitude Survey, in which it scored 5.13 overall (average: 6.3).
"I was really disappointed and worried about that," said a clearly unsettled Tourette.
"That (dealer attitude survey) result was something I wasn't expecting or wanting.
"What surprised me was the gap between the feedback I get and the survey responses."
He added: "We've not been good at motivating and convincing our dealers to reply to the survey. I think we had a 30% response rate and it's those more motivated to let you know that they are not happy.
"That's not an excuse, but it's context."
Tourette said that the brand had looked "in detail" at issues raised by the survey and had a de-brief discussion with the network's dealer association.
The brand has now rolled out its own monthly survey.
"I don't want a surprise again," he said. "I want a level of constant alertness to the issues retailers face."
Pandemic profitability impact
Renault UK is hoping that its efforts to restart sales following the lockdown will stand its network in good stead to achieve a rapid return to profitability.
In 2019 the network achieved an average return on sales (RoS) of 0.7%.
Frustration was caused by delays to showroom re-openings in Northern Ireland, Wales and Scotland – described by Tourette as "our strongest regions" – but
July volumes rose by 201.7% year-on-year to 6,598 (2019: 2,187) and they were 49.8% up in August to 2,805 (2019: 1,872).
"In new vehicles we are doing quite well in taking more than our fair share of the re-start," said Tourette. "As soon as we could, we made sure we delivered all the cars we had at import centre to our dealers.
"For us, we wanted to stick to our supply commitments, and I think we have managed that quite well. Our ambition this year is to still achieve the market share we achieved last year, and we've received supply for that."
Renault retailers have seen aftersales quickly exceed pre-lockdown levels, according to Tourette.
Average overhead absorption was 41.2% in 2018 and 39.5% in 2019 and Tourette has set an ambitious target of gaining 1ppt to 2ppts each year.
"It's been going consistently down for 10 years. We wanted to reverse the trend this year and that happened before the crisis", said Tourette.
Service plans are one tool being pushed to increase aftersales profitability, with penetration currently standing at 29%.
But Tourette said that his dealers suffer from a lack of capacity, partly prompting the hub-and-spoke network plan which has scope for separate aftersales facilities.
He said there was an onus on the brand to make processes simpler for retailer and help reduce the turnover of technicians.
To that end, Renault UK has redesigned its training to reduce the time needed for a technician to become qualified from between 12 and 18 months to six months through the use of webinars and apps.
"It has meant people are rewarded quicker and has allowed us to increase the skill levels across the network," Tourette said.
Groupe Renault strategy
Back in May, Groupe Renault laid out plans to implement 14,600 job cuts as it reduces its global vehicle production by 17.5% in a bid to save £1.8 billion by 2024.
In 2020, Renault has axed the Grand Scenic MPV and Koleos flagship SUV from a range already shorn of the Twingo city car, but Tourette insisted that the wider global picture will not materially affect the brand's UK sales volumes.
"The reason that the brand made that decision was to cut production capacity that was under-utilised, not to reduce volumes," he told AM.
"I understand we had a capacity of around six million vehicles worldwide and we were producing something like 3.8 million units.
"It won't have any direct impact on me in terms of volume. In terms of product it may be a different story. We may decide to vacate some of the market segments that are less in demand – MPV being one – and refocus on areas where there's strong demand, like SUVs and why not fully electrified."
EV growth
A 10-year investment in EVs and its dealers' existing knowledge of selling and servicing EVs currently puts Renault at an advantage, said Tourette.
In the new Zoe it has the best-selling EV in Europe and a hybrid Clio and plug-in hybrid Captur and Mégane will join the range in H2.
A hybrid drivetrain could revive Megane sales which numbered just 618 to the end of July.
Tourette said: "We have plenty of supply of Zoe, where some competitors are struggling to put EVs on the road.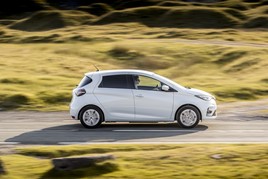 "The most in-demand vehicle in our Virtual Showroom is Zoe, so the growth indicators are there. We're also just introducing the van version of the Zoe, which has great potential."
Tourette said Renault was well-placed to meet its obligations to the EU's new CAFE CO2 regulations, and added: "We have a very long electrification strategy, not just 'quick and dirty' one for CAFE."
Asked whether he was jealous of Renault NSC bosses in other parts of Europe where retailers' EV sales had been boosted by Government support, as in
France and Germany, Tourette responded "big time".
He said that he thought a clever strategy would be help revive the sector with a scrappage scheme that would help the UK Government work towards less pollution and cleaner air, but he added that he never expected such a comprehensive package of COVID-19 support in other areas.
"I never expected the furlough scheme," Tourette told AM. "That has been a fantastic aid to us and our retailers."
ALPINE BRAND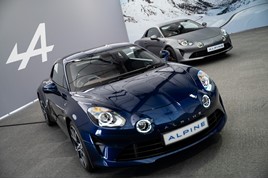 The Alpine performance car brand was hailed as a "stunning success" by Tourette, but he suggested new models must be added to capitalise on that response.
Describing new Groupe Renault chief executive, Luca De Meo, as "a huge car enthusiast", Tourette said that the Alpine strategy was something that was "being discussed right now".
Currently seven UK franchisees are official Alpine retailers, with a separate facility or wing of their showrooms devoted to the brand.
But Tourette said: "Having a brand built around one model and in a part of the segment where you can't sell thousands of cars? Obviously it looks like we'll need more than that.
"We need more than the A110. I think the plan for Alpine will become clearer within the new Mid-Term Plan that will be announced at the end of this year or the beginning of next."