Apologies from carmakers are rare, so when Subaru importer IM Group admits it has "not treated the brand correctly in the UK", dealers will take note. And while they will approve of the brand's new 10,000-a-year registrations target, they may be less excited at the prospect of a quarter of the current network being terminated en route.
Following a steady registrations fall over a number of years – hitting a low of just under 2,700 in 2017 – and struggling to find an identity after an era in which it rode the crest of a motorsport wave, Subaru conceded that it had not exactly played a blinder in the UK market.
Automotive development director, Torbjörn Lillrud, said: "We have not treated the brand correctly in the UK for the past five, six, seven, eight years. We had a very good time and fantastic era with the STI and WRX, and we maybe became a little bit stuck in that story and that history."
But those 2017 registrations figures shocked IM Group, into action, and it responded with a new brand strategy that set a target for 10,000 annual registrations.
"Subaru today is something totally different," said Lillrud. "In the US, Australia, Scandinavia and many other countries, it's a successful brand for people who love the outdoor, active lifestyle. What we are doing now is investing huge money in rebuilding the brand image of Subaru in the UK.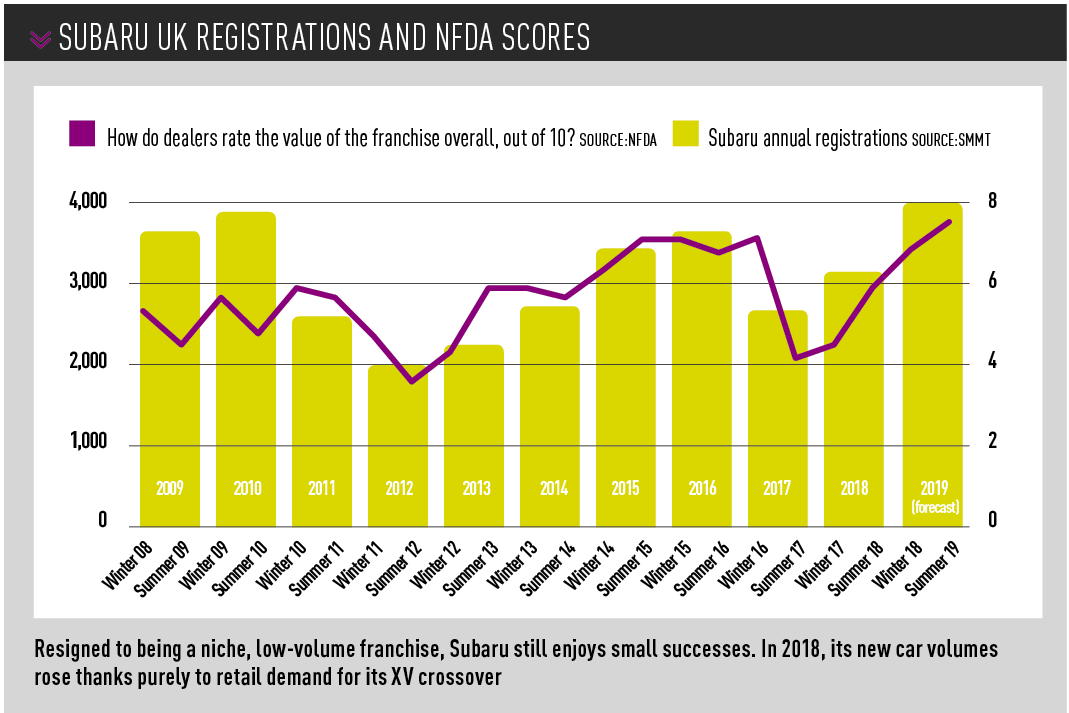 "Subaru is for people who want to have a safe and reliable car, and enjoy life outdoors. What we are building is a totally new brand platform and brand image. We are investing a lot of money, in combination with a strategy for our dealers. They are working with us and embracing it."
It appears to be paying off. Registration volumes are now increasing, to an expected 4,000 for 2019, and new brand initiatives have helped the brand to rise from 20th position in the NFDA six-monthly Dealer Attitude Survey to eighth.
Product, naturally, plays a part and Subaru is about to start delivering its first hybrid cars. Mike Willetts, interim managing director, said: "We've been working hard on pre-selling the hybrid units, initially in an all-new Forester, which historically has been the biggest-selling car within our brand. Everything has been re-engineered and it's now on the global platform for Subaru. It's a much smoother ride and there's new safety technology coming in, such as the EyeSight crash avoidance system.
"The hybrid goes into the Forester first, which we will start delivering to customers in October. Then it will be added to our XV range, delivered in November. Mid-year in 2020, we will add the hybrid into the Impreza range."
The process of electrifying its cars has not necessarily come naturally to Subaru, as Lillrud acknowledged: "We have to lower our CO2 and the only way that we know to do it is to go hybrid or use electrification. Subaru has never been forefront in this area, but when it does it, it does it extremely reliably and safely."
The five Subaru values
Lillrud said Subaru had identified five important values for the brand and its dealers.
"We want to be the best employer in the UK automotive industry. We want to be number one in dealer satisfaction – in the NFDA survey, we have moved from 20th to eighth, based on our new strategy. We want to be the most liked distributor in the United Kingdom. Goal number three, we want to be number one in customer satisfaction. Number four, we want to be one of the fastest-growing brands in the United Kingdom. And number five, we want this business to be profitable, especially for our dealers, but also for all stakeholders."
Willetts believes the brand has a solid base for its UK revival: "As Torbjörn said, because of the success of the rally heritage and the other car brands, maybe we didn't focus early enough on maintaining and growing that customer base. But we're building on what's already there.
"Our core customers are repeat customers, people that love the engineering and use the car to facilitate their enjoyment in life. We've probably got one of the best retention rates in the industry, with regards to that type of customer."
He said the brand would now try to expand its customer pool by lowering the average age of its buyers.
"Instead of having customers that are in their 50s to 60s, we're looking at the 40s to 50s and building on the safety message, which is starting to attract families, young families, who maybe would have never considered SUVs within the Subaru brand before. We're starting to get conquest customers from many different brands coming over."
The company's dealers are a core component of this new strategy, especially as many of them are small or owner-driven with strong community roots. "One of the things we have been doing is openly having conversations with our dealers, ensuring that they become core in their community,
encouraging them to re-engage with their service customers, or their lost customers," said Willetts.
"Through our regional management and our senior management teams, we're trying to ensure that our dealers are doing that. Our customers are generally rural-based, they're not in the big cities. There are lots of opportunities there to either get people who live locally, or people who are visiting the Peak District or the Lake District, and making sure they are at the local shows, with a high profile, and engaging with people. We do an awful lot of displays at these shows of the cars' off-road capabilities, because we believe we have the best four-wheel-drive system in the world."
Shaking up Subaru's UK network
IM realises that a focus on the dealer network is crucial to its plans for the Subaru brand.
Willetts said: "We're very keen to make sure that we have dealers who are engaged in the Subaru brand and that they believe in it. We have a dealer network that, at the moment, is about 75 in number. Over the coming months and years, there's a possibility that we will actually terminate 25% of those because they are non-believers – either in the brand, or they don't see our message as core to their business moving forward.
"We love what we do, we love our brands and we want to make sure that the customers get the experience that they deserve, driving the best products in the world, through our dealer network. If it works, if our volume suddenly starts to grow to 20,000, then it might be a different model, but in the meantime we don't tend to work with larger groups. We work with smaller groups, family-owned businesses. As we grow our brand again, grow our market share and grow our visibility, it's more important that we choose the right partners for Subaru as a brand in the long term.
Lillrud added: "The relationship between us and the dealers has to be simple, but fun and profitable. What we are doing, for example, is reducing the amount of unnecessary administration for the dealers. We make our bonus system, IT solutions, extranet systems, etc., as simple as possible, so the dealer can focus on what's most important – to take care of people, the customers coming into the showroom or the workshop.
"Everything in our way of administering the business between us and the dealers, we try to simplify. We have cut down a lot of things and implemented a new bonus system that is easier to use and also gives them more money on the table. We are increasing the support for demonstrator cars, and we are more helpful in credits and credit costs. Everything we can do to make their life simpler, easier and more profitable helps the relationship and creates greater satisfaction."
Strong demand for used Subaru models means they do not stay long on forecourts – indeed, the problem is sourcing enough of them, according to Lillrud.
"What tends to happen is that when they've had the car for three or four years, owners pass it on to a daughter or a brother or a neighbour or even a grandmother. Too often, our customers are not bringing the used car to us. So the demand is higher on used cars. If we have a company car or ex-press car or something, it's snapped up by the network.
"In combination with that, we are not promoting or discounting new Subaru cars. We are not increasing Subaru sales by giving them away, or by giving discounts. We give the dealers fair cost and a fair bonus system, dealer margin, etc. But we don't promote, support and initiate any huge discount activities, because that is only destroying the second-hand value of the car. It's all about trying to keep a stable price strategy."
'Common sense' CI investment
Despite embarking on a brand-rebuilding strategy, Subaru is concentrating on substance rather than style. Expensive new showroom design concepts and revamped corporate identity are not part of IM's plans. Lillrud said: "We don't want to ask our dealers to make big investments at too early a stage in this process: we first want to show the dealers that we can do the 10,000 cars.
"When the time comes, and we feel that it's right, there might be some small changes in the corporate identity at the dealerships. But we have to use common sense. We're not demanding big investments because we believe their business has to be profitable. We've seen so many other brands over the years that have asked the dealers to make huge investments in showrooms and corporate identity, and it's not in line with the dealer's reality. Some product that has been developed in Paris, or Munich, or Stuttgart, doesn't necessarily work in a little village outside Birmingham."
This renewed commitment to its dealers – which includes support in the shape of a training academy at IM's head office, new e-learning programmes and a specialist sales course that focuses completely on the uniqueness of Subaru cars – is tangible when Willetts and Lillrud talk. But the company still has one eye on developments in car retailing and how they will affect the future.
"How will people buy cars in the future? Will there be dealers? We believe that there will," said Lillrud.
"We believe that if you work with a niche product, you stick with it and be a little bit traditional. But we do adapt to the new ways. The younger generation might not want to visit the dealer in the future. That means we have to have an alternative, so do we invest in an online sales programme right now?
"And what will electrification mean for the dealer network? With fewer moving parts that need maintenance and service, how will that affect the dealer? There is a lot of uncertainty.
"You have to be there. You have to try these new things. You have to invest.
"On the other hand, during my 34 years in the motor industry in Europe, people have always told me that soon, there will be no dealers; soon, people will order their car on the internet. But today, less than 1% of customers order their cars on the internet. Even if they do order a car on the internet, we know that 80% of those who do have visited a dealer and had a test drive before they ordered it. We don't know what the future looks like, but we are preparing
for it." CRAIG THOMAS