Over the past 12 months, dealer demand for e-commerce solutions to meet customer expectations is on the up. It has led to digital agencies developing their product offering and has brought new entrants into the market.
GForces
GForces has launched its e-commerce platform which enables consumers to buy used cars online providing an omni-channel experience that seamlessly blends online and in-store.
Called NetDirector Auto-e, the platform has 28 major dealer groups signed up, with 11 already live. Integration with third parties enables all aspects of the sales process to be transacted digitally, including part-exchange valuations, finance applications, and instant credit decisions.
RRG was the first to launch, in November last year, and has been followed by the likes of Chorley Motor Group, Vantage Motor Group, Simpsons Škoda, and independent specialist Croyland Car Megastore in Northamptonshire.
Vospers, due to launch in the autumn, will be the first group to offer online transactions for new cars. Birchwood and JCB Group are both expected to launch in the next few months, while Jardine Motors Group went live in August.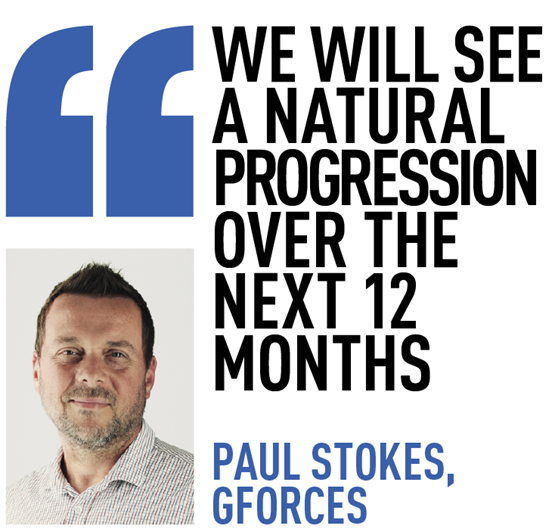 Chorley Motor Group's first full month of operation was March, during which 5% of its sales were undertaken online. Data from dealers live with Auto-e shows more than half (55%) of consumers who transact online do so outside retailer hours, and 51% of transactions were undertaken using mobile.
Paul Stokes, head of online retailing at GForces, said: "Our offering is very much about giving dealers the opportunity to deliver a blend of the physical and online. If it's a true home delivery, that would be classed as a distance sale – but we are only seeing a very small percentage of those, with most customers opting for some kind of interaction at the dealership.
"We will see a natural progression over the next 12 months as more retailers go live. The marketplace will see extensive growth and traction of e-commerce in the very near future."
Rockar
Operating its Jaguar Land Rover store at Westfield Stratford, East London, provides omni-channel retailer Rockar with insights to fine tune its end-to-end online sales platform. New releases are made every two weeks, although Rockar launched a completely new version in January.
The updated platform incorporates a new vehicle configurator, a facility to identify stock immediately available for those wanting to avoid lead times and an online used car purchase solution.
Managing director Martin Sewell said: "We are the only e-commerce provider which uses its own technology to sell cars. We use the data and learnings to continually refine our proposition."
The JLR retail store itself has seen sales up 53% year-on-year, while the average order value is £61,000, £7,000 above the wider retail network average. Just under two thirds (62%) of its orders are undertaken purely online while the chassis margin is higher than that of the average JLR retailer, it said.
"It's so easy to buy online and more customers are choosing to purchase their vehicle this way," said Sewell. "In June, we sold a car online on our platform on behalf of JLR every six hours."
Rockar has partnered Ford in its Arndale Centre operation in Manchester and its platform powers the brand's online sales facility, enabling vehicle configuration and purchase online with the option of dealer collection or home delivery. Rockar's system also powers Mitsubishi's store at Lakeside in Essex and, similar to Ford, allows customers to buy online via the brand's website.
The company's first major dealer group partnership has also been announced, with another large dealership group partnership likely in Q3.
Harwoods has introduced Rockar's omni-channel retail e-commerce platform for its Jaguar Land Rover retail business. Since putting the system live, on August 14, more than 60 orders were processed on the platform, with two orders completely self-service.
Sewell said: "They are making the all-important step from lead generation to lead transaction."
Finally, its e-commerce consultancy arm has been advising a multi-brand OEM. The coming 12 months will see Rockar take its omni-channel concept global as it is at various levels of talks with 11 OEMs to provide its services worldwide.
Silver Bullet
It has been a year of phenomenal growth for Silver Bullet, which was formed just over a year ago when Glasgow-based Peter Vardy Group went live with the system.
Since then, Silver Bullet has launched its 1.1 version of the platform, providing retailers with various elements of e-commerce functionality including an enhanced smartphone experience. Dealers can select the part-exchange valuation, or submit finance applications direct to a dealer's panel of lenders or opt to provide an online journey through to a transaction taking place.
Director John Hill said: "It's a very flexible piece of software, so some customers will get an exact value for their car. It gives a panel of finance options, but can also take a reservation payment. Our architecture is open, which means we can integrate with every showroom system, website and partner within a dealer's supply chain."
Car buyers are encouraged along the entire journey, through to deposit or reservation payment. However, even if a customer opts out of the process at an earlier stage, the Silver Bullet system still provides the information gathered to the dealer so a quality lead can be followed up.
In the past 12 months, 50 dealers across 10 dealer groups, including JCT 600 and Charles Hurst Group in Northern Ireland, have installed the Silver Bullet system, with the Hendy Group about to go live.
Current developments include Google Tag Manager installations, utilising Facebook tracking pixel technology that accesses vital information on how visitors from Facebook interact with a dealer's website.
iVendi
The key focus for iVendi has been the development of its vehicle search engine, where £2million of investment since 2017 is about to come to fruition as the system is launched in Germany. With iVendi's experience showing 30% of consumer searches use more lifestyle terms, the search engine interprets the consumer's online vehicle search from free text aligning with leading online retailing search experiences such as Amazon, eBay and John Lewis.
Two other developments have been made to its finance widget and a stock module linked to its new search engine, which improves the accuracy of vehicle coding to ensure descriptions and, ultimately, finance calculations are accurate. The new search engine is a plug-in widget that complements iVendi's existing finance tools and its stock module has been announced.
James Tew, chief executive, said: "Is it a revolution? It's certainly way beyond evolution. We want to improve the online experience for consumers. It's a context-based search. Consumers type in what they want, that's how people search."
Developing the search engine has been a highly complex task, as the computer interprets human terminology while matching it to manufacturer language. For example, a car buyer is likely to search for 'sat-nav', which BMW terms 'i-drive' and Mercedes 'Command'.
In the run-up to its search engine launch and technological developments, iVendi has grown its development team by a third and the team in Manchester now numbers 60.
According to iVendi's estimates, vehicle coding errors where the wrong spec is advertised can result in a dealer falling foul of advertising standards and generating incorrect PCP finance calculations. Such errors occur in about 15% of vehicles uploaded, it said. iVendi's new stock solution compares the description of the vehicle with industry vehicle codes, providing an accuracy score.
Further ways of improving GDPR compliance will be rolled out in Q3 2019. German automotive bank BDK, a part of Société Générale, is iVendi's first major international deal and forged a new partnership with BNP Paribas Personal Finance UK.