As an increasing number of larger car retail groups endeavour to bring their staff recruitment oper-ations in-house, many of the sector's specialists are having to raise their stock by delivering on ever-more challenging briefs.
Driven by greater consolidation, tighter margins and the need for even more efficiency, retailers are now using their own staff, online influence on social media and reputation-boosting staff surveys such as The Times Top 100 and AM's Best UK Dealerships to Work For to help entice new employees.
While Ed Steele, the managing director of Steele Dixon, said this trend appeared to be increasingly successful, it also has its limitations.
"A lot of the larger groups have their own teams working on recruitment now and, like anything, the longer you work at it, the better you become," he said. "But we specialise in high-level roles and when those dealership teams encounter difficulties they will still turn to us."
Steele said the number of appointments it had handled during the past 12 months had reduced, but the level of postings it had filled was higher, with senior staff also commanding far higher salaries.
It's a trend seen across the sector's various recruiters, with Motor Trade Select managing director Glen Liddall sharing the opinion.
Steele said he had recruited more financial directors in 2018/19 than he could recall at any time in his working life. This had little to do with the tenet that "businesses recruit marketing directors when times are good and financial directors when times get tough", he said.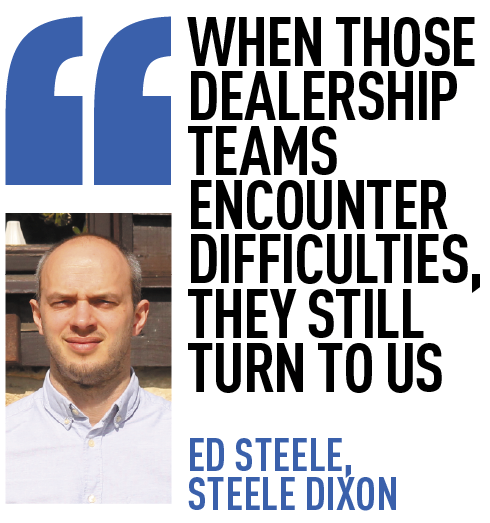 Instead, in most cases, they were replacements for retiring staff.
Was this also Liddall's experience? He said: "We've not seen a trend towards financial directors, but what we have seen is a far greater demand for more senior staff in car retail and what is becoming clear is that there is a shrinking pool at that top end to draw from."
Liddall said hw was called upon to compile a number of salary reports in 2018/2019 for car retailers and the results had been significant.
"In that shrinking pool, what has become apparent is that the right people – who can actually show that they can go in and affect a business – are like Premier League footballers. They are simply worth whatever it takes," he said.
"It's perhaps indicative of the fact that many retailers need that kind of person in the challenging time we're in, but it's also clear that sales executives have perhaps not seen a pay rise in real terms for the past 15 to 20 years by comparison."
In its eighth annual salary survey, BDO reported that the average car retail employee's annual remuneration package had increased from £40,000 to £41,000 in 2018.
The average remuneration received by a managing director or chief executive rose to £247,000, up 18.8% on 2017's £207,000, while finance directors continued to see their remuneration levels rise, from an average of £140,000 in 2016 to £144,000 in 2017 and £151,000 in 2018.
Among the car dealerships' rank and file, though, it was the aftersales department that fared best as the skills shortage saw in-demand technicians play a strong hand.
BDO partner Steve Le Bas said the 3% increase year-on-year – which was ahead of the 2% seen in 2017's survey – had come as a result of retailers' efforts to retain the best staff in an era of high employment.
Darren Street, managing director at Spear Recruitment, said his agency has recently recruited its best-paid technician ever – earning £45,000 a year – in a market increasingly dictated by pay.
He said: "If a technician doesn't feel valued, then they'll move to another job for 50p-an-hour more and, at the moment, they are in position where they can walk away with several options of where they can go."
About 30% of the technicians recruited by Spear are destined for fast-fits, said Street, who said that 'one man bands' and smaller independents are increasingly making efforts to offer better wages and working conditions to compete with the larger franchised groups.
Retaining technicians is just as much of a challenge for the automotive sector as recruitment, however, and Street said he was aware of AM100 groups offering loyalty bonuses to staff who stay with them "to the end of the year" out of "sheer desperation".
Another option, according to Car Benefit Solutions, is to provide employee car ownership schemes, or an all-employee scheme, to let their non-company car users get a new car at a cut-price offer, as a retention tool.
Steele Dixon is also looking to move more heavily into an aftersales arena with the promotion of its office manager, Hannah Taylor, to a recruitment consultant post dedicated to finding the right talent for more senior roles.
It is currently recruiting body shop development managers for a client in the United States as part of an international concern that sees its five-strong team operate in South Africa, the Middle East and Asia.
Steele said he acknowledged that his business charges a premium to find the right senior people to take on difficult-to-fill roles, adding that this may have proved prohibitive for some car retailers – perhaps feeding the trend for in-house recruitment.
As such, the business has developed an interest-free payment model that could see retailers spread their costs over three, six, eight or 12 months.
"Especially when you're dealing with a director role where you're talking about a significant fee, it can make real sense to some businesses," he said.
While Steele Dixon and Motor Trade Select have both been sticking to their established areas of expertise – the recruitment of brand manager, dealer principal and director-level roles – Spear has been working hard to make sure it reaches technicians, as well as the many other roles it recruits, in new ways.
Just as the National Franchised Dealers Association (NFDA) last year launched its Drive Your Career programme to attract new talent to the automotive sector, so Spear has increased its spending on pay-per-click advertising, social media and video marketing to ensure it raises awareness of its brand and the opportunities available.
In February, the NFDA celebrated a successful first year for its Drive My Career initiative, stating that almost 1,000 retail sites from 63 dealer groups supported the initiative in its first 12 months, attracting more than 200,000 views via its newly established YouTube channel.
Street sees the value of reaching out and said the business has invested "massively" in marketing through marketing agency Nosey Design, which helped to deliver a 6,000% increase in traffic to its website.
The approach taken by Spear and the NFDA is central to targeting a new workforce of younger, more tech-savvy employees.
Liddall said it was clear that retailers would need to attract, recruit and train a new breed of technician as the growth of alternative fuel vehicle (AFV) adoption demands a new skill set in the workshop.
But he was not so sure about the impact of low-pressure sales staff.
He said: "Many retailers have tried to adopt the new breed of Apple-like low-pressure showroom staff, starting with BMW and its product geniuses.
"It's good at reducing staff spend, but I think the jury's still out."
Steele empathised with those traditional sales staff who had suffered the impact of the introduction of such staff into the sector, meanwhile.
He said that, while broadening the net to include none-automotive retail staff from the likes of McDonald's and Currys PC World had reduced the pressure on retailer recruitment and their wage bills.
It had meant that "many traditional sales executives who had become used to earning £60,000 a year were being driven out of jobs".
He added: "By comparison, these people will work regular hours for £30,000 a year and they don't mind if they drive a Peugeot 108 or the latest Mercedes-Benz."