As manufacturers outline their strategies to move to lower-emission motoring over the medium to long term, a range of new electric and hybrid vehicles are on their way to UK showrooms over the next five years.
More than 160,000 plug-in cars have been sold in the UK and registrations are on track to reach 60,000 this year alone, pointing towards a major change in the market.
According to Go Ultra Low, the Government and industry campaign to promote ultra-low emission vehicles (ULEVs) in the UK, the overall number of alternative fuel vehicles (AFVs) registered has risen every month so far this year, with one being registered every nine minutes in the UK, despite a 3% year-on-year decline in pure electric vehicle (EV) registrations (to 7,441) in the first half of 2018 when compared with the same period in 2017.
Chargemaster, the charging infrastructure company, has predicted there will be one million electric cars in the UK by the end of 2022, accounting for about 10% of all new car registrations. Tom Callow, its director of strategy, believes the only obstacle to an explosion in EV sales is supply, insisting that "there is no demand constraint at all".
The company's forecasts suggest that those shortages will be met by an influx of new models.
Chargemaster believes nearly one in four new cars will be electric by 2025, with plug-in cars making up about 50% of new registrations by 2027 and 60% by 2030.
On the current trajectory, it is likely virtually every car on UK roads will be electric by 2040, it said.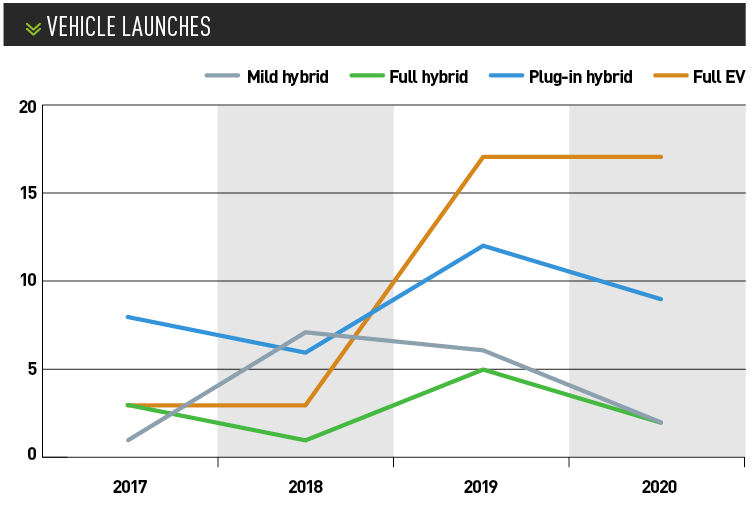 The changing market has seen new entrants, such as Tesla in 2012 with the Model S, its first mainstream electric car, and Dyson, better known for making vacuum cleaners and fans, has confirmed an investment of £2 billion to produce an electric car by 2020.
However, the first traditional carmaker to commit comprehensively to an electrified future was Volvo. Its plans include electrified versions of all its models by 2019 and it expects half of its sales to be fully electric cars by 2025.
Volvo's performance arm, Polestar, has been re-invented, too, as an electric car brand. Its first model, the Polestar 1, is due on sale later this year.
Ford says 40% of its range will have electric models by 2020 and Volkswagen Group has stated that it will offer 30 fully electric cars by 2020, with a quarter of its line-up electrified by 2025.
BMW believes mass production of EVs is not viable until 2020. It says electric technology is not currently profitable for mass production, but has promised 25 electric or plug-in cars by 2025.
Hyundai and Kia have stolen a march on their European rivals, offering vehicles with mild-hybrid, hybrid, plug-in hybrid and fully electric drivetrains across its model line-up (plus hydrogen fuel cell in the Hyundai ix35). By 2025, Kia will have 16 alternative power train vehicles, including five new hybrids, five plug-in hybrids and five battery-electric vehicles.
Callow said: "With the increasing number of plug-in EVs coming to market, dealers need to have the right support in place for both sales and servicing.
"Franchised dealers need to be developing an understanding of the EV market as a whole, including the fundamentals of how electric vehicles are used and charged, as well as their own brands' products.
"In many ways, dealers developing the right mindset towards EVs is more important than the relatively straightforward task of getting appropriate charging infrastructure installed."
Mild hybrid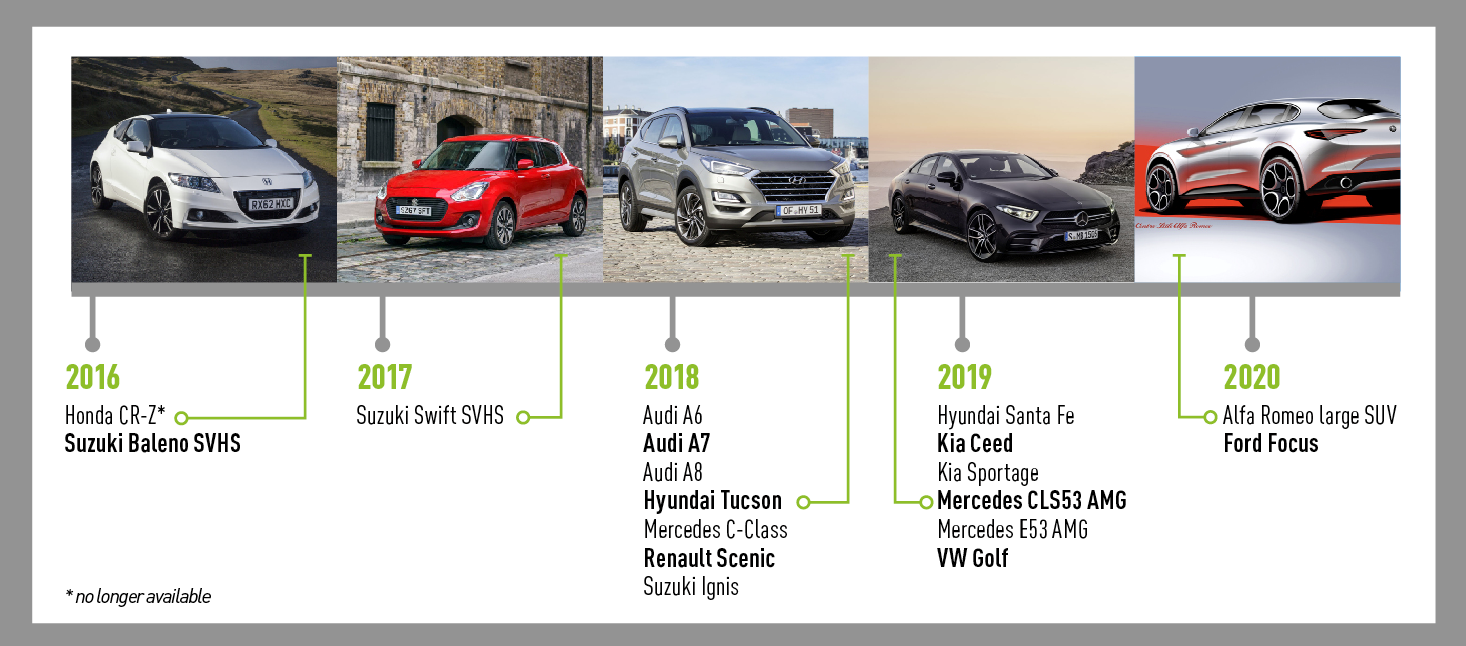 Mild hybrid technology is a relative newcomer to the market, yet is also the one with most reliance on fossil fuels.
A mild hybrid cannot rely on electricity alone for propulsion. Instead, an electric motor-generator works alongside the engine.
Waste energy recovered by the generator is stored in a small battery pack and when the car is coasting or braking, this battery power boosts engine performance via the motor.
In some vehicles, the mild hybrid system operates alongside a higher-power 48-volt electric system, which allows the engine to switch off when the vehicle is coasting, as the stored energy provides enough power for all the vehicle control systems to operate as normal.
A number of carmakers have cited the use of 48-volt mild hybrid technology in future applications of conventional petrol and diesel engines, as it reduces fuel consumption and emissions while providing a small performance boost.
Evercore ISI, a consultancy company, believes mild hybrids will outgrow full hybrids (including plug-ins) by 2020. By 2025, it predicts 48-volt mild hybrids will represent 55% of all new car sales.
Suzuki was the first manufacturer to introduce the technology across its model range and Kia will follow later this year.
Audi is also adopting the technology. All new A7 and A8 models feature a 48-volt mild hybrid system, as will the upcoming A6, while Mercedes-Benz's flagship S-Class introduced the technology earlier this year.
Volkswagen has confirmed it will launch a mild hybrid version of the Golf next year.
Renault already offers a mild hybrid engine in the Scenic, and the power train is expected to be introduced in other Renault Nissan Alliance models.
Full hybrid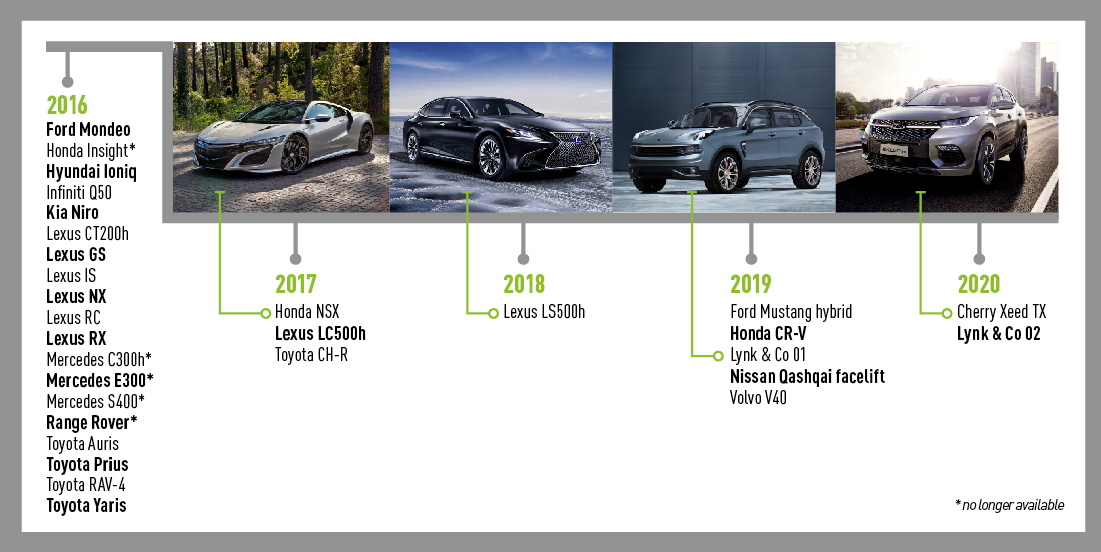 Currently the most popular form of electrification, hybrids have been in mass production since 1997.
An electric motor can power the car instead of the combustion engine in stop-start traffic and during very light throttle applications, providing fuel savings and less pollution.
Unlike a mild hybrid, the electric motor connects directly to the driveline and is able to provide momentum without assistance.
The Toyota Prius is the best-selling hybrid globally.
Toyota has invested heavily in hybrid technology, having been the first to market with the original Prius in 1997.
Now, almost all Toyota and Lexus models are available with a hybrid engine.
Hybrid technology was popular with vehicle manufacturers between 2012 and 2016, but now the ability to improve efficiency further is limited with only on-board charging. There is also no financial support for buyers.
In the shorter term, manufacturers are focusing their product launches on plug-in vehicles, although some have hybrids in the pipeline.
Plug-in hybrid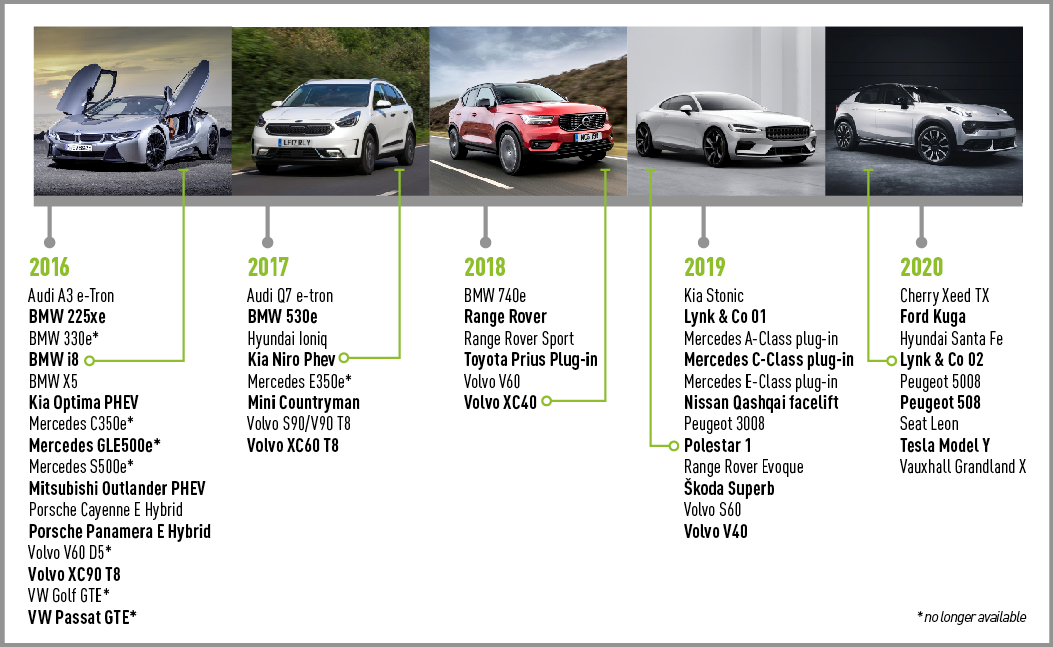 The newest technology on the market is plug-in hybrid. With larger batteries, these vehicles can be recharged like a fully electric car and driven exclusively on battery power.
Zero-emission capability varies from model to model, but is currently limited to about 30 miles.
The motor works in conjunction with the engine to provide extra performance, but both can also operate independently.
A grant is available to cover up to £2,500 of the list price and more than 21,000 drivers have taken advantage of it this year.
The most popular plug-in hybrid in the UK is the Mitsubishi Outlander, with more than 34,000 on the road.
BMW and Mercedes-Benz models have become particularly popular with company car drivers, as their CO2 emissions are significantly lower than equivalent diesel or petrol versions.
All the major manufacturers are working on plug-in hybrid power trains for launch between now and 2025. Volvo already offers the technology on its 60 and 90 series cars and said it will feature on all newly launched models.
Mercedes-Benz discontinued its C350e and E350e models because it has a new range of power trains launching next year. It is expected that the A-, C-, E- and S-Class will be offered with a choice of petrol and diesel plug-in hybrid engines.
Land Rover added plug-in options to the Range Rover this year and up to 50% of models across the Jaguar Land Rover group should be available as plug-in hybrids by 2020.
Next year will see the first plug-in hybrid Škoda model launched, as well as a range of vehicles from Peugeot Citroën.
The zero-emission range of a plug-in hybrid is expected to reach an average of 50 miles as the next generation of batteries is developed, meaning the majority of journeys should be achievable without the need to burn any fossil fuel.
Fully electric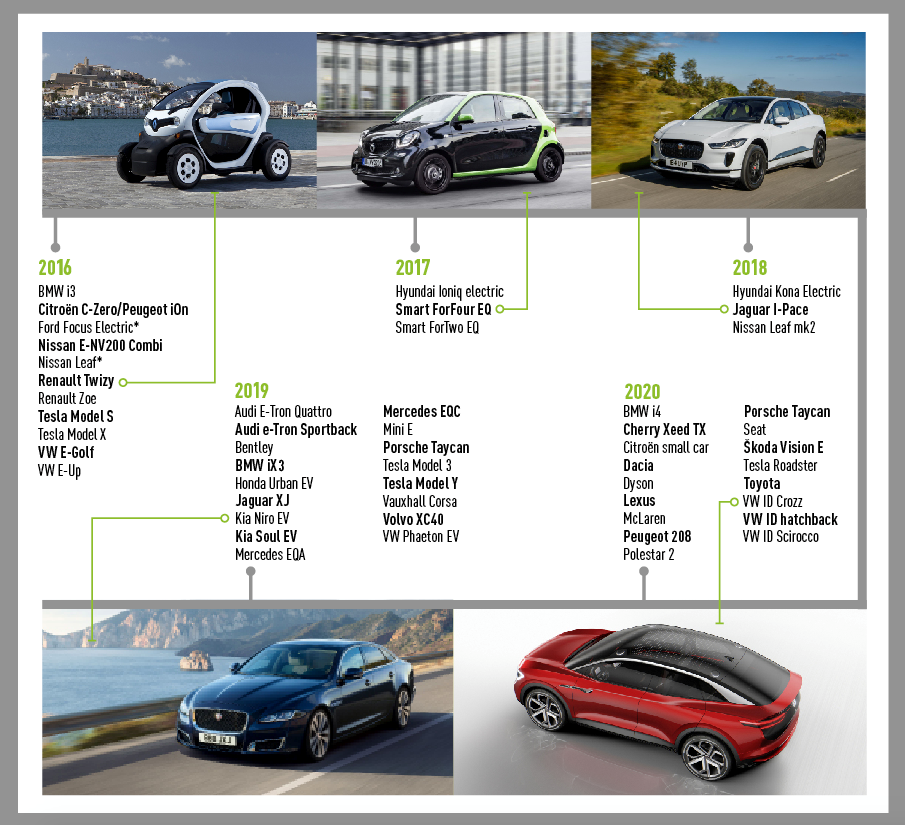 Fully-electric cars are on the brink of a step change. Until last year, the cost and range of an electric car outweighed the savings but new additions to the market, such as the second-generation Nissan Leaf and Renault Zoe ZE40, can go much further on a single charge.
Buyers can receive a grant of up to £4,500 against the price of a new electric car and there is additional support for funding a home charger.
Of the plug-in vehicles registered to date, only 40,000 are fully electric. Demand is lower because the batteries needed to provide a long range are expensive.
As manufacturers continue to develop the technology list prices will reduce.
Currently the battery cost accounts for 47% of the retail price of an electric car, according to research from Bloomberg.
By 2030, it is expected to have fallen to 18%, making electric cars 15% cheaper, on average, than a petrol or diesel equivalent.
The best-selling electric car is the Nissan Leaf, which was launched in second-generation guise earlier this year. It costs from £25,000 (including grant) and provides a 170-mile range.
Cheaper electric cars with longer ranges are already being developed across the world. By 2020 the market will see a number of major manufacturers enter the space, including new brands from China.
Next year should see the delayed launch of the Tesla Model 3, which can cover more than 200 miles and costs £35,000.
Jaguar has already joined Tesla in the premium sector with its I-Pace and Mercedes is on the brink of launching its own electric SUV, due next year.
Consumer confusion
Car buyers have more choice than ever when they walk into a dealership, but the additional choices bring extra confusion, especially as manufacturers can have different labels for the same technology.
Andy Eastlake, managing director of LowCVP, the Low Carbon Vehicle Partnership, said: "Hybrid is a good example where the term can be applied to almost any scale of technology. A regular hybrid of any type should really be just regarded as another development of low emissions and good fuel economy technology.
"We need to get people to realise that having a plug does not mean that range anxiety needs to be an issue, since a range extender gives zero-emissions driving, but removes the range concerns."
He also believes the use of 'electric vehicle' and 'electrified vehicle' can be misleading and said manufacturers should be aiming to characterise cars by capability and not by technology.
Callow added: "Consumers need to understand that the Government's strategy is called Road to Zero for a reason and realise that the aim is for all of us to be driving cars with 'significant zero-emission capability', and for most of us to be driving cars that are 100% zero-emission.
"The only affordable vehicles currently capable of continuous zero-emission mileage are plug-in electric vehicles, and these are the models dominating manufacturers' new model announcements, rather than any other technology."