Motorpoint has revealed that 52% of its used car sales were completed online during a COVID-hit 2020 trading period.
A trading update for the top ID50 used car supermarket's financial year to March 31 revealed that the results of a digital focus and the offer of free home delivery to customers had "exceeded expectations" as the pandemic threatened to devastate the sector's sales performance.
Among the highlights of update, published ahead of full preliminary results expected on June 16, Motorpoint revealed that it had sold 68,000 vehicles sold in the year, including 25,000 via its Auction4Cars.com platform.
In total, over 22,000 units were sold online, with 3,300 sold in March alone, it said, as online sales grew 89% year-on-year in Q4 with home delivery completing 57% of those transactions.
Despite reporting back in August that business at its 13 used car supermarkets had been "comfortably ahead" of 2019 in the period since the initial COVID-19 lockdown restrictions were eased on June 1, however, Motorpoint reported that it succeeded only in breaking even in the second half of its financial year following the impact of more recent lockdowns.
The group's trading update said that it expected 2020/21 revenues to be down 29% year-on-year, but added: "The group's balance sheet remains robust with no structural debt, and net cash at the year-end was c.£6m."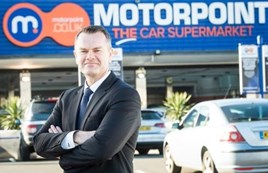 Motorpoint chief executive, Mark Carpenter, said: "Motorpoint continues to take market share by offering great value to our customers, combined with a huge choice of high-quality vehicles and a strong customer service focus.
"I am delighted at the progress we have made by retaining and growing our Technology and Marketing teams during the lockdowns.
"Our focus on growing our E-commerce and Home Delivery channels continued in H2 with further milestones achieved.
"Thanks to our focus on innovation, along with our low-cost, agile operating model and market leading brand strength, Motorpoint is well positioned to take advantage of the continued shift of consumers to purchase online, whilst also continuing to access the currently larger in-branch market."
Motorpoint's board anticipates pent-up consumer demand to follow the re-opening of car showrooms on April 12 in England and Wales and April 26 in Scotland, with growing momentum for its E-commerce, Home Delivery and Reserve and Collect services.
But the group's trading updated added: "Nevertheless, the Board expects that the impact of COVID-19 will continue to influence events in the new financial year, and given this uncertainty, believes it prudent to refrain from offering future guidance at this time.
"The position is under constant review, and an update will be provided when appropriate to do so."