Motorpoint has appointed former Speedy Hire group finance director Chris Morgan as its new chief financial officer following the resignation of James Gilmour from the post.
The used car supermarket PLC announced the appointment in a statement published via the London Stock Exchange this morning (December 22), four months after announcing Gilmour's departure in a positive post-lockdown trading statement.
Morgan will assume his new post as CFO and a Motorpoint board member with effect from January 11.
Motorpoint's statement said that Morgan would bring "a wealth of a multi-site retail, financial and listed company experience", having also previously held senior finance leadership positions at Go Outdoors and Tesco.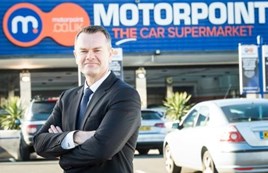 Motorpoint chief executive, Mark Carpenter, said: "I am delighted that Chris will be joining our executive team in January.
"Chris brings to the Company substantial financial and operational experience from the retail sector and I look forward to working with him as we continue to deliver on Motorpoint's growth strategy."
Last month Motorpoint reported that its half-year pre-tax profits had increased by 3% to £9.7m, despite the spring COVID lockdown, which hit its revenues hard as showrooms and preparation centres were closed between April and June.
Turnover during the first half of Motorpoint's financial year, to September 30, fell 27% to £387.7m.
However operating expenses decreased by 16%, it said.
During 2020, the car supermarket operation has launched contactless car sales, backed by a high-profile television advertising campaign, and has also extended its UK footprint with the opening of new retail sites in Swansea and Stockton-on-Tees.