Motorpoint's footprint has expanded to 16 used car retail locations with the opening of a new two-acre, 120-vehicle dealership in Maidstone.
The opening of the new location by the Mayor of Maidstone Councillor Fay Gooch is the latest step in the business's ambitious a mid-term growth strategy aimed at taking its annual revenues to £2 billion.
Used car supermarket specialist Motorpoint revealed in June last year that it planned to add a further 12 retail sites – on top of a recently-expanded network of 14 locations – in a bid to reach its goal.
The Maidstone opening – in a former VanWise showroom on Parkwood Industrial Estate, Bircholt Road, Maidstone – comes four months after Motorpoint Manchester opened its doors at a former LSH Auto UK Mercedes-Benz dealership, taking its total site to 16.
Motorpoint Maidstone general manager Rob Jones joined by Motorpoint's chief executive Mark Carpenter for the opening.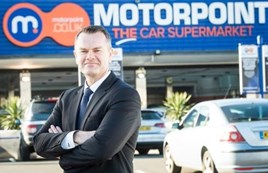 Carpenter said: "I am delighted to be able to open our 16th store in Maidstone and to bring the award-winning Motorpoint car buying experience to the County of Kent – it marks an important milestone in our expansion plans across the south of the UK.
"At Motorpoint we are all about giving our customers unrivalled choice by offering thousands of cars that suit their lifestyle and budget.
"A recent survey showed that 93% of our customers agree that we are unbeatable on price; we are fully committed to ensuring our customers can find and buy their next vehicle in the way that they prefer – whether that's at their local store like Maidstone, buying online or by calling our sales team."
Motorpoint's new Bircholt Road site was developed in just over 16 weeks, creating a store that covers 22,251sq-ft with space for up to 120 nearly new cars and vans on display.
Recruitment for the site got underway during January.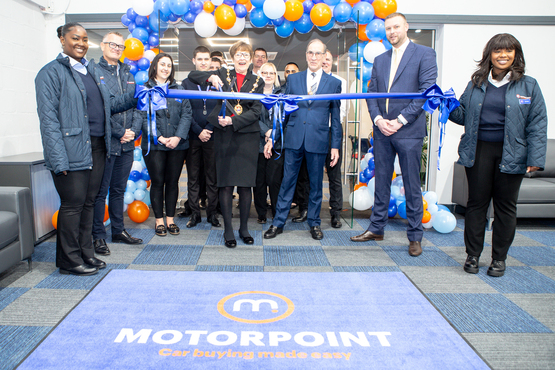 Commenting on the new business's opening, the Mayor of Maidstone, Cllr Fay Gooch, said: "I was really excited and honoured to open this wonderful new 'Motorpoint Maidstone' store.
"Motorpoint is the largest independent retailer of nearly new cars and vans in the UK, it has stores all over the country, and now they have come to Maidstone, the County Town of Kent, creating thirty new jobs – it's fantastic news."