Motorpoint has begun the process of recruiting 30 new employees ahead of the opening of its new 120-car retail site in Maidstone.
The UK's largest independent used car retail group expects to open the new facility in the former VanWise showroom on Parkwood Industrial Estate, Bircholt Road, Maidstone, in February and is looking for staff to fill vacancies in its sales, service, support and vehicle preparation departments.
The opening comes four months after Motorpoint Manchester opened its doors at a former LSH Auto UK Mercedes-Benz dealership and forms part of an ambitious a mid-term growth strategy aimed at taking its annual revenues to £2 billion.
Robert Jones, head of retail operations at Motorpoint Maidstone, said: "We are excited about the opening of our new store in Maidstone in late February 2022.
"We are recruiting up to 30 new colleagues to join our team and there's a range of roles to apply for.
"We offer a great remuneration package and are looking for motivated people who are keen to become part of Motorpoint's ongoing nationwide success story."
Back in October Motorpoint revealed turnover growth of 57% and pre-tax profits up 30% in a trading update for the first half of 2021.
In the six-month period to September 30 the group's revenues rose significantly year-on-year following H1 2020's COVID lockdown-triggered 27% decline to £387.7m as PBT grew by almost a third to £13m, the PLC reported via the London Stock Exchange.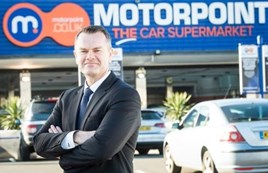 As part of its growth plan, Motorpoint chief executive Mark Carpenter has said that his car retail business will open 12 new sales and collection branches, on top of the recently expanded 14-site network.
It also plans to substantially increase investment in marketing, technology and data and leverage its Auction4Cars.com platform to accommodate new supply channels and launch a new "marketplace offering", he said.
In a statement issued about the Maidstone opening, Motorpoint highlighted its credentials as an employer in a bid to attract new employees in a sector which is experiencing a "staffing crisis", according to retailers who spoke to AM for a recent feature on the subject.
Jones said: "We have an award-winning track record for delivering first class customer service. We are proud to have featured again in The Sunday Times Top 100 Best Large Companies to work for in 2021, coming 18th in the 2021 rankings. We are also an active member of the Automotive 30% Club, an organisation that campaigns for gender balance in the automotive sector."
Motorpoint currently employs more than 800 people across the UK.
Hannah Litt, Motorpoint's head of resourcing and inclusion, who spoke on an expert panel in a 'Changing the Game' seminar on diversity at AM Live 2021, said: "We are extremely proud of our record as an equal opportunities' employer. We have a strong focus on providing an exceptional working environment despite the challenges of the ongoing pandemic situation.
"Our staff enjoy a fantastic range of benefits and there is wealth of opportunity for career development and progression within Motorpoint."