Vertu Motors has "cemented" its position as the biggest Honda retailer in Europe with the acquisition of Hepworth Honda in Huddersfield.
The AM100 PLC's chief executive, Robert Forrester, is preparing to welcome Hepworth's 30 staff to the Vertu team in a meeting on Wednesday (March 17) after announcing the completion of the deal over the weekend.
Vertu chief executive Robert Forrester said: "We are delighted to acquire a dealership with such a long trading history in Huddersfield.
"Our experienced Vertu Honda team has a long, proud, and successful track record with the Honda brand.
"This acquisition reflects the group's strategy to continue to grow a significantly scaled franchised dealership business and further grows our representation in Yorkshire."
And Hepworth Honda managing director, Stephen Brighton, told AM "It was the right thing for me, for the busines and the staff" in an interview this morning.
Vertu's latest acquisition sees it take control of the Honda franchise and Mitsubishi aftersales franchise, on Leeds Road, Huddersfield.
Brighton, who has retained ownership of the premises, will retain the Hepworth Select used car business and SsangYong franchise in Horsforth, meanwhile.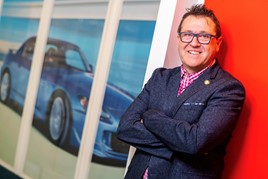 He told AM: "I'm really pleased to have finally gotten the deal over the line. It has been delayed three times because of the COVID-19 crisis.
"The acquisition for Vertu sees it become the biggest Honda retailer in Europe and I'm proud that they chose Hepworth to reach that milestone.
"They inherit a profit-making Honda retail business that does a good job for the brand and has a great team. Vertu also gets a Mitsubishi aftersales franchise which is booked-up until the end of April."
Brighton did a full dealer profile interview with AM back in the summer of 2018.
Last summer Hepworth announced the closure of its Halifax Mitsubishi franchise, which was re-franchised from its former brand, Honda, in June 2018. Hepworth said that facility had been "loss-making for a while".
Today, Brighton told AM that Hepworth had finished 2020 strongly, however.
He added: "The truth of the matter is that there's so much uncertainty, it's an extremely tough time for the smaller independents.
"Vertu recently said that it was pursuing scale and that's the one thing we didn't have. With all the uncertainty in the market I know I've done the right thing.
"This secures investment in the business and removes a glass ceiling for the staff. They'll have opportunities as part of a larger group that I couldn't have offered them."
Last month Vertu Motors board said the group is positioned to realise "ambitious growth aspirations" after crediting a huge Vertu team effort for a creditable 2020 trading performance.
Vertu's group statement said: "The board considers that scale is an increasingly important success factor in the sector and therefore has ambitious growth aspirations for the group.
"The pipeline of potential acquisition and multi-franchising opportunities is strong, with expansion only to be undertaken following a robust assessment of capital allocation metrics."
Its acquisition of Hepworth Honda follows its December 2020 acquisition of 12 BMW, Mini and BMW Motorrad franchised motor retail outlets across five locations from Inchcape's Cooper BMW division.
Taking to Twitter to celebrate his latest growth move over the weekend, Forrester said: "Delighted to announce last night we bought Hepworth Honda in Huddersfield. This cements the position of Vertu as the biggest Honda dealer in Europe. Looking forward to visiting."