Platinum Motor Group has acquired AKS's Renault and Dacia car dealership in Yeovil after being described as the "perfect fit" by retiring managing director Anton Szulc.
The Wiltshire-based Renault, Dacia, Nissan, Skoda, Hyundai, Toyota, Vauxhall, and SsangYong franchisee doubles its Renault Group representation with the move – adding to its existing operation in Trowbridge – and takes its total number of franchised outlets to 13.
Its new businesses will be re-branded as Platinum Renault/Dacia (Yeovil) as AKS team members are welcomed into the business of the new owner.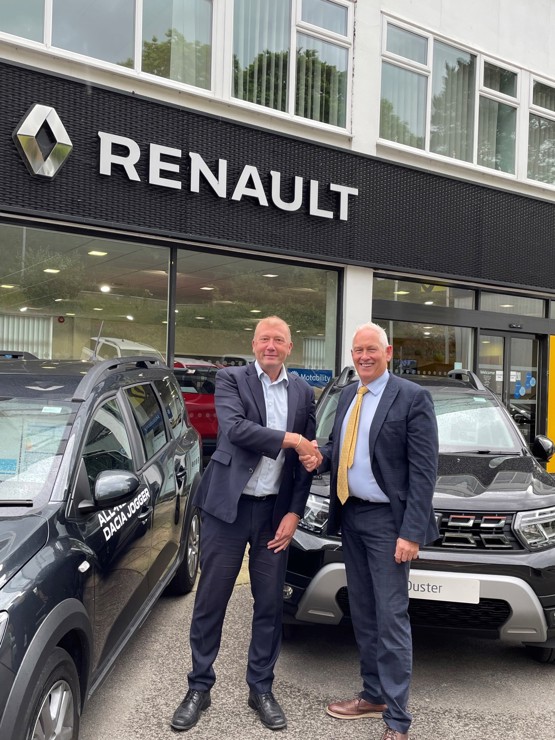 Platinum Motor Group joint-manging director Jeremy Cuff said: "Our original discussions with regard the acquisition of AKS started around a year ago, when we were asked if we'd be interested in expanding our Renault representation.
"Our interest in doing so then led to a more specific discussion with the team at Renault UK, who informed us that Anton K. Szulc, the owner of AKS, was looking to retire.
"We therefore began our dialogue with Anton in the Autumn of 2021, which has subsequently led to our takeover of the business."
Cuff, who welcomed AKS team members into the Platinum fold, stating that he was "looking forward to working with everyone", added: "The AKS business is long established in the Yeovil market area for the Renault and Dacia brands, which under Anton's leadership and in conjunction with his dealership team, is a business that is respected locally and within Renault UK, serving a great many customers and one that is well-known for providing an excellent service.
"With Anton's decision to retire, it is now our task to ensure that the good work and reputation of the business is maintained into the future."
Szulc said: "After a lot of research the Platinum Motor Group was the perfect fit for all the AKS team members and customers going forward for the future."
While Renault has recently added to its model range with the Arkana SUV, Dacia's model range has been transformed in recent times, with the addition of the new Duster, Sandero and seven-seat Jogger MPV.
Under the Renault Group's 'Renaulution' strategic plan the brands will reduce its number of vehicle platforms from six to three and reduce its manufacturing capacity from its current four million (2019) to 3.1 million by 2025 as part of measures targeting a €600 saving on the cost of producing each of its vehicles.
In its last set of heavily COVID-impacted annual financial results, to December 31, 2020, Platinum Motor Group delivered a turnover down 17.8% at £74.7 million, against a pre-tax loss of £53,247.