A new COVID-19 aftersales whitepaper has questioned whether franchised car retailers are properly prepared for a June surge in servicing demand – and continued peaks and troughs to follow.
As lockdown restrictions are eased by the UK Government and increasing numbers of people return to work, the Marque Group's 'Emerging from Lockdown and Beyond' study suggested that businesses would face twice as many servicing requests in June 2020 as during the same period.
And as the average franchised site battles to handle an average of 323 overdue services in June alone – with some staff potentially still furloughed – group managing director Allan Rushforth said that a "flexible and empathetic approach from retailers" was needed in order to foster loyalty and trust during the busy period.
Marque Group, which studied trends from over 750 UK businesses to formulate its whitepaper, also said that the Government's MOT extension will be a contributing factor to an unpredictable peaks and troughs in aftersales demand going forward.
Rushforth said: "The six-month extension of MOT and lack of service work carried out during lockdown will result in a significantly altered pattern of consumer demand one that retailers need to prepare for or risk losing business to competitors.
"We'll see a peak of overdue service work in June at a time when workshop capacity is likely to be restricted by social distancing measures and some team members being unable to return to work
"Further into 2020 and beyond, we're likely to see exceptional peaks and troughs in demand very different from the expectations of normal seasonality."
Marque's whitepaper highlighted guidance which required car retailers to communicate promptly to customers concerned about their vehicle's maintenance.
It also stated that a need to effectively prioritise work and ensure that, ultimately, the task for every customer who needs a service or MOT can get one safely and within an acceptable timeframe.
Retailers who fail to respond to the challenges of the post lockdown period "risk alienating customers and losing business to competitors with ineffective prioritisation of workload and outbound marketing communication", it said.
"The risk is especially great for out of warranty vehicles of long-time customers who are likely to be de-prioritised in favour of those customers still in warranty period."
MOT minefield
Marque Group said that the minefield of MOT extensions will be equally challenging, with Government's approach to the lifting or extension of exemptions creating different scenarios for a potential spike in demand.
Reflecting the findings of fast-fit operator Kwiik-Fit, its whitepaper study found that 1.01 million unroadworthy vehicles would return to the roads post-lockdown, 316,000 of which had been estimated to have dangerous defects.
Furthermore, it said that 49% of drivers with MOT extensions since March 30 planned to go the entire six months without getting their car tested.
Marque mapped two potential MOT outcomes, one which saw the test extensions in place until the end of March 2021 – as initially implemented in Northern Ireland – and another modelling a July 1, 2020, end to extensions.
The first resulted in a dramatics September 2021 peak in demand, while the latter succeeded in flattening the potentially unmanageable peak with the effect of causing challenges between October and December 2020 as MOT workload is forecast to be double the normal volume.
"There's clearly an opportunity for retailers to capitalise on vital MOT maintenance work," it said, however.
"Success will rely on a fast response to changing government guidance, flexibility to manage amends to customer due dates and careful orchestration of marketing communication."
Marque's model of post-lockdown aftersales activity: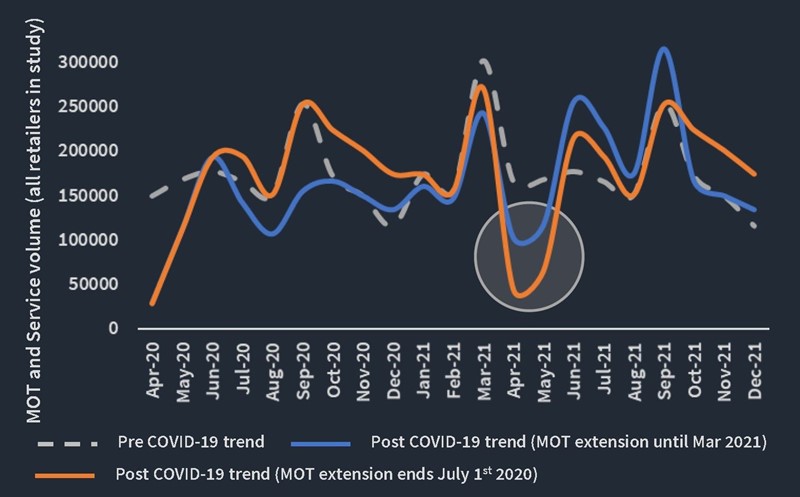 Rushforth said that securing customer loyalty and trust will be vital to underwriting future business as consumer confidence and spending plummet.
He said: "There's no doubt that this is the most challenging period that retailers have faced, but for those who are prepared, it's also an opportunity to act decisively, help customers navigate the crisis and build stronger, more profitable relationships for the future."