Volvo Car UK is pushing to deliver a contactless app-based aftersales payment facility for customers as it continues to digitise its franchised car retail network.
The Swedish premium carmaker launched its new Volvo Valet maintenance pick-up and delivery service in the UK yesterday (May 26) and the brand's managing director, Kristian Elvefors, told AM that he's already keen to see it deliver additional functionality.
Volvo's new Valet service offers customers a contact-free option to have their car serviced or repaired, allowing aftersales slots to be booked via an app before their car is picked up from their home, serviced and returned – with a tracking function to provide accurate delivery/collection times.
"The system has been tested with five to six retailers and is now active with 20 here in the UK. It really moves things on in terms of driving online booking," said Elvefors.
"The customer receives a prompt that their car needs a service and from that point they can do everything via the app."
But setting out his desire to see the app deliver even more, Elvefors added: "I want to see an app-based payment function like we have in Sweden.
"It's already in place over there and I'll be pushing to bring it to the UK as soon as possible."
Earlier this month Elvefors told AM that his brand had had to temporarily set-aside its Volvo Retail Experience (VRE) corporate identity's rapid car servicing model - developed on the premise of having two technicians working on a single car - due to the UK's COVID-19 social distancing regulations.
Asked about the increased pressure that changes to Volvo's aftersales emphasis towards a digital platform offering home collection and delivery might place on retailers already charged with delivering and collecting increased numbers of retail vehicles, Elvefors said this week that this would be "up to the retailers".
He said that it was their decision whether to provide the service themselves or outsource the delivery and collection of serviced vehicles for customers using the app.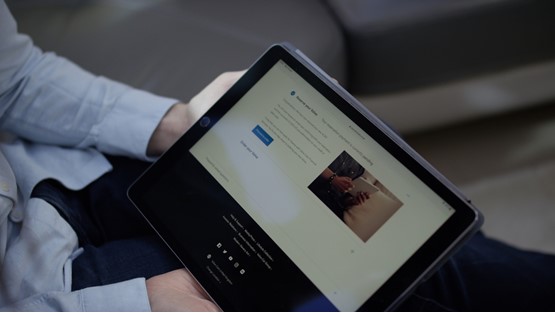 Volvo has updated its 'Order Online' car retail platform and introduced live chat to its web offering in a bid to further digitise its sales offering during the COVID-19 lockdown period.
Customers can opt for contactless home delivery of their new car, in-line with government guidelines, with a valet app allowing them to track the status of their vehicle delivery.
The contactless online e-signature software from its new car buying platform can also be used to buy cars from its Volvo Selekt approved used car scheme.
Elvefors said that he expected 100% of Volvo sales to be conducted via the online platform by 2025, but said that those would may handled in a dealership, at home or in a workplace.
Volvo Car UK delivered a raft of personal protective equipment (PPE) to its retailers last month as they geared-up to deliver and ongoing aftersales service and prepare for an eventual re-opening of showrooms.
In his previous interview with AM, Elvefors said that the brand's efforts to support its retailers had put it in "pole position" to re-open its UK sites.
This week, following Prime Minister Boris Johnson's announcement that car showrooms would be allowed to re-open from June 1, Elvefors said that he would await advice over the resumption of business in Wales, Scotland and Northern Ireland, but added: "Our engines are running and we're ready for the flag to fall."