Fix Auto Sandhurst has completed a programme of investment, which has refurbished the businesses hit by an arson attack in 2020.
Owner, Martin Weller, has spent an additional £150,000 on top of the insurance money received after arsonists destroyed his offices and part of his main workshop, Fix Auto said.
As a result, the repair centre now has a new reception area, offices, and storage facilities. The 12,000 square foot workshop areas have also undergone refurbishment, with new flooring, LED lighting and three new ramps.
Fix Auto said money has also been invested on new equipment including a Hunter wheel alignment and geometry system, while an ADAS system is currently on order.
Weller has also doubled the number of courtesy cars on his fleet to 14 and added a large light commercial vehicle (LCV) with a high-sided commercial spray booth to repair high-sided vehicles.
VDA James de Mille has been brought in as the new site manager to work alongside general manager Adrian Brimicombe.
Nina Ruprah, who has worked in the vehicle repair industry for more than a decade, has assumed the position of customer liaison manager.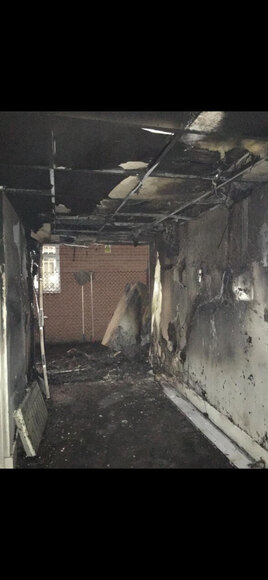 Weller said: "Fortunately, as we have effectively two workshops – one at the rear of the building – and an external booth designed specifically for high-sided LCVs - which we use alongside our internal one which were undamaged, it really didn't disrupt our workflow.
"With so much building work needed, I just thought now was the perfect time to seriously invest in the business and I'm delighted to say, we're now sitting in effectively a totally new repair centre. The building and facilities effectively future proof us."
Weller, a Chelsea Football Club supporter, lost a large proportion of his personal collection of club memorabilia in the fire including scores of signed personal photographs and a collection of signed and framed players' shirts on the walls.
He added: "While we have worked tremendously hard to rebuild the site and I have to give thanks to the entire team around me who have been superb throughout, nothing can replace a lifetime's collection of football memorabilia which is something that really hurts."
Earlier this year, Fix Auto opened its network's purpose-built repair centre in Leeds. Fix Auto announced plans to develop the site in May 2019.