Tarnock Garage is set to move premises next summer having completed the purchase of a plot on the new Oak Tree business park in Highbridge.
The Ford Service centre, in Tarnock, Somerset, has assigned development of the 5,000 square foot, six-bay Ford approved workshop to local construction company, Construction Solutions Plus, and should begin soon.
It will be one of the first in the UK built to Ford's new 'Signature' corporate identity, which was introduced earlier this year.
The new facility will look after the needs of local Ford owners, both car and commercial vehicles, as well as the emerging hybrid and electric vehicle technology.
Simon Brace, director of Tarnock Garage, said "I am extremely excited to secure the site on this new prestigious business park, and can't wait to start on site.
"This new purpose-built workshop secures our future, gives us long term tenure and allows us to invest in the infrastructure to look after the latest electric and hybrid vehicles."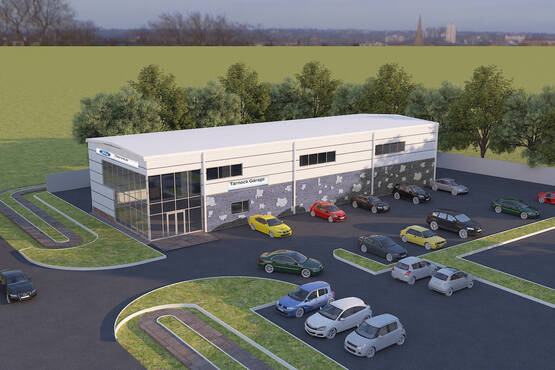 Tarnock Garage currently employs 11 people but is set to grow following the move to the new facility.
Simon Finch, dealer representation manager for Ford of Britain, said: "Ford would like to thank Tarnock Garage for investing in a fantastic new service operation on Oaktree Business Park.
"The site will be an early adopter of Ford's new 'Signature' design, which is the new global design for a vibrant, innovative and digitally connected retail environment.
"The new Tarnock Garage service site will provide customers in the area with a modern facility and positive service experience for years to come."
Tarnock Garage dates back to the 1950's as a workshop and filling station, but latterly as a Skoda and then Daihatsu franchise.
The current owners, the Brace family, took over in 2006 and in 2008 were selected to take on the Ford franchise.
George Collins, director of Construction Solutions Plus, said: "We have a compact schedule, but hope to hand the keys over to Tarnock Garage in July next year."