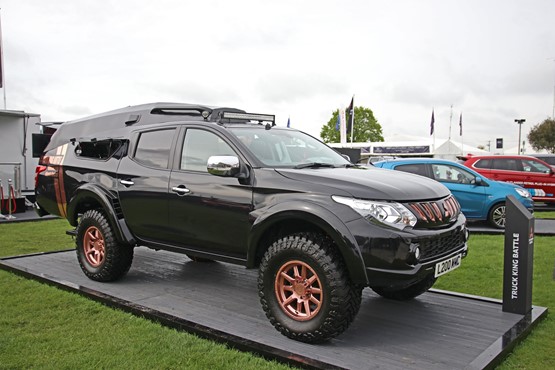 Mitsubishi Motors UK has showcased the winner of its first Truck King Battle competition, at the Badminton Horse Trials.
Developed as part of a new social media marketing strategy, the Mitsubishi L200 eSports Concept was revealed at the weekend.
The winning truck was picked from five finalists, in the competition that saw Mitsubishi retailers going head-to-head to design the most exciting L200.
It was designed by Joanne Tulloch of Livery Dole Mitsubishi in Exeter, whose concept design gained the most social media engagement.
Based on a standard Mitsubishi L200, the heavily modified show truck benefits from a chassis extension of 800mm and has been widened by 80mm to enable it to house a racing simulator.
It was built by Ralph Hosier Engineering.
The rear tailgate has been heavily modified and now incorporates a set of fold-down steps to allow easier access to the gaming area, which itself is covered with a bespoke fabrication to allow for the additional headroom required. The rear area is completed with a coffee machine and refreshment bar, allowing for hours of uninterrupted gaming.
Two 22-inch LED screens are also situated on the outside of the vehicle to allow onlookers to see what is happening and keep track of the game progress but can be folded away into the rear area during transportation. All of this technology is powered a roof-mounted 150w solar cell, and four batteries to give up to eight hours playing time.
The exterior of the L200 eSports Concept is fitted with Speedline Mamba alloy wheels, which have been finished in distinctive metallic rose gold and fitted with large off-road tyres. There are also modifications to the front and rear wheel arches and a light bar is fitted to the front of the roof area. Finally, the front grille, vehicle badges and bespoke vehicle decals are finished in the rose gold colour scheme to complete the look.