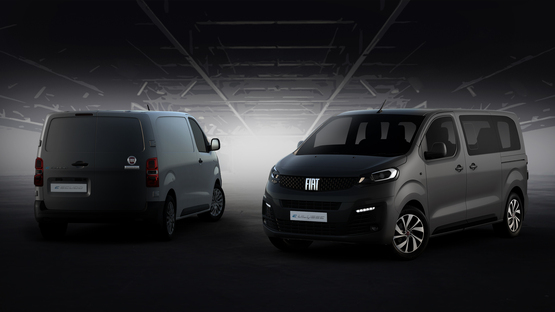 Fiat will launch a new Scudo van and Ulysse van-derived people carrier in early 2022.
The Scudo will be available in three configurations – Van, Combi and Cab with platform – to meet all professional transportation requirements, while the Ulysse will be available with combinations from six to nine seats.
Both vehicles are also based on the Stellantis EMP2 platform which underpins the Peugeot Expert and Traveller, Citroen Dispatch and SpaceTourer, and Vauxhall Vivaro.
The Fiat MPV and Fiat Professional LCV will be available with either ICE or BEV powertrains.
Orders for the Fiat Professional Scudo will open between the end of this year and the beginning of next, while the Fiat Ulysse will be available by the first quarter of 2022.
The Scudo van and Ulysse MPV will replace the existing Talento, which was built in conjunction with the Renault Nissan alliance and Vauxhall.
Fiat says the new models are both a response to the ongoing transition to zero-emissions mobility.
No technical details have been shared yet, but it's likely that electric versions of the Scudo and Ulysse will feature the same 50kWh or 75kWh battery options as the Citroen, Peugeot and Vauxhall models on which they are based.