Family-owned Kia dealership Roadside (Garages) has achieved the highest staff retention in its history as a direct result of getting involved in AM's Best UK Dealerships to Work For.
The Coleraine-based business was recognised as one of the 11 best in the UK out of over 45 dealerships that registered to take part in the free employment survey last year. Roadside was also included as one of the UK's best in 2017.
David Boyd, Roadside director, said: "Our staff retention has never been so high as it is today and this has definitely been as a result of the awards.
"In addition, being able to use this accolade on social media and advertising has been of added benefit in making Roadside stand out as a better place to work than the competition."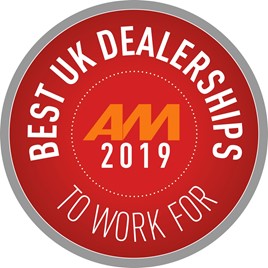 Registration for this year's Best UK Dealerships to Work For survey is now open for those businesses wishing to enter for 2019, with participants reminded that they can enter – and be in with a chance of official recognition at AM Live 2019 in November – entirely for free.
The deadline to enter is June 7.
Boyd said that while his business has always engaged well with staff, getting involved with the Best UK Dealerships to Work For survey over the last two years has helped to refocus the company on making sure that everyone feels like part of the family.
Roadside's recognition from the annual employee survey over the last two years came as it implemented initiatives which included having an on-site cafe bake cakes for staff members on their birthday to make them feel special.
The same cafe serves subsidised freshly cooked food, including daily specials and desserts on Fridays.
Other enticements that employees rated highly include subsidised gym membership, an employee car scheme, loans for bicycles and options for medical insurance and health screening.
Boyd said: "We have learnt that staff view their place of work as an environment where they like to feel safe and satisfied.
"Reducing staff turnover helps create such an environment. It helps staff feel more content about where they work and it saves you a lot of time, effort and money if you can minimise turnover.
"Furthermore, we have also realised that customers love coming into the dealership and seeing the same happy faces in our staff."
AM editor Tim Rose urged dealerships to get involved with the 2019 survey to build on the success of the programme.
Rose said: "Make the grade and you'll feature in these awards next year.
"And if you don't, you'll at least understand how your employees view their place of work, and identify areas you can improve."