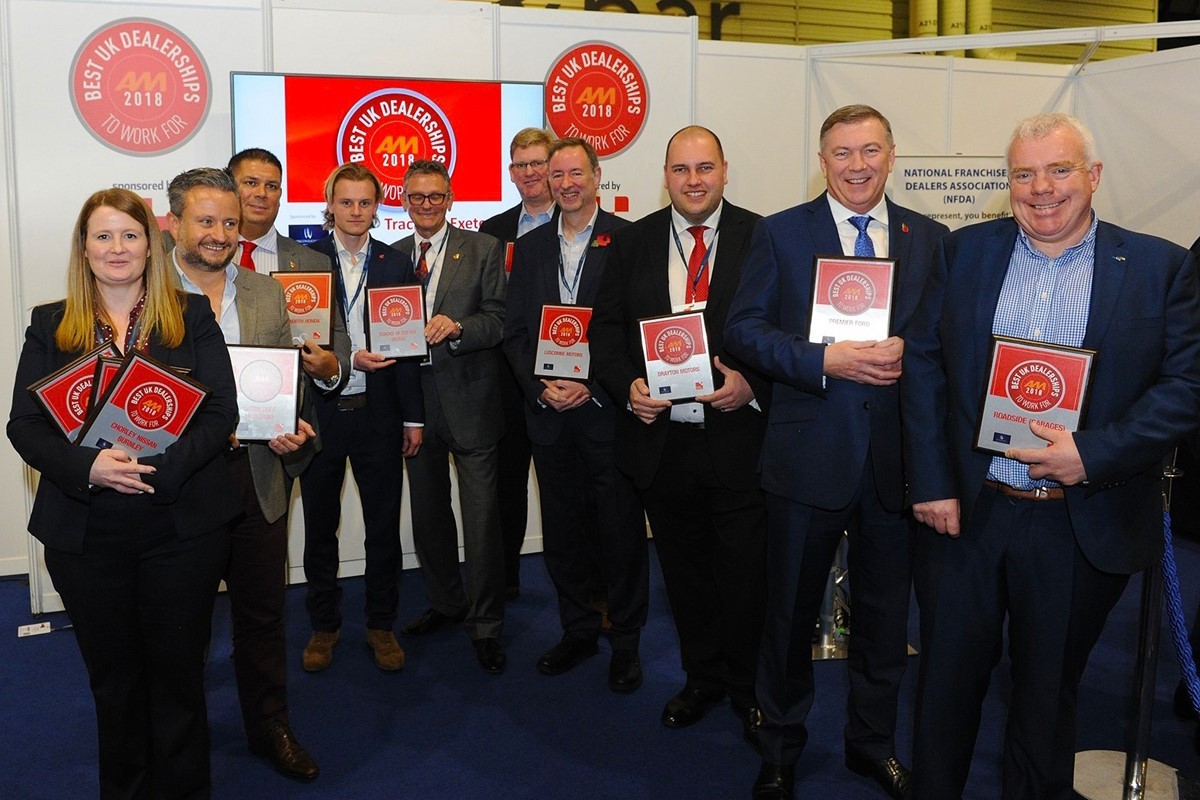 Welcome to AM Best UK Dealerships to Work For 2018, a chance for us to honour and celebrate the best employers in the UK motor retail sector.
Eleven dealerships made the grade in our second year, out of the 45 who registered this year, four fewer than 2017.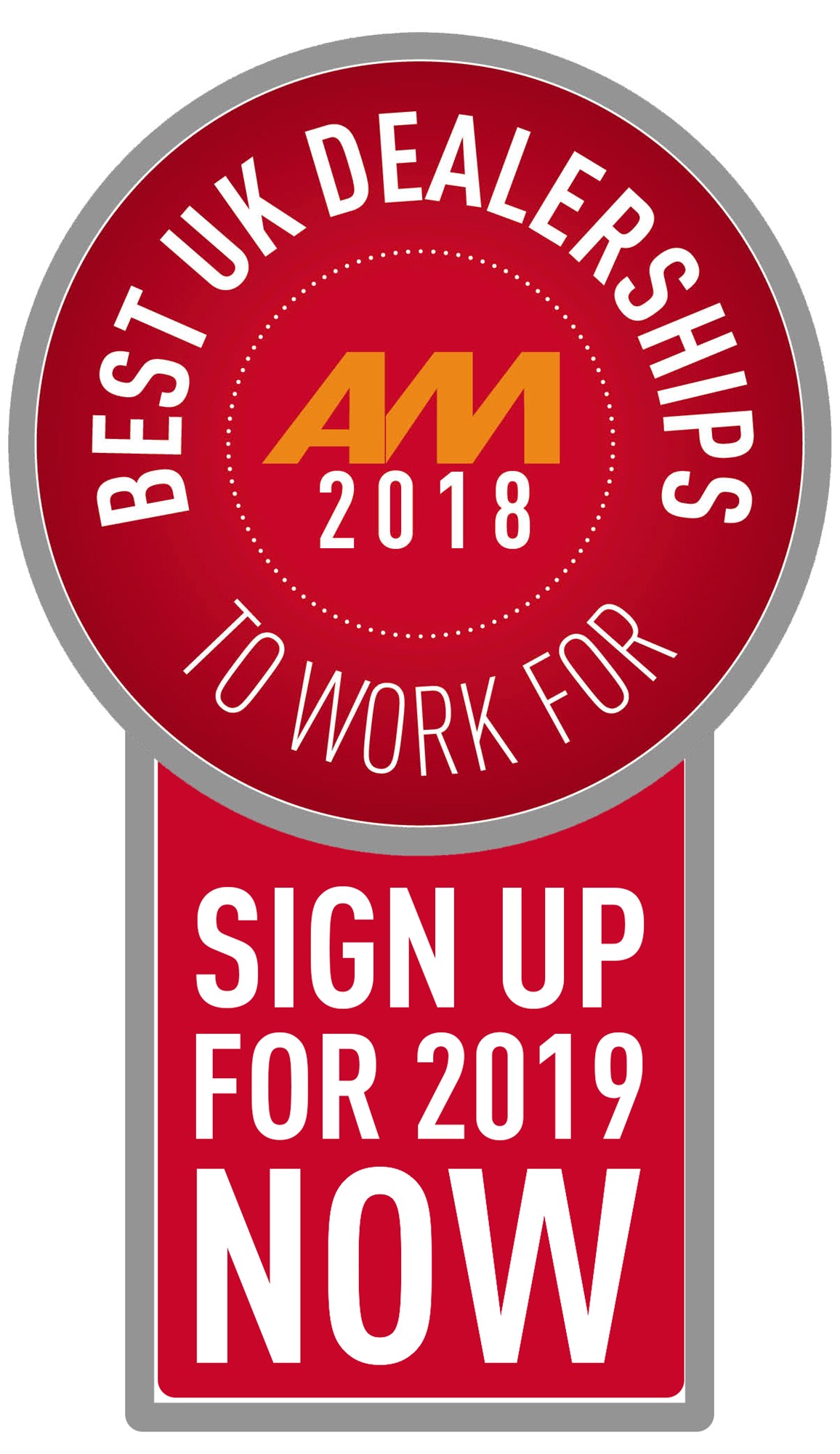 We would urge more dealers to take part next year, and hope that the scheme both expands and attracts a range of businesses from the regional groups to local owner-drivers. Pre-registration for 2019's AM Best UK Dealerships to Work For is now open.
Employee engagement is an essential ingredient for a successful business. No company, large or small, can win over the long run without a workforce that is motivated and well led, and which understands and believes in the company's mission.
The next eight pages are a celebration of elite employers in the motor retail industry, who have proven that they know what it takes to create an environment where people love to come to work.
The goal of the programme is to raise the bar among industry employers, creating excellence and employee engagement in the workplace that will attract talented people for years to come.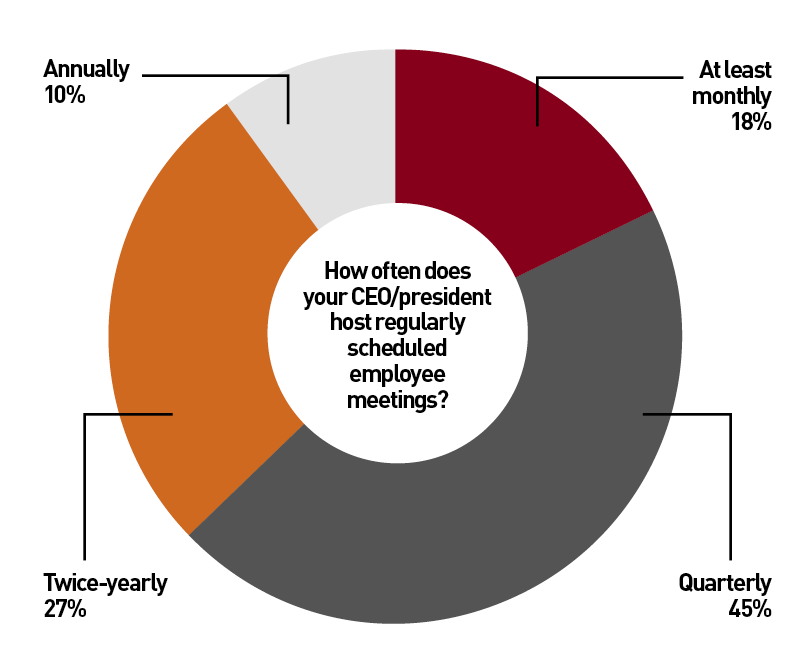 Andrew O'Kelly, European partnership development director for Best Companies Group, said: "It is not an easy task to make this list, so those being honoured here should be extremely proud of their organisations and, most importantly, their staff.
"Being named one of the best places to work in this industry just gave these companies' employer brands a huge boost. What they had to do to get there is not easy and their accomplishment is most certainly significant."
What makes this year's winners the best?
Pride, rewards, enjoyment and development opportunities are key elements of the 2018 AM Best UK Dealerships To Work For.
Of the staff at our 11 best dealerships this year, 94% said they were proud to work at their dealership, compared with 84% at the dealerships that applied but did not make the listing. And 91% said they look forward to going to work most days, 14ppts higher than at the unlisted dealerships.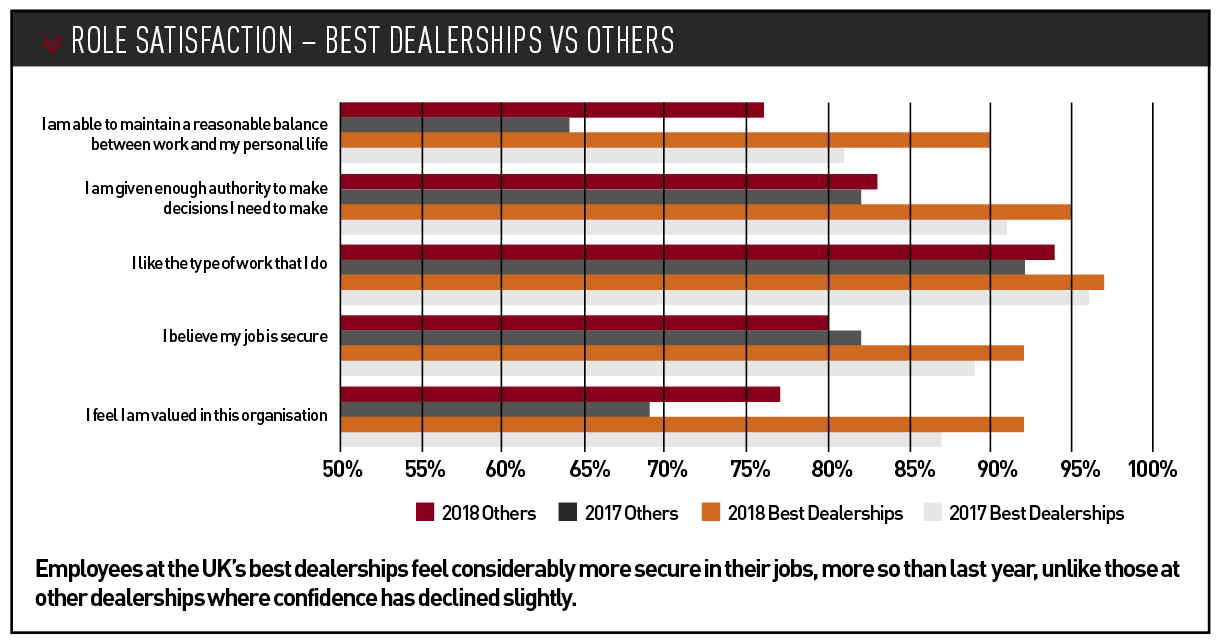 The pay and benefits their employers provide are satisfactory to most staff, although one in four (25%) believes they should be better. In best dealerships' favour, however, that proportion rises to almost one in two (45%) among the workers at unlisted dealerships. Particular areas of opportunity for employers include eyecare and dental care benefits, which were considered satisfactory by less than 50% of staff at unlisted dealerships and almost 60% at best dealerships. Providing staff with death-in-service cover is another benefit rated as important by employees, yet only two thirds of all the dealerships involved in our programme had it as part of their standard employee benefits.
Employees at the best dealerships feel supported, respected, recognised for good work, and have strong connections with their supervisors, who are open to hearing their opinions or feedback. 'Relationship with supervisor' was the highest-scoring survey segment among best dealerships, at 95%. Dealerships that did not make the list scored 84%.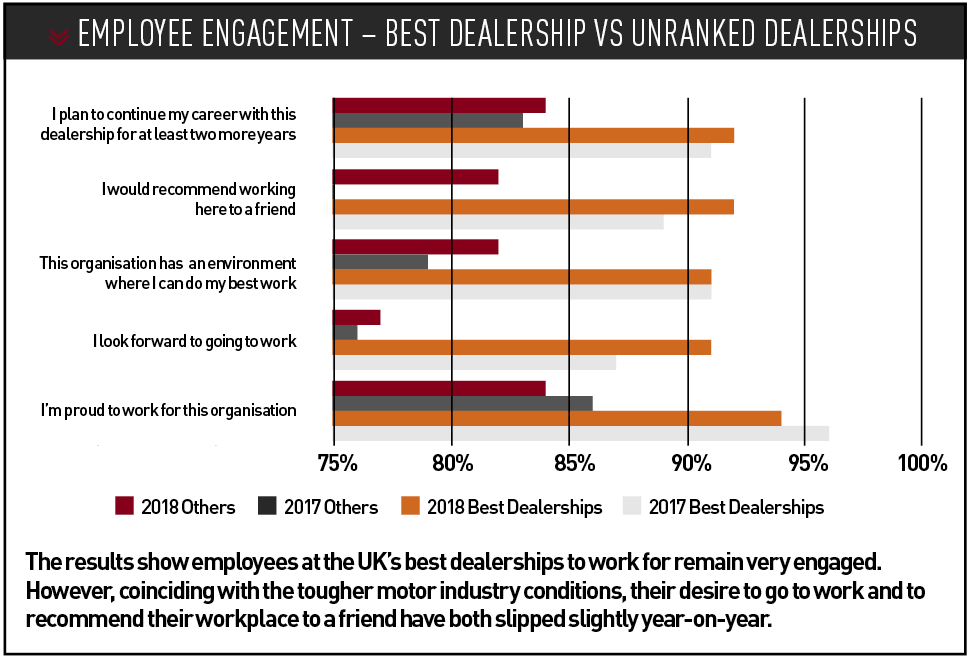 The importance of cooperation between teams and departments comes through in this year's results. In best dealerships, at least nine out of 10 employees said they like the people they work with, and believe there is a spirit of cooperation in the organisation and that staff are allowed to have fun at work. At unlisted dealerships, only seven out of 10 felt the same way.
Employees feel resourcing, at department and individual levels, could improve slightly, particularly at unlisted dealerships. There, three in 10 believe staffing levels are inadequate to provide the quality service that customers should expect. Even in best dealerships, one in 10 feels the same way, highlighting particularly that their workspace lacks adequate privacy to do their job. Privacy and distractions are a bigger issue for unlisted dealerships, where one in four employees struggles to focus due to inadequate noise control, compared with one in 10 at best dealerships.
The results showed an engaged workforce can help a dealership as it expands too, as 92% of employees at the best dealerships to work for would recommend working there to a friend, 12ppts more than at other dealerships. At the best dealerships, 97% of the workforce said they are willing to give extra effort to help the business succeed, 3ppts more than unlisted dealerships.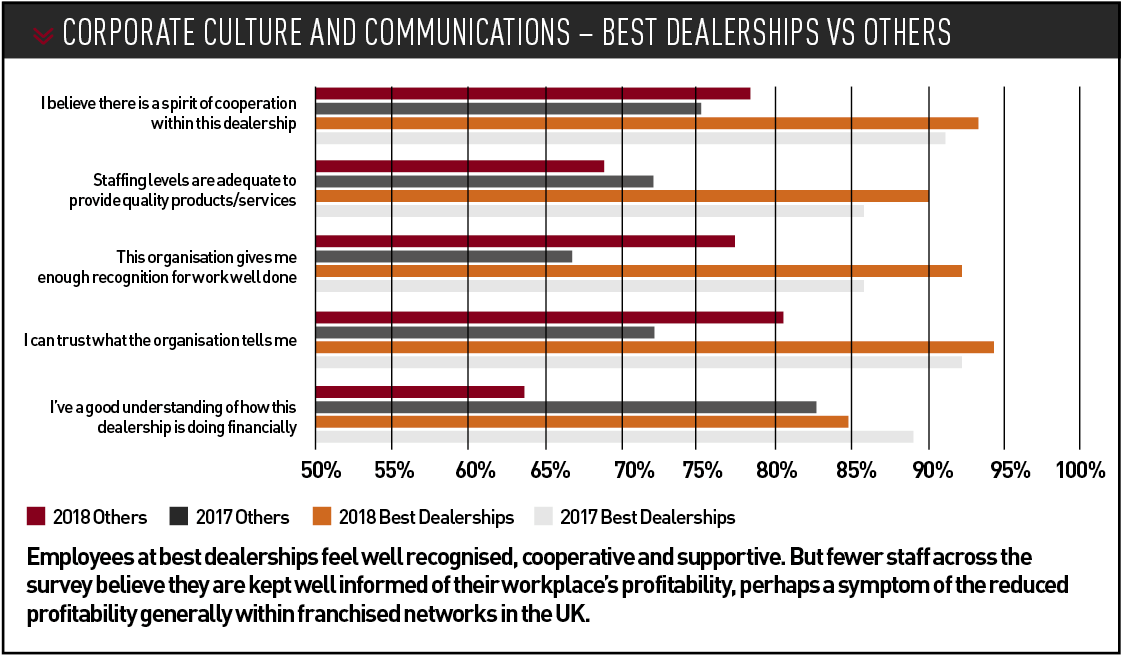 Leadership and planning are strengths of the UK's best dealerships, too. Some 94% of employees said they understood the long-term strategy of the dealership, and the same proportion have confidence in its leadership, 17ppts higher than at the other dealerships. At best dealerships, 93% of workers believe their senior leaders care about employees' well being and 93% felt the leaders lived the core values of the business, compared with 77% and 84% respectively of staff at unranked dealerships.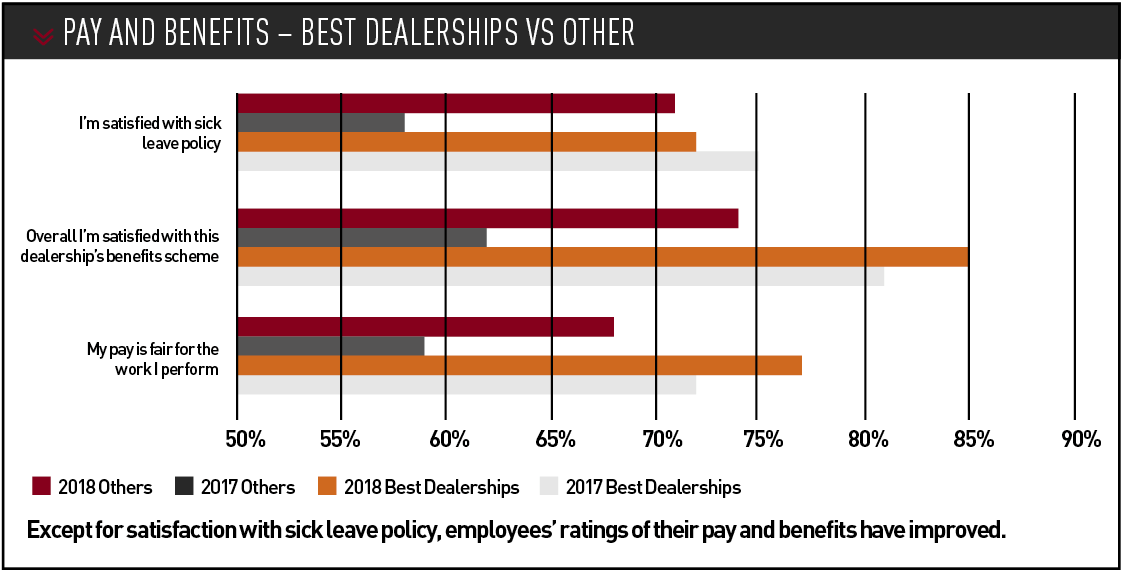 About AM Best UK Dealerships To Work For
The survey is open to all UK dealerships with more than 15 full-time employees and a new car sales franchise. Dealers enter as single dealerships, not groups. It is completely free to all participants. Follow-up reports, offered at a fee by Best Companies Group (BCG), are not mandatory.
Its two-part assessment process, managed by BCG, includes an employer survey, constituting 25% of the overall score, plus an anonymous employee engagement survey, accounting for the other 75%.
BCG's analysis of the results determines those dealerships that qualify as an AM Best UK Dealership to Work For, and their plaques are presented at Automotive Management Live each November.