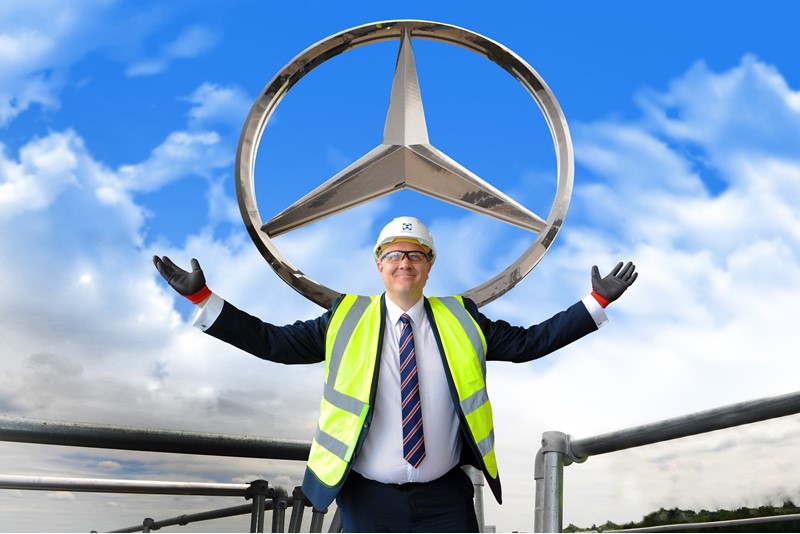 "Being presented with the time and the resource to establish an all-new retail group, let alone completely re-think the concept of the car retail environment, is not an opportunity that comes along very often."
Sitting in a small office in the soon-to-be-completed sprawl of LSH Auto UK's Mercedes-Benz Stockport facility, Martyn Webb, the group's UK managing director, seems ready to pinch himself.
Looking at the hive of on-site activity bringing the group's new £65 million, 10-acre statement site off the M60 motorway closer to completion, the sense of a new retail group stamping its mark on a new territory is impossible to avoid.
LSH Auto UK's parent company, Lei Shing Hong, which is based in Hong Kong, is already the world's largest Mercedes-Benz retailer. It has more than 240 retail sites in Europe, Asia and Australia and is working to cement its presence – and a distinct DNA – in the UK. LSH Auto UK was formed in May 2016 by Lei Shong Hong's £121.4m acquisition of Mercedes-Benz Retail Group's entire Manchester and Birmingham market area.
Webb is a product of Mercedes-Benz Retail's operation and took the helm from Clive Hammond, the group's former managing director, in November last year. He is in no doubt of the direction and the core values that the group represents: "When we look at the market areas that we inhabit, it's clear that our focus has to be customer-centric and effectively give more time back to the customer.
"Visit one of our facilities and we want the experience to be quite unlike anything you will experience with another group. Efficiency behind the scenes will make the front of house more relaxed and less intimidating – an enjoyable place to be for our customers.
"We are also determined to move things forward online, to deliver choice, but to also ensure that a visit to one of our dealerships can be a real highlight of an owner's interaction with LSH Auto and the Mercedes-Benz brand and not the process that many customers are used to encountering."
LSH currently has no plans to add to its nine dealerships, despite suggestions in some quarters that it was poised for a move on Mercedes-Benz Retail Group's London market area – swiftly dismissed by the manufacturer and Webb.
However, there are plans to further raise the group's profile with the transformation of one of its retail points into another landmark retail facility.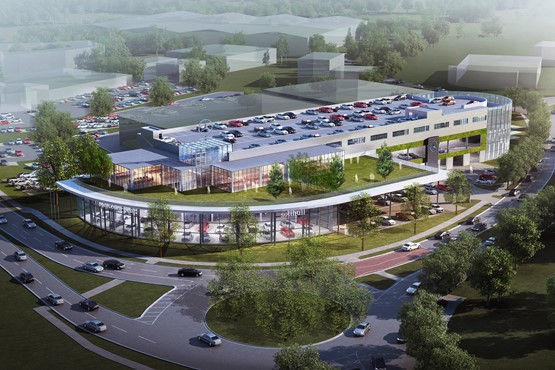 Following the April opening of a 200-vehicle used car 'centre of excellence' in Erdington, Birmingham and the completion of the Stockport facility, LSH plans to start work on a retail facility in Solihull (above) in August, which will house the group's new headquarters.
Helping to realise the ambitious plans for the distinctive grass-roofed, four-storey retail space is a strategy that includes sub-leasing, a model that plays into Webb's – and the group's – aim of creating automotive retail spaces that are destinations for more than just car-buying motorists.
"The plan is that we will share the site with other small businesses," he said.
Webb said he shared a vision with Primark's Birmingham city centre store, which recently introduced Duck & Dry hair salon and Duck & File nail bar concessions.
"I see concessions not only as helping us to meet the financial costs of our facilities, but fulfilling the role of transforming the dealership from a sales point to a destination that is a hive of activity," he said.
"Ultimately, we want LSH's DNA in the UK to be defined by spaces where people come for various reasons, but most of all feel relaxed to visit."
From 'inadequate' sites to 'mind-blowing' spaces
Webb said that when LSH acquired its Mercedes sites it was apparent that many of the facilities were "inadequate" and a strategic review of the sites was ordered.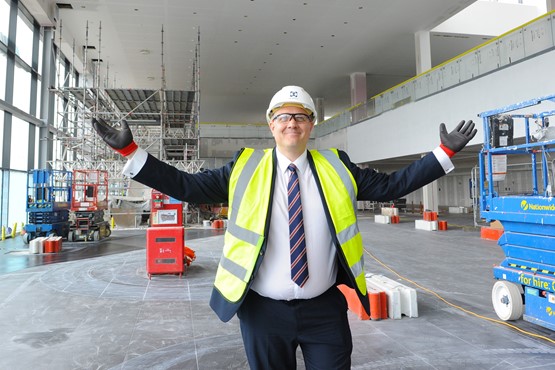 Stockport was earmarked as a priority business due to its location on a main arterial road with access to customers travelling from Manchester, Liverpool and their numerous suburbs.
The expansive 10-acre facility that has replaced a cramped two-acre facility on nearby Wellington Road – complete with an illuminated 15-foot-wide three-pointed star on the roof – is visible from the flight path to Manchester Airport.
"This is a young, dynamic and upcoming area, with a high proportion of business people," said Webb. "Having such visibility is important and with a site like this we would also like to think we can draw in a lot of customers from Yorkshire as well."
During AM's visit, Webb said the facility was better described as a "car retail village".
Its three-storey, glass-sided, 3,492-square-metre 'Autohaus' retail space accommodates 140 vehicles – 30 new, 10 Mercedes-Benz AMG and 100 approved used vehicles – as well as Maybach and AMG lounges and large conference spaces that can be hired by local businesses and community groups.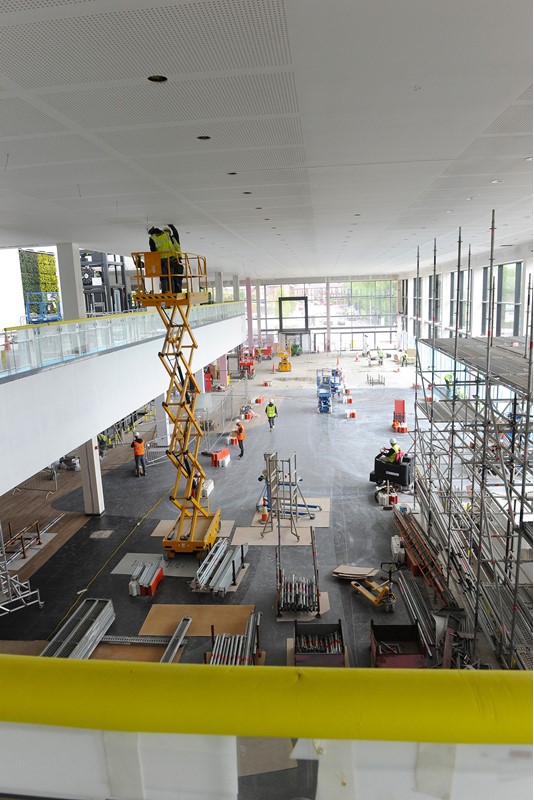 There is also a cinema room, a staff canteen and a gym.
LSH has appointed Tom Smith, a former guest relations manager at Manchester's four-star Midland Hotel, to serve as the facility's own hospitality manager, operating from a 'front of house' position.
LSH Auto UK employees were taken to premium retail spaces in Birmingham and Manchester – including Selfridges and Apple stores – to help them understand the "retail culture" the new sites would aim to replicate.
Webb believes changing employees' mindsets will be the main challenge of moving to the new Stockport facility, which will add 55 new faces and a new level of logistical complexity to the operation.
"It's a massive shift," he said. "After years of working with a site that really isn't fit for purpose due to its limited space, the move here will come as a shock. But we have tried to get people on-site and there's been a lot of acclimatisation.
"The scale of the site means we have the scope to work on a far larger scale and drive efficiency, so we need the team to get on top of that from day one and make the most of the new asset."
For as much as Stockport's front of house – embellished with a Bellagio-style water fountain to the front of the showroom – is a sea of spa-like calm for customers, the 17,166-square-metre building to the rear is the engine room of the business.
Housing 32 workshop bays, it serves as a centralised pre-delivery inspection (PDI) centre, paint and body shop, trade parts facility and used car storage for the wider market area.
John Stanton, the dealership's general manager, described the towering structure as "mind-blowing".
Stanton, who joined from a role as a brand director at Jardine Motors Group to run the facility last September, said: "I don't think there's a role in automotive retail that can prepare you for running a place like this, but it's a fantastic challenge to take on."
'Lei Shing Hong has invested in a long-term strategy'
Whether or not Webb's operation delivers on its mantra of pressure-free sales environments, it is clear that LSH Auto will have to start dealing in large volumes to deliver a return on the investment it is making in real estate. The Stockport, Solihull and Erdington sites are being developed by RG Group and are the subject of long-term lease agreements with LSH Property UK, another subsidiary of Lei Shing Hong.
According to the AM100 report, the group sold 4,833 new cars and 8,761 used cars in 2018. This generated £445.7m in turnover, which put LSH in 39th place in this year's AM100.
But flat turnover growth (2017: £445.7m) pushed it one place down on its 2017 ranking, following a 110.8% rise in that year, from £211.4m, in 2016.
Profitability, meanwhile, remained more elusive. Last year, LSH Auto UK recorded a pre-tax loss of £5m, following a £10m loss in 2017 and £2.4m loss in 2016.
Webb answers directly to Lei Shing Hong Auto in Hong Kong and said: "In every market across the globe where LSH operates, it is the leader for Mercedes-Benz in terms of market share. That is not yet the case in the UK.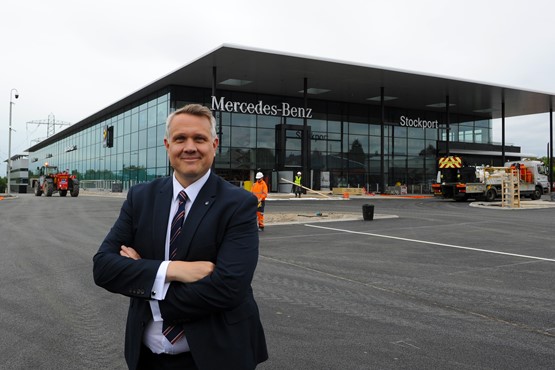 "The other thing that marks the company out is its patience. That has clearly changed for us as we become involved in a lot of investment in infrastructure, but Hong Kong has invested in a long-term strategy and I have a lot of support."
Webb described 2018's pre-tax loss as a "significant improvement" over the previous year.
He added: "I have a plan to achieve profitability by 2020. To achieve that, we need to grow volumes to significantly larger levels and keep that momentum through 2021.
"The growth we expect to see will not come in new cars, it will be through used cars and aftersales. I've forecasted aftersales growth of 10% to 15% by 2021."
Factfile: LSH Auto UK
Turnover: £445.7m (2018)
Profit before tax: -£5m
Franchises: Mercedes-Benz, Smart
Locations: Birmingham, Erdington, Macclesfield, Manchester, Stockport, Solihull, Tamworth, Whitefield (Bury)
Staff: 727
New car sales: 4,833 (2018)
Used car sales: 8,761 (2018)
AM100 ranking: 39
Webb has introduced the concept of one-hour servicing to the group and believes the convenience of a speedy aftersales delivery is as central as the customer coffee shops, shower facilities and lounges, offices and golf simulators being introduced to LSH's new developments in the effort to offer customer choice and improve retention.
"We spend £1.5m a year on marketing, but what do we spend to retain customer loyalty," asked Webb.
A change in staffing structure will also see aftersales executives re-cast as servicing partners, Webb said, in an attempt to emphasise the point that customers are not being sold to, simply advised. This change has already been implemented at the Erdington site.
His vision for used cars revolves around the LSH network's new "hub and spoke" make-up, with larger sites such as Stockport speeding up the PDI process to support faster stock turn while reducing the current stock of 1,100 used vehicles to about 800.
The Erdington sites stock turn performance of 12x over the course of a year is the group's benchmark, said Webb. It currently delivers less than 8x.
The £15m, 200-car Mercedes-Benz Erdington used car 'centre of excellence' is also central to the used car sales volume growth, its ability to showcase 50 models in its showroom and 150 outside delivering a premium experience to approved used car buyers. There are also 12 workshop bays.
Despite its scale, Erdington is "certainly not a used car supermarket", said Webb.
"It feels like a very different experience. We certainly don't feel like we put our customers through a process. Just like the Stockport site, we want guests to come and spend time in the space and hopefully become a customer.
"Used cars are a huge opportunity for us and a real constant in a fast-evolving market."
Enabling end-to-end online car sales
Webb sees online retail as an area in which efficiencies can be achieved that both drive customer satisfaction and a more streamlined showroom experience.
LSH Auto is currently working on an in-house redesign of its website, below, which will enable end-to-end retail. The group expects to launch the platform later this year.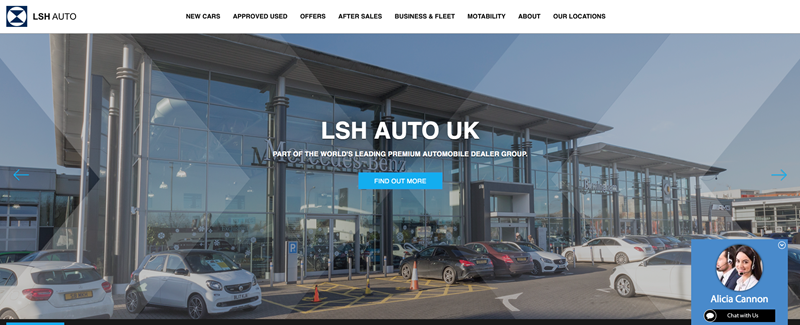 "The manufacturer's online car retail offering offers flexibility for the whole network, but the truth is that one size doesn't always fit all. We want visitors to our website to buy from us, not choose another retailer towards the end of the process, and we also want to create our own identity in the UK marketplace at the same time. Having our own online retail platform will be central to that," said Webb.
He suggested that a car retail sector currently "bogged down" by compliance and various third-party platforms could benefit on an operational level through the creation of bespoke systems that were more user friendly from a customer point of view and removed much of the back-end administration burden.
He also clearly sees the creation of LSH Auto's own website as a possible aid to retention as access to data from connected cars delivers new levels of customer insight into the hands of manufacturers.
"I think it's the case that we don't know enough about our customers at the moment. That's our own fault for the most part," he said.
"With connected cars, the balance of that relationship – and all that customer data – is going to move very much towards the manufacturer.
"We need to work on customer loyalty and that can't happen on price alone. We need to offer more transparency, a better level of service and I believe that a quality online sales experience has a huge part to play."
Mercedes-Benz has said that 25% of its new car sales transactions will be completed online by 2025.
LSH wants 50% of new management appointments to be from within
After LSH recruited its first UK managing director from Oman-based Mercedes-Benz importer and distributor ZTC, Webb was an internal appointment.
Webb said his own fast rise through the ranks at LSH Auto UK ahead of his move into the role in November – he was general manager at the cramped former Stockport retail site until last winter – had inspired him to pursue a strategy of promoting from within.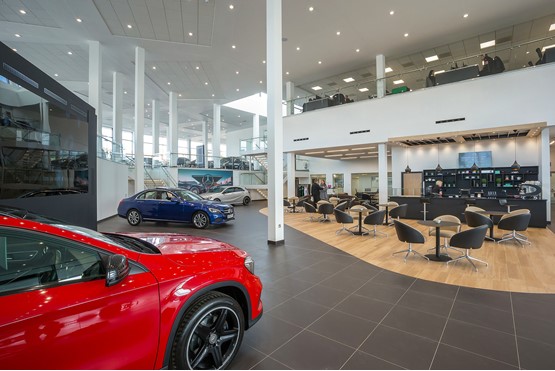 He said one of his first moves after taking the post was to make the leadership team far leaner – giving general managers group-wide areas of specialism with just a market area controller, financial director and chief financial officer directly answerable to him.
Now he wants other members of staff to feel they can progress within the organisation and has set a new training and promotional pathway to senior roles. The aim is for 50% of the group's new management appointments to be internal promotions.
He said: "Across our Stockport and Solihull developments, we are recruiting 90 to 100 new people. One area of focus, which is now part of our DNA, is 'growing our own'.
"That won't deliver the immediate injection of staff that we need, but we have a plan for the next five years and we have put an in-house training and development process in place to ensure our best people are given an opportunity to develop."
The group has launched its 'Ignition' program to find its leaders of tomorrow and rather than ask managers to put forward candidates, employees were asked to submit a short video in which they spoke about themselves and their ambitions.
A total of 27 staff from various departments were selected from 60 applicants to take part in the training program.
The Ignition model uses a mix of classroom-based learning, mentor-led on-the-job development and written projects.
Webb insists that staff must also feel some of the premium retail magic offered to customers at the group's new facilities.
He said: "Here at Stockport there's a staff canteen and a gym on-site. Those are the kind of things that employees really value.
"People like to be treated well and feel like they are getting something back that runs beyond straightforward remuneration, as might have been the case in the past."
Read more of Automotive Management's face-to-face dealer profiles