TrustFord will aim to smash its fund-raising targets once again with the re-launch of its Breakout for Ben charity fund-raising road trip with the help of adventurous automotive industry suppliers.
In December last year 52 hard-driving teams from the AM100 retail group raised a combined sum of over £110,000 for the automotive benevolent charity, Ben, after set out across Europe on the 24-hour driving challenge.
TrustFord chairman and chief executive, Stuart Foulds, said afterwards that he was "absolutely delighted" with the way the group's employees had embraced the event after he challenged each team to drive as far away from the group's Long Marston Distribution Centre in 25 hours.
Teams travelled as far as Romania and Latvia.
This year the Ford of Britain-owned group has raised the bar, increasing its fund raising targeted from the £100,000 it exceeded last year to 150,000 for 2019 and is encouraging the sector's suppliers to get involved.
Foulds said: "Ben is a hugely important charity to all of us in the automotive industry, and supports thousands of our colleagues in life-changing ways.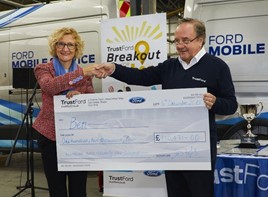 "Last year's Breakout for Ben was the largest single fundraising event we have ever completed as a group, and it made us all immensely proud.
"This year we are setting out to make it even bigger and better.
"Uniting with our suppliers provides a great boost to the event, and we're looking forward to seeing everyone's end destinations."
TrustFord provide each team with fully-fuelled vehicles, branded with the TrustFord Breakout for Ben logo, and a £400 allowance to spend on fuel, food and accommodation, to allow them to complete their fund-raising drives.
In-line with TrustFord's 'Spirit of Care', team members were not required to use their annual leave time to participate.
Each team was competing for a range of awards including the Chairman's Prize for the team reaching the furthest destination; Most Efficient Use of Fuel; Best Fancy Dress; Most Money Raised Pre-Drive; Most Money Raised Overall; Single Biggest Donation; and Most Unusual or Novel Destination.
This year's challenge sees TrustFord suppliers invited to take part.
In return for £6,000 charity donation to Ben TrustFord will supply participants with the following;
a vehicle to participate in event
your vehicle fully branded with your logo
vehicle Insurance
Full tank of fuel for the starting line
£400 Kitty money towards travel / accommodation
Anyone keen to support the event, but not trek across Europe, can also sponsor a vehicles' livery or the group's fund-raising efforts.
A Just Giving page has been set up to support the cause, at https://www.justgiving.com/teams/BreakoutForBen2019