JCT600 has received planning permission for a new two-storey Ferrari retail centre to replace its existing Brooklands supercar dealership in Leeds.
The project is set to be the highest value project ever undertaken by the Bradford-based AM100 retail group and work should get underway on the new facility – and a plus an adjacent specialist vehicle preparation and repair centre – in January.
Once completed, the Ferrari Leeds showroom will move from its current home at JCT600 Brooklands, in Lower Wortley, to the prominent new site on City West Business Park, The Boulevard, with the Brooklands site set to be redeveloped for an "exciting" new project.
Work on the Ferrari site is expected to be completed next summer and will result in a dealership capable of housing 19 new and used vehicles over two floors, with a further 15 vehicles on display externally.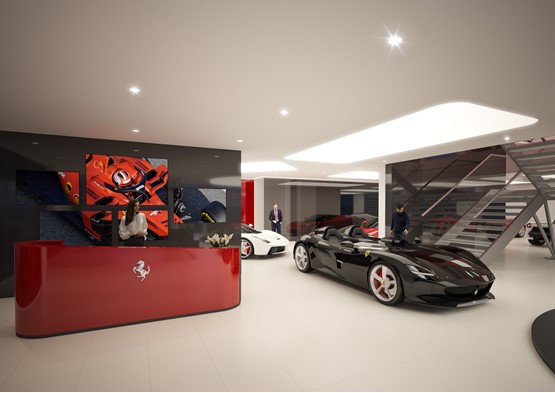 It will also feature a 13-bay workshop, which will include a bespoke Classiche area catering for the maintenance and restoration of older heritage vehicles.
Tom Armstrong, brand director for JCT600's specialist brands, said: "Having partnered with Ferrari for nearly 40 years, we are proud to be building one of the first showrooms in the UK to sport the iconic marque's latest stylish corporate ID.
"The coveted prancing horse is known as much for elegance and design as for the outstanding performance and this new facility will complement the vehicles as well as providing the best possible environment for customers to enjoy the Ferrari purchase and ownership experience.
"Our investment in this landmark facility is a further demonstration of our commitment and trust in the brand – Ferrari remains one of our flagship car marques and has proved to be enduringly popular with our customers."
JCT600's new Ferrari facility will be only the Italian carmaker's third UK dealership to sport Ferrari's latest corporate identity, creating an art gallery style experience but also focuses on use of multi-media and improved customer interaction.
This includes a large nine-screen TV-wall playing content streamed direct from Italy, as well as a high end sound system and Ferrari's new concept 'community table' for enhanced interaction.
It will also feature a luxury commissioning room and a separate after sales consultation bay, plus three rapid electric vehicle charging points in readiness for Ferrari's new hybrid vehicles.
In May this year JCT600 was able to celebrate a record set of annual financial results for 2018 after the car retail group's turnover rose 2% to £1.28 billion and profits held flat in what was described as a "challenging year".
The result came as the group continued to upgrade its showrooms, investing a total of £9 million including major refurbishments at Porsche Sheffield and Porsche Newcastle as well as creating a new call centre in Chesterfield.
In addition, the group acquired the two Jaguar and Land Rover dealerships in Doncaster from Pendragon last July, and in September announced that it would be representing Rolls-Royce Motor Cars in Leeds.
This year the group expanded its retail network with the addition of a new Mitsubishi dealership in Bradford.
Founded in 1946 as Brooklands Garage on Sticker Lane, Bradford, by current chairman Jack Tordoff, JCT600 has grown from a single site to operate over 50 dealerships from Yorkshire and the North East to Derbyshire, Lincolnshire and Nottinghamshire.
The Bradford-based AM100 group now employs 2,250 staff.
In September JCT600 Brooklands apprentice Connor Young was among six apprentice Ferrari supercar service technicians attended the Silverstone round of the Ferrari Challenge UK race series for a special graduation ceremony.