A Lookers' dealership has won the top prize at the fifth annual CitNOW Video Awards.
Sales executive Dave Wise from the group's Nissan site in Gateshead collected the trophy at the ceremony in London yesterday for his video that "demonstrated outstanding best practice with a crystal-clear explanation – using visual aids – of the checks that had taken place" during his service of a Juke, the judges said.
Wise also won the best workshop video. You can view his videos, and all the other winners', below.
In three other categories, Sytner Nottingham BMW was awarded best sales video, "showing outstanding passion, attention to detail and product knowledge which showed how to build trust and appeal to the customer".
Of 650 videos submitted for the best international video award, Autolica Tarragona in Spain took top spot for the use of video to address a customer's concerns about the price of the vehicle, "convincing the customer to continue their interest".
The most creative use of CitNOW category was won by Craig Sturgeon at Skoda dealership Ingram Ayr "for an engaging yet well-prepared, professional video" to promote the a 'VIP sales event".
His entry featured life-size celebrity cut-outs which were linked to each vehicle on sale with a humorous script.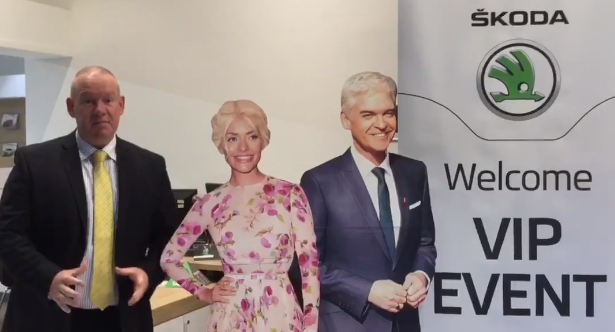 Craig Sturgeon, of Ingram Ayr Skoda, in his winning CitNOW video
The winners were chosen from 1,676 nominations, a record for the video platform provider's awards ceremony.
Alistair Horsburgh, CitNoW chief executive, said: "The CitNOW Video Awards continues to grow year-on-year and, with the number of entries rocketing, 2019 was the most competitive yet.
"The standard was exceptional. With personalised video now a mainstay for the automotive industry, it's amazing to see retailers going above and beyond, demonstrating true best practice to transform the customer experience and build transparency throughout the automotive industry."
A total of 11.95 million videos were made in 2019 by franchised dealers - nine million in the UK - using the CitNOW platform. Horsburgh said this suggested the company "touched about 50% of all car sales in the UK last year".
Videos made between 19th October 2019 to 16th October 2020 can now be entered for consideration for the 2020 CitNOW Video Awards.
The 2020 CitNOW Video Awards results and videos
Best Overall CitNOW Video
Winner
Dave Wise, Lookers Nissan Gateshead
Best CitNOW Workshop Video
Winner
Dave Wise, Lookers Nissan Gateshead
Highly Commended
Gary Hogg, Arnold Clark Cumbernauld Kia
Highly Commended
Mark Ballingall, Baylis Vauxhall Evesham
Best CitNOW Sales Video
Winner
Myron Arnold, Sytner Nottingham BMW
Highly Commended
Jamie Jarvis, Arnold Clark Kilmarnock Ford
Best International Video
Winner
Marc Utches, Autolica Tarragona
Most Creative Use of CitNOW Video
Winner
Highly Commended